Summary

Catalogue Number:

Afterburner Decals AD 48-061 - EA-18G Super Bug Shockers

Scale:

1/48

Contents and Media:

Waterslide decals plus instructions and notes

Price:

Review Type:

FirstLook

Advantages:

First sheet released by a main stream decal company for the EA-18G; high quality printing and instructions; stencil markings a'plenty.

Disadvantages:

Conclusion:

Superbly printed decals with comprehensive and well researched supporting information to give you real value for money
Reviewed by Rodger Kelly


HyperScale is proudly supported by Squadron
Afterburner Decals have just released a swag of new decals. Amongst them is sheet number 48-061 EA-18G Super Bug Shockers which as far as I know is the first sheet released by a main stream decal company for the EA-18G.
The EA-18G (being called "Growler by some and "Shocker" by others) is to replace the venerable Grumman EA-6B Prowler in the fleet. Its role (to quote Boeing) is the suppression of enemy air defences using both reactive and pre-emptive jamming techniques.
The EA-18G is just entering fleet service with squadrons in training at Naval Air Station at Whidbey Island, Washington and with the various test and evaluation squadrons it is these airframes that the decals depict.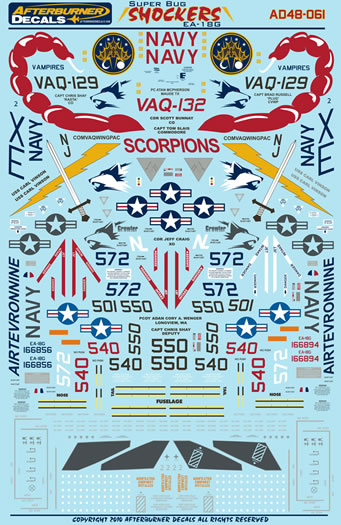 Markings are provided for five aircraft in all. The individual options are as follows:
Bureau number 166894, modex 540, assigned to VAQ-132 Scorpions. The machine is finished in the standard Tactical Paint Scheme (TPS) of FS36320 dark ghost grey over FS36375 light ghost grey (as are all the options on the sheet). Its individual markings include black vertical stabilisers with red fin caps and white NL air wing indicators. The squadron's scorpion tail marking is applied to the outer surfaces of the stabilisers whilst the inner surfaces carry a white sword and lightning bolts. Other individual markings include squadron and Navy titles, bureau number block and modex in red. Its national insignia is also in full colour which all adds tup to a colourful bird by modern day navy standards.
Bureau number 166895 modex 501 from February 2010. Another VAQ-132 machine, it is a drab bird compared with the first option. It wears standard TPS with all of its markings in low viz grey and black. Although in low viz, the machine wears the Scorpions large stinger on its vertical stabilisers as well as Atlantic Fleet AA air wing indicators with a large CVW-17 insignia.
Bureau number 166856 modex 572 belonging to VX-9 The Vampires a U.S. Navy air test and evaluation squadron based at Naval Air Weapons Station China Lake, California. Another colourful bird, 550 is finished in standard TPS, but wears distinctive white vertical stabilisers edged in dark blue. Its markings are in the same shade of blue and she also wears full colour national insignia and as well as the VX-9 Vampire insignia on the vertical stabilisers and nose art of what looks to be a wolf's head on both sides of the nose (a Boeing applied insignia?).
Bureau number, 166858, modex 550 assigned to VAQ-129 Vikings (the USN and USMC Growler training squadron based at Naval Air Station Whidbey Island, Puget Sound, Washington. The markings depict the machine from February 2009, and colourful markings they are! The machine is in the standard TPS but the majority of its vertical stabilisers wear bright red paint over which is painted a yellow lightning bolt and a large sword. The national insignia are also in full colour with the rest of the markings in black. The machine also wears the wolf's head insignia on each side of its nose.
The final option is Bureau number 166642, modex 500 of Air Test and Evaluation Squadron 31 - VX-31 - Dust Devils a U.S. Navy air test and evaluation squadron based at Naval Air Weapons Station China Lake in California. The markings depict it from February 2009. The machine is in standard TPS with all of its markings in low viz greys and black. It too wears the Wolf's head marking on both sides of its nose.
There are two sets of stencil data provided with the sheet. All of the major stencilling appears to be included including the myriad items for the under wing ALQ-99 airborne integrated jamming pods, slime lights and, ejection seat data and 72 white squares to be applied inside the exhaust nozzles' (that looks like fun!). I especially liked the tiny navigation lights.
The placement guide is very complete as we have become accustomed to with Afterburner Decals products. You get three A-4 sized pages with printing on both sides of two sheets and one side of the other sheet. A complete page is dedicated to upper and lower surface stencil data and a further two thirds of a page for the left and right hand sides images of the fuselage with each of the data items produced large enough to read. Each option is treated to full colour left and right hand side profiles and there is a single upper and lower plan view.
You get two sheets with this issue. The decals themselves have been printed by Cartograf. They look to be thinly printed and everything on my sample sheets is in perfect register.
The placement guide advises that:
"Currently, an accurate 1/48 EA-18G kit does not exist out of the box. Start with the Revell or Hasegawa F/A-18F kit and use the EA-18G conversion set manufactured by Steel beach. The set contains all of the necessary parts to represent an accurate Growler".
Or, you can just wait until Hasegawa and Revell bring one out.
As always with Afterburner sheets, good quality decals and first rate support material.
Thanks to Afterburner Decals for the sample
---
Review Copyright © 2010 by Rodger Kelly
This Page Created on 24 May, 2010
Last updated 24 May, 2010
Back to HyperScale Main Page
Back to Reviews Page