S u m m a r y

Title and Author, Price and Publisher:

Kagero Topcolors No. 8
Battle of Britain Part 1

Media:

Soft Cover; 205 x 275mm
32 pages pages
1 b/w photo, 15 colour profiles
ISBN: 978-83-61220-19-0

Review Type:

First Read

Advantages:

Inspiring artwork; varied collection of aircraft; informative text; masking set, decals in perfect register; thin and minimal carrier film

Disadvantages:

Not all colour profiles are depicted on the decal sheet

Conclusion:

This is an excellent package that allows the modeller to build a variety of Luftwaffe subjects from the same aerial campaign.
Reviewed by Rob Baumgartner


HyperScale is proudly supported by Squadron.com
Many modellers like to build their subjects around a theme.
Popular examples are the air war over Germany, the conflict in North Africa, or the attack on Pearl Harbor. To save the enthusiast from purchasing a multitude of decal sheets and the accompanying reference material, Kagero has introduced the "Top Colours" series of books.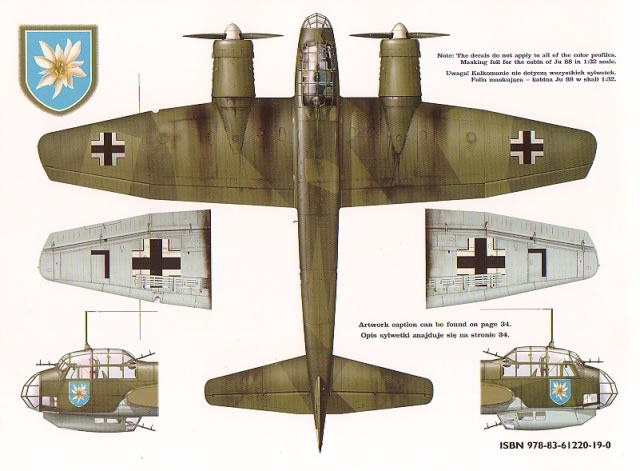 This particular package concentrates on the Battle of Britain. We get a selection of 15 examples, all from the German side of the conflict.
Messerschmitt Bf 109 E-1, coded "White 11" of III./JG 53

Messerschmitt Bf 109 E-1, coded "Brown 2" of 6./JG 54, autumn 1940

Messerschmitt Bf 109 E-1/B, W.Nr.6313, coded "White G" of 2./JG 27, November 1940

Messerschmitt Bf 110 C, coded "2N + BN" of 8./ZG 76, summer 1940

Messerschmitt Bf 110 C-6, coded "2N + RH" of 1./ErpGr. 210, June 1940

Messerschmitt Bf 110 C, coded "3U + AS" of 8./ZG 76, summer 1940

Messerschmitt Bf 110 C-2, coded "L1 + LL" of 15.(Z)/LG 1, September 1940

Dornier Do 17 Z, coded "F1 + BL" of 3./KG 76, 1940

Heinkel He 111 H-1, coded "G1 + BH" (White "B") W.Nr 6305 of 1./KG 55

Junkers Ju 87 B-1, coded "6G + AT" (Yellow "A") of 6./St.G 1, August 1940

Junkers Ju 87 B-2, coded "T6 + HL" (Yellow "H"), W.Nr.3360 of 3./St.G 2, August 1940

Junkers Ju 88 A-1, coded "4D + DC" (Green "D") of Stab II./KG 30, summer 1940

Junkers Ju 88 A-1, coded "3Z + HM" (Blue "H") of 4./KG 77, September 1940

Junkers Ju 88 A-1, coded "9K + HL" (Yellow "H") W.Nr.7036 of 3./KG 51

Junkers Ju 88 A-1, coded "9K + LR" (White "L") W.Nr.5045 of 7./KG 51
Each aircraft is the subject of some beautiful artwork. These profiles are truly inspirational and in all but one case, two pages are devoted to each machine. Top and side views are presented where necessary, with close-ups of the various unit emblems also included.
The decal sheet contains markings in 3 different sizes.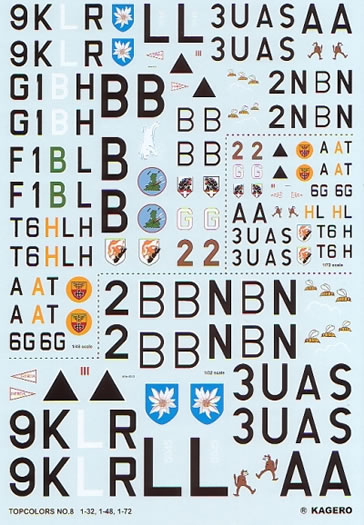 Representing the scales of 1:72 and 1:48 are the products from Messerschmitt. Their Bf 110 can also be found in the larger size of 1:32.
As far as the Dornier and Heinkel are concerned, these are provided in 1:48 scale only. There is a mistake with the markings of the former as the decal sheet features a Staffel colour of "green" for the "B" whereas the booklet indicates "Yellow" on the profile and caption.
Stukas can be found in the two smaller scales while the markings of the Ju 88 are available in 1:48 and 1:32.
The decal sheet is very well printed with thin carrier film and perfect registration. Due to their size, the national markings are not included and will have to be sourced elsewhere. No doubt from the kits themselves.
Preparing canopies for painting can be a laborious job. So it's comforting to find a set of masks included with this product.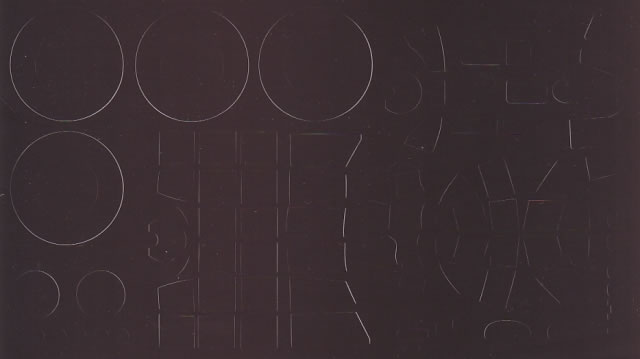 They are for the 1:32 scale Ju 88 and one assumes it's designed to fit the Revell kit.
---
Conclusion
If you want to model the aircraft of a single campaign then this is a product worth considering.
It allows the modeller to build a variety of planes from one of the most famous encounters of WWII.
The text explains the history of the campaign as well as discussing the camouflage seen on these combatants.
Part 1, which highlights the machines of the Luftwaffe, is a great way to start building on a theme.
Thanks to Casemate UK for the samples.
---
Review Copyright © 2010 by Rob Baumgartner
This Page Created on 19 April, 2010
Last updated 19 April, 2010
Back to HyperScale Main Page