S u m m a r y

Title and Author, Price and Publisher:

JG 52 Vol. II (with Decals)
ISBN Number: 978-83-61220-03-9
£15.99 available online from Casemate UK

JG 51 Vol. II (with Decals)
ISBN: 978-83-61220-31-2
£15.99 available online from Casemate UK

by by Marek J. Murawski
Kagero Publishing

Media:

59/71 pages plus a card cover, over 50 generally very good B&W photos, 5 full colour profiles plus the front cover art-work and a complimentary decal sheet for the 5 profiles in three scales in each.

Review Type:

First Read

Advantages:

Easy to read bilingual text, Polish to the left, English to the right, many of the photos previously unpublished, excellent and detailed art-work. The decals are well printed and in register.

Disadvantages:

No national markings or stencils on the decal sheet although this should not cause much of a problem for most modellers.

Conclusion:

These book from Poland just get better and better and are worthwhile even without the decals.
Reviewed by Glen Porter


HyperScale is proudly supported by Squadron.com
Kagero, a Polish publisher, has been around now for quite some time and used to print their books in A5 format but lately have changed to A4. They're bilingual in both text and captions and the art-work is beyond reproach although I can't vouch for the accuracy. The decals were printed by Techmod, another Polish concern and may still be but the printer's name is no longer shown. Occasionally, decals are replaced by masks however, to my disappointment, a recent book I bought, one of the 109 F books had the masks in only two of the larger scales and as I only model in 1/72nd scale.
Both books cover a period from the beginning of Operation Barbarossa in June 1941 to roughly April 1942 when both Geschwaders were flying Bf 109Fs and the pilots were racking up scores like no-one had ever seen before or since with the Russian Army and Air Force being cought totally unawares.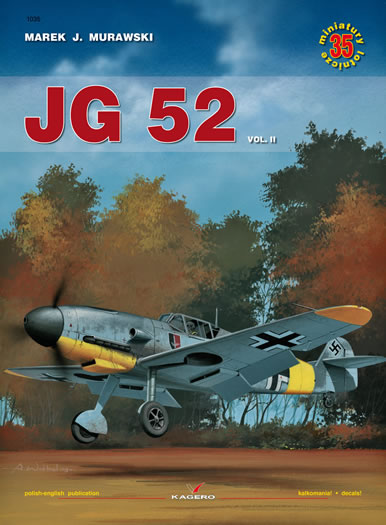 As well as the unit histories, there are many personal stories from the pilots which show the pressure, exhilaration and some time fear under which they flew which makes the text very interesting to read.
In each book there is an excellent action print on the cover by Arkadiusz Wrodel, a fold-out centre spread with three profiles and the back cover with another two. These profiles in the JG 52 book are all also by Arkadiusz Wrodel and in the inside centre spread are left and right profiles plus plan view of Uffz. Alfred Grislawski's F-4, W.Nr.7034, coded "Yellow 9" of 9./JG 52 on te 25th of October 1941. The outside has two port side profiles, one for Rudolf Resch, the Staffelkapitan of 6./JG 52, an F-2, W.Nr. 12848, coded "Yellow 1" on the 30th July 1941 and Fw. Josef Zwernemann of 7./JG 52, an F-4, coded "White 8" on the 14th of September 1941. The back cover profiles are for the Geschwaderkommodore Maj. Hanns Trubenbach's F-4 W.Nr. 7087, coded "Black Double Chevron" on the 15th of July 1941 and Gruppenkommandeur of II./JG 52, Oblt. Johannes Steinhoff's 109, another F-4, W.Nr. 13744, coded "Black Double Chevron" on the 3rd of December 1941.
The centre spread and back cover profiles in the JG 51 book are by Janusz Swiatlon with left and right profiles plus plan view of Obstlt. Werner Molders' F-2 on the 15th July 1941 on the inside of the centre spread with Lt. Hans Strelow's F-2, of 5./JG 51, Coded "Black 10" on the 28th February 1942 and Fw. Werner Bielefeld's F-2 of 7./JG 51 coded "White 11", 11th July 1941 on the outside. The back cover sees Staffelkapitan Oblt. Erich Hohagen's F-2 "White 1" of 4./JG 51, late July 1941 and another Staffelkapitan, Oblt. Heinrich Krafft's F-4 of 3./JG 51, W.Nr. 7221, Coded "Yellow 7", February 1942.
With the Bf 109F being one of my favourite aircraft, I have several Finemolds kits to build and now, with these two books plus one of the 109F books I have plenty of choice in colour schemes and decals, but even if that's not your priority these book are an interesting read.
Thanks to Casemate UK for the samples.
---
Review Copyright © 2010 by Glen Porter
This Page Created on 22 April, 2010
Last updated 22 April, 2010
Back to HyperScale Main Page