Airfix 1/72 scale
Lockheed Hudson

World Airfix Group Build Part One
by Christopher Brown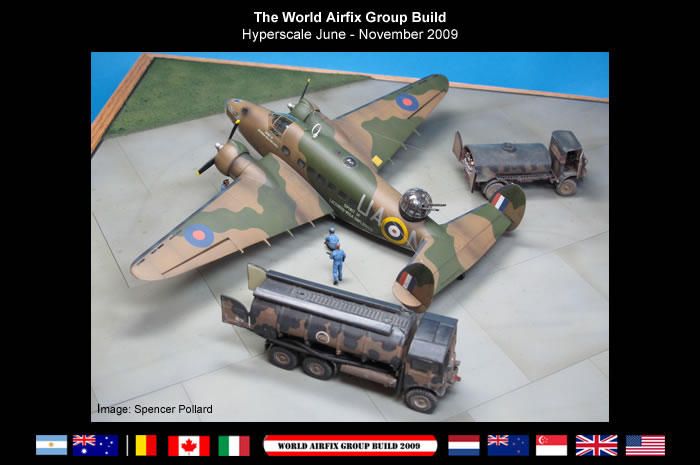 Lockheed Hudson


Airfix's 1/72 scale Lockheed Hudson Mk.I is available online from Squadron.com


Vic Scheuerman is an inspirational modeler. Many modelers will be aware of his detailed builds of classic kits that have featured in a number of magazines and his Scale Aircraft Modelling series 'Modeling Masterclass'.
In June 2009, Vic posted a message entitled, "True Airfix Group Build" on HyperScale's Airfix Group Build forum. In it he suggested that a number of regulars on the forum come together to build one kit, with each of us contributing to the best of our abilities. The kit would be sent from place to place, with each participant working on it before forwarding it on. In 50 years of modeling, Vic had never come across anyone doing this, so potentially it could be a world first.
Naturally, this lit up the group build community like a Roman candle. The idea was refined, subject matter debated and importantly a name was chosen: The World Airfix Group Build or WAGB (pronounced WAG-BEE).
The kit was chosen by voting from a shortlist of types that had a good number of sub-assemblies, were not too large to impede transport, and were available. The 1:72 Lockheed Hudson beat out the Marauder and Beaufighter, with the Boston III and B-25 failing to secure any votes. The number of volunteers was greater than the number or roles so the concept was extended to include a display base, Bedford refueller, figures and even a set of chocks!
As Airfix Group Build stalwart, Allan Buttrick, put it:
"So we are now going to be the "World Airfix Group Build" and out of all this will come one stunner of a Hudson Mk I. I can see it, beautiful scratched cockpit, outstanding scratched turret, colorful roundels…"
The intention was to complete the build by November when it would be presented to Airfix at Scale Model World, Telford, UK by Spencer Pollard, editor of Military In Scale.
---
The Group Build Team
The final team was:
Airframe Assemblies
Christopher Brown, Singapore, Cockpit/nose interiors
David Harrison, NZ, Propellers
Dan Smith, USA, Clear parts/turret
Jeroen Veen, Netherlands, Main wings/nacelles
William De Coster, Belgium, Main landing gear
Jorge Paul Figari, Argentina, Tail surfaces/tailwheel/main gear doors
Greg Rose, USA, Engines/cowlings
Massimo LaCivitia, Italy, Fuselage/DF Loop
Base, Crew
Peter Mortlock, England, Base
Warren Morris "Woz", Wales, AEC Tanker
Chris Hall, England, Bedford Refueller / figures
Dave Lochead, NZ, Wheel chocks
Assemblers
Victor Scheuerman, Canada, Initial assembler/primer
Allan Buttrick, USA, Paint/Decals/Panel Lines
Spencer Pollard, England, Final assembler/presenter
A three part series of articles with contributions from all participants is currently appearing in Model Aviation World.
In this article, we are pleased to present captioned images of the build of the Lockheed Hudson. The base, vehicles, final assembly and presentation will follow.
---
Text Copyright © 2010 by Christopher Brown
Page Created 7 April, 2010
Last Updated 8 April, 2010
Back to HyperScale Main Page