Bronco 1/35 scale V-1 Doodlebug
Fieseler Fi 103 A-1

by Bruce Salmon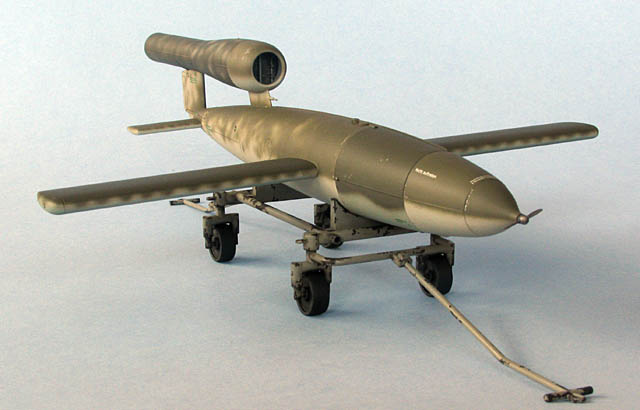 Fieseler Fi 103 A-1


Bronco's 1/35 scale V-1 is available online from Squadron.com


I bought the Bronco V-1 because I was looking for a quick and stress-free build to add something interesting to the cabinet and to escape the AMS of my current projects.
The 8 page instruction booklet is straightforward and gives you an excellent exploded diagram of the construction process. Many pages are wasted space e.g. one whole page is a sprue diagram, 2/3 of a page is a diagram of putting the missile on the dolly and 2 pages for painting show 2 identical colour schemes.

There are minimal parts in this kit and it appears to be a cross between a semi toy-like snap fit affair and a regular glue fest even though it says on the box "Plastic model kit for adult collector only". The light grey plastic is a bit soft and some of the thicker pieces have sink holes in hard to fill places – luckily there are not too many. The detail as a bit simplistic and overdone with panel lines too deep and raised rivets too high. The fit of the parts is otherwise very good and the trailing edges are nicely thin.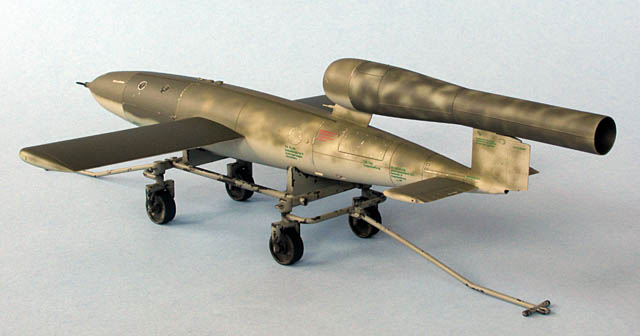 A few strange anomalies also exist where someone didn't engage brain when designing the kit for example circular inspection panels are oval because they did not account for the curve of the fuselage at the CAD stage.
Annoying things that just had to be fixed include:
Wings not having a very positive fit with big gaps where they meet the fuselage. They had to be filled with super glue to give them enough strength. You'll have to align them by eye (good luck).

The tail plane also has big gaps on the underside.

Engine cowl totally the wrong shape - AGAIN!!!

Engine face also leaves a lot to be desired in this scale.
Other things that needed attention:
Pitot tube was replaced with one made from brass tube and rod.

Tail rivet divots filled with super glue.

New spine conduit made from plastic strip.

New lifting lug scratchbuilt.

Spark plug added on top of the engine.
All these things are quite easily fixed should you feel inclined to put in the effort and it definitely makes it look more realistic. When assembled the missile measures 170mm wide x 240mm long.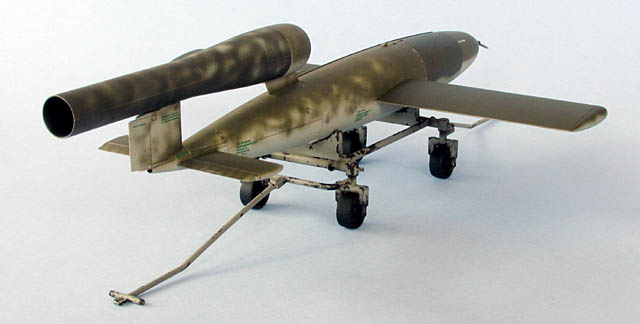 Luckily I have the luxury of local V-1 at the Auckland Museum for as many walk-around photos as I care to take. This proved very helpful even though it has been given a totally inaccurate and hideous paint scheme from long ago complete with swastikas and still not restored properly.
PAINTING
After a light prime with Humbrol primer I gave the whole missile an all over coat of Xtracolor RLM 76 lichtblau then masked off the warhead, wings and tail pipe which I painted Xtracolor RLM 65 Hellblau.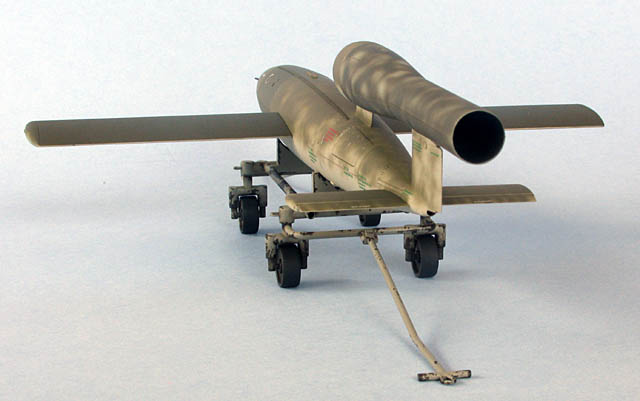 The upper colours are 10:2 - RLM 82 Dunkelgrun and Tamiya X1 Gloss White for the fuselage and nose while the wings and warhead are RLM 82 straight from the tin. The tail pipe is a 3:2 mix of RLM 82 and RLM 74 Graugrun; inside of the tail pipe is Mr Color 28 Steel lacquer.
The dolly was first painted RLM 02 Grau then given some paint chipping using a dark rust mix of 2:1 Tamiya XF2 flat black and Humbrol 113 rust.
---
DECALS
The decals are printed by Cartograf and have a matt finish. They are thin and settle down well with no silvering. Now this is all well and good but it would have been much better if they were printed in the correct colours (the stencils that should be black are printed in a horrible bright green ala Tamiya) and the instructions would have you put them in the wrong positions. They also give you work numbers to go on the engine cowl which even the box art doesn't depict! There are 2 colour schemes to choose from (both identical!) only the placement of one inaccurate decal defines them and this is also mentioned in the decal guide drawing. You'll need to consult your references here.
---
WEATHERING
Due to these missiles being fresh from the factory the only weathering I gave mine was a bit of paint chipping and scratching and a light raw umber wash to help define the panel lines.
Not a bad kit really but for the price I would have expected a lot more, maybe some alternative warheads for instance. Major inaccuracies such as the engine cowl shape are inexcusable these days considering that there are plenty of examples of the real thing out there to examine.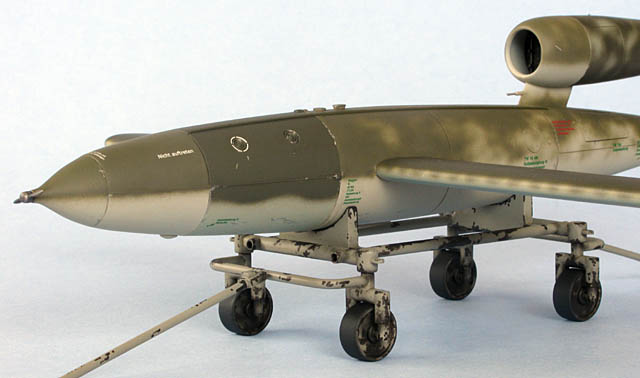 Though many weapons are modelled in 1/35 scale I would think the V-1 would be more likely to appeal to aviation modellers rather than the AFV crowd. Perhaps some manufacturer will have the good sense to make an accurate V-1 in 32nd scale someday, but I'm not holding my breath.
Aside from the kit's engineering and accuracy drawbacks it looks really grouse alongside my 32nd scale Fw190 D9 - I'll score it a "Close but no cigar".
---
Model, Images and Text Copyright © 2010 by Bruce Salmon
Page Created 2 March, 2010
Last Updated 2 March, 2010
Back to HyperScale Main Page