Wingnut Wings Preview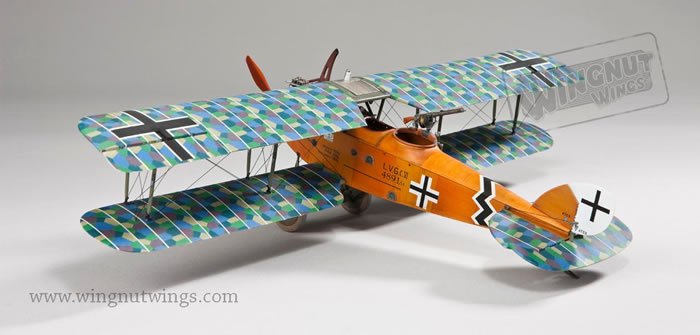 1/32 scale

1/32 Wingnut Wings Preview
A new company called Wingnut Wings has launched a new series of models, available now from their website.
Wingnut Wings has supplied the Preview information and images on this page.
---
Here is some information about Wingnut Wings' first 4 releases.
These kits are avallable now: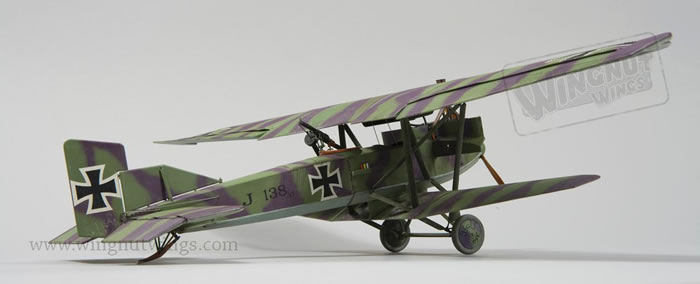 32002 1/32 LVG C.VI (pictured at the top of the page)

Our models feature:
High quality injection moulded plastic parts.

High quality Cartograf decals for at least 5 different aircraft.

Many optional parts for different versions.

Highly detailed engines

Restrained use of photo-etched detail parts.

Fine in scale rib tape details (when applicable).

Full colour instructions containing many reference photographs.

Full rigging diagrams (when applicable).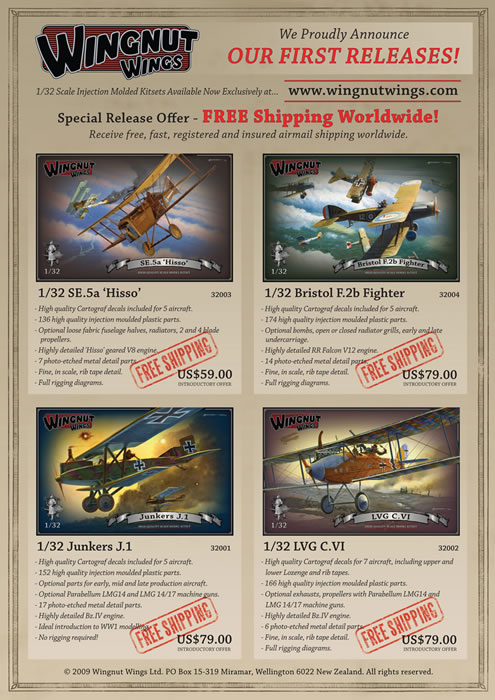 Wingnut Wings' passion is to provide accurate, highly detailed, large scale WW1 models that are as enjoyable to build for both the experienced and novice modeller alike. By designing these models to be a pleasure to build we hope to attract people unaccustomed to the satisfaction of modelling aviation's epic and tragic pioneer years. We believe we have achieved this. We feel that younger modellers are intimidated by WW1 aircraft models and have designed our tooling and instructions to assist them in every way possible. But you can judge that for yourselves.
These first four releases will be followed up very quickly by 6 more, and we are well underway with our first two years of scheduled production. We are well underway with modelling and tooling for many more kits during this period. We are not a market-driven company, but a group of passionate individuals. This has freed us up from the "safe and popular" WW1 subjects and allowed us to focus on two-seaters and bombers, as well as many yet-to-be-modelled fighters. If we see enough to cover costs, we will keep going!

In the short time that these aircraft patrolled the war torn skies over the trenches they represented the cutting edge of technology. In keeping with that tradition we use the latest in 3D CAD/CAM modelling software and tool making techniques available to us to ensure that modellers receive only the highest quality product.
Our models are designed and researched by passionate professionals utilising original factory drawings whenever possible, historic and contemporary photos and information supplied by some of the worlds leading experts in their fields. We also work closely with The Vintage Aviator Ltd (http://thevintageaviator.co.nz), which gives us access to full size airworthy examples of many of our subject aircraft. We have also had great support from various museums who have given us access to aircraft and engines within their collections.
We are making models the way we have always wanted models to be made. We hope you will get as much enjoyment from them as we do.
Orders may be placed through our website now: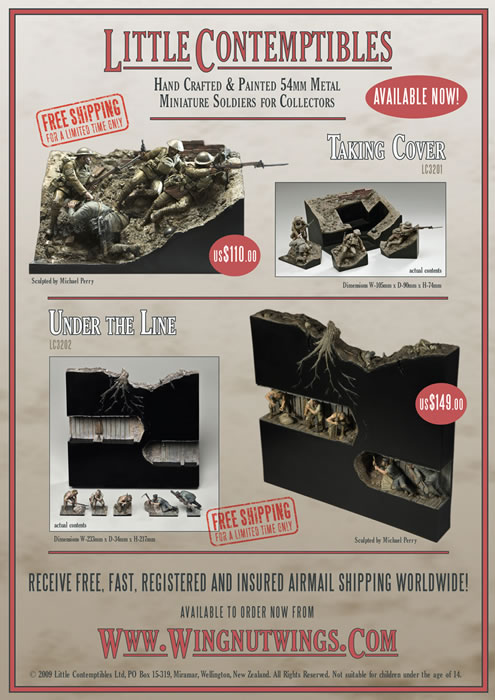 Thanks to Wingnut Wings for the Preview text and images
---
Text and Images Copyright © 2009 by Wingnut Wings
Page Created 10 April, 2009
Last updated 10 April, 2009
Back to HyperScale Main Page