SE.5a "Hisso"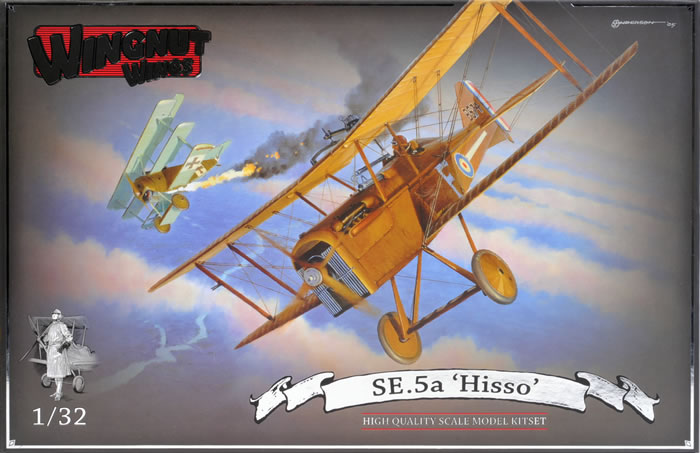 Wingnut Wings, 1/32 scale
S u m m a r y

Catalogue Number:

Wingnut Wings 32003 - SE.5a "Hisso"

Scale:

1/32

Contents and Media:

Crisp clean mouldings, excellent level of detail, superb fit of parts, accurate shape, photo-etched seatbelts, and decals in perfect register with thin carrier film

Price:

USD$59.00 only available online from Wingnut Wings includes free international postage for a limited time

Review Type:

First Look

Advantages:

Cleverly engineered for ease of assembly, outstanding representation of the surface detail, crisp clean mouldings, comprehensive decal sheet in perfect register with minimal carrier film, photo-etched seat belts and a mini "Datafile" for an instruction booklet.

Disadvantages:

Conclusion:

Undoubtedly the best SE.5a on the market. This is a kit that has been designed for ease of assembly without compromising detail. The choice of "clean" or "wrinkled" fuselages show the level of commitment the designers are willing to undertake. The result is a perfect entry point for anyone wanting to build a representation of this famous fighter.
Reviewed by Rob Baumgartner

One of the most successful British fighters to see service in World War One was the SE.5a.
It didn't have an auspicious start but once all the bugs were ironed out, it became a stable gun platform with excellent flying characteristics. Nearly 100 aces flew the type with many being Victoria Cross winners. Names such as Mannock, Ball, and McCudden quickly come to mind but of course there was Bishop and Beauchamp Proctor as well.
The SE.5a was powered by both geared (Hisso) and direct-drive (Viper) engines. This release is concerned with the former.
The impressive box contains 5 sprues of well moulded plastic. One of these is clear and allows for the windscreens, pulley covers and fuselage "skylight". These are complimented by a fret of photo-etched parts and a large decal sheet that caters for 5 options.
To afford these items maximum protection, they are all enclosed in their own plastic bag and this even includes the instruction manual.
The first job was to compare the main parts with published drawings and as expected the results did not disappoint. Everything was spot-on and further examination of the parts revealed no deformities or sink marks.
Going with convention we start with the cockpit and there is plenty to add here. The photo etched seatbelts compliment the more than a dozen plastic items to create a very busy looking "office".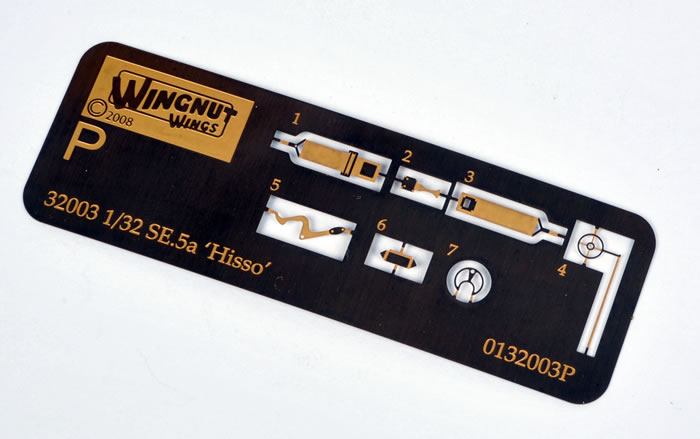 Instrument faces are courtesy of the decal sheet and look excellent under a coat of gloss varnish.
As usual with these items, remember to trim away the excess carrier film which will then allow the decal to fit nicely into its recessed location.
There were some unavoidable ejector pin marks on the fuselage interior and just to be safe I decided to fill those found in the cockpit area. The close proximity to the moulded on bracing wires meant that these succumbed to damage. Fortunately they were easily replaced with stretched sprue and much simpler to paint as a result. To maintain consistency the unaffected cables were treated in the same manner.
In what is a first for lovers of this aircraft, the modeller has a unique choice between two different fuselage halves. One is of traditional fare while the second reproduces the wrinkled fabric frequently seen on examples in the field. Clearly this kit has been designed by modellers…for modellers.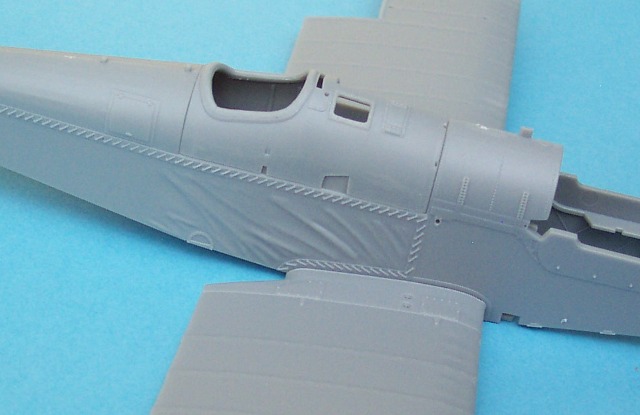 Before closing the fuselage up, one has to add the engine. The "Hisso" engine is a lovely little kit in itself and comprises 14 parts. Once again the quality is excellent and the various pipes all fit with the utmost precision. This applies equally to the exhausts and the representation of the perforation and rivet detail is exquisite.
Amazingly the wings are single piece affairs. Considering their size and complexity this is quite an achievement. No dihedral problems here as this tricky arrangement is taken care of for you. The trailing edges are commendably thin and the retrained rib tapes even show the subtle underlying stitching.
To allow more options, Wingnut Wings provides both 2 and 4 bladed props. To further the modeller's choice we get 2 styles of control columns, separate headrest, Aldis sight, 2 shapes of windscreen, and a couple of radiators.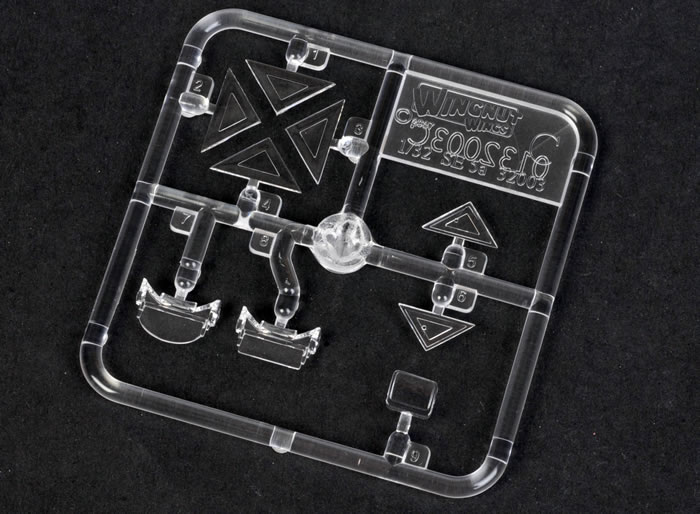 Animating your subject is easy thanks to the separate ailerons, elevators and rudder. These also have predrilled holes for the rigging which takes all the guess work out of aligning these termination points.
The inspection panel for the aileron pulley has never been done before in a satisfactory manner…until now. Recessed into the wing we have the moulded detail we expect in this scale and this is followed by a clear plastic cover. This procedure is repeated for the elevators and the effect is most realistic!
There are other nice touches as well. The steel tube undercarriage found on early SE.5a aircraft is used here (the later wooden variety is also included) and looks every bit the part. Both the Lewis gun and Foster mount are impressively moulded and close-up photos of both are shown on the relevant page.
The instruction book is in itself a piece of reference material. For example, when you are assembling the cockpit, there are colour photographs of TVAL's (The Vintage Aviator Ltd.) classic modern build of the SE.5a to guide you. This applies to many other parts of the airframe as well so the modeller has a clear understanding of what's going on.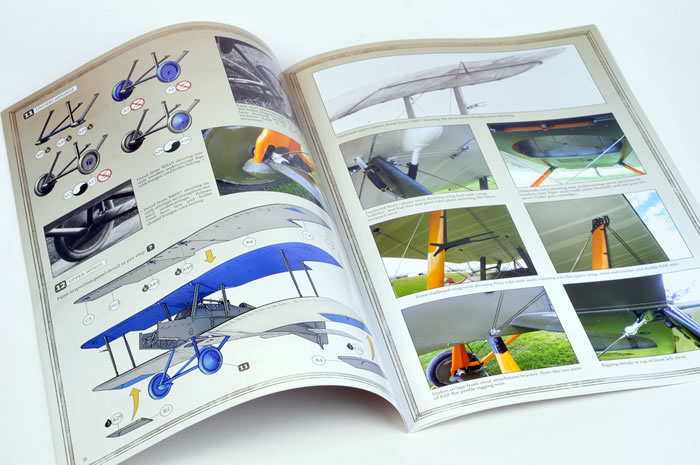 The diagrams are also in colour and even go as far as showing the internal cabling necessary for the rudder, ailerons and elevators connections.
The fit of each component is extraordinary. A dry fit of fuselage halves, lower wing, and top deck is testimony to this. Equally impressive are the location points. These allow positive alignment and integrity where necessary.
---
Marking Options
The decal sheet is huge and caters for 5 aircraft.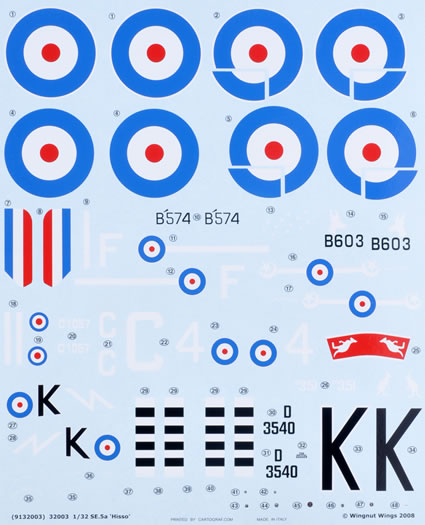 The printing is first class with everything in perfect register.
B574 "F", Vickers Built, 84 Sqn. 2nd Lt. T.V. Lord, October 1917
B603 "Niada Gana", Vickers Built, UK training unit, 1917-18
C1057 "C", RAF Built, 24 Sqn. 2nd Lt A.P.C. Wigan, March 1918
D351 "4", Vickers Built, 6th Training Sqn. AFC, October 1918
D3540 "Vickers Built, 40 Sqn. Capt. G.H. Lewis, April-May 1918
Ronny Bar supplies the artwork for the profiles and as usual it's inspiring stuff.
It is easy to run out of superlatives for this kit.
The professionalism directed towards the product is evident as soon as one views the packaging.
When the contents are inspected, this conclusion is confirmed.
There are many aspects of this kit that have been designed to make the assembly process as easy as possible. Fortunately this hasn't compromised accuracy.
It's easily the best representation of this aircraft in any scale and is a worthy addition to any collection of Allied World War One aircraft.
Thanks to Wingnut Wings for the review sample.
---
Text Copyright © 2009 by Rob Baumgartner
Images Copyright © 2009 by Brett Green
except progress image by Rob Baumgartner
Page Created 17 May, 2009
Last updated 18 May, 2009
Back to HyperScale Main Page