LVG C.VI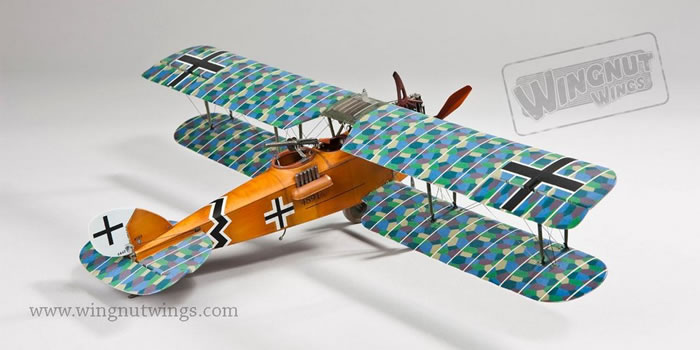 Wingnut Wings, 1/32 scale
S u m m a r y

Catalogue Number:

Wingnut Wings 32002 LVG C.VI

Scale:

1/32

Contents and Media:

166 injection moulded plastic parts on five sprues; 1 clear injection moulded plastic part on one sprue; 6 photo etched brass parts; four A4 sheets of decals + 1 smaller sheet of decals, A4 sized instruction booklet

Price:

USD$79.00 only available online from Wingnut Wings includes free international postage for a limited time

Review Type:

First Look

Advantages:

Beautifully moulded (not 'short run'); seven markings options, decals include upper and lower lozenge decals and rib tapes; high quality instruction booklet with lots of reference photos; PE seatbelts included; carefully designed for ease of construction.

Disadvantages:

No photo etched machine gun cooling barrels

Conclusion:

Very high quality.
Reviewed by James Fahey

Wingnut Wings is a new company based in New Zealand offering a range of WWI aircraft kits in 1/32 scale.
About the company
Wingnut Wings is associated with Peter Jackson, film director of 'Lord of the Rings' fame, who has a passion for WWI aviation. He has one of the finest personal collections of WWI aviation uniforms, memorabilia and reproduction aircraft anywhere in the world, held in trust by the 1914-18 Aviation Heritage Trust and displayed at Omaka in Blenheim (NZ). The Vintage Aviator Ltd, another Jackson subsidiary company, is producing replica WWI aircraft to exacting historical accuracy using original factory drawings, mostly with original WWI aero engines.
Wingnut Wings has combined these resources with 3D artists from the Weta Digital side of Jackson's business, prominent WWI aviation artists from around the world and talented Kiwi modellers, to bring to market an exciting collection of injection moulded 1/32 WWI aircraft and painted metal figures.
Wingnut Wings' first release includes a 'Hisso' engined SE5a, Bristol F2B, Junkers J.1 and an LVG C.VI. Prices are all in US$ and payment is either by Paypal or credit card (by fax or snail mail with US$10 charge for bank fees). The two-seaters are all $79 each and the SE5a is $59, including international postage for a limited time. The range is available only direct from Wingnut Wings.
WWI modellers have waited a long time for two-seaters to be produced in 1/32 scale and they will not be disappointed with this release.
---
Background
The LVG CVI was a late war German two seat observation aircraft, roughly equivalent to the RE8 on the British side. It is more well known than most other German two-seaters because of the surviving aircraft 7198/18 owned by the Shuttleworth Collection in the UK which used to fly there at air shows. Two other survivors exist, 9041/18 which is being restored by the Memorial Flight in France and 4981/18 in Belgium.
---
The Kit
The evocative box art is by aviation artist Steve Anderson. Inside the sturdy top-opening box are 8 sealed bags containing the instruction booklet, decal pack, photo-etched fret, 1 clear sprue and five sprues in grey plastic.
The mouldings are very finely detailed and Wingnut have paid a lot of attention to construction design to ease assembly: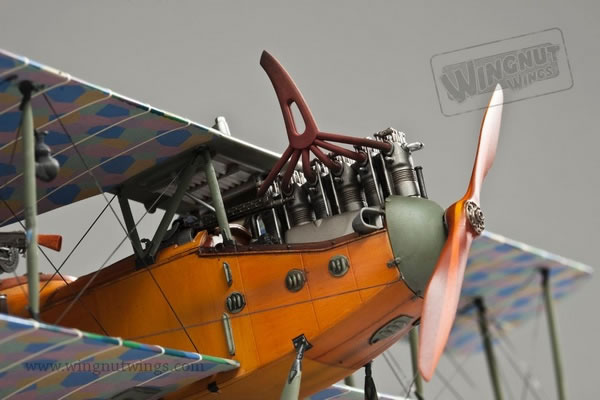 Struts are moulded with the characteristic LVG end brackets, even with tiny holes for the rigging

Wings have separate holes for the rigging wires (they're listening to modellers) and include the metal rigging fittings & fairings on the surface of the wing

Options for racks holding flares or 'potato masher' grenades

Strut mounted anemometer

Bungee cords already moulded on the undercarriage legs

Optional Wolf or Axial propeller (including decals for both)

Photoetched seat belts for pilot and observer

Beautifully moulded rib tapes with a subtle stitching effect that appears 'under' the surface

Bottom of the fuselage is moulded as a separate piece to preserve the various cooling slots and camera hole details that might be lost with a central seam

Interior control cable runs are all clearly shown in the interior rigging diagram. There is even a diagram showing the control wires which opened the camera port underneath the fuselage.
My only suggestion to WingNut Wings is to include machine gun cooling barrels with the photo etched fret, which presently has only seat belts.
---
Marking Options
The decals are produced by Cartograph in Italy and include markings for seven aircraft covering a variety of finishes:
14400/17 a late prototype with iron cross markings and green/purple camouflage on the upper flying surfaces (the remaining options feature 5 colour lozenge on the flying surfaces)

1563/18 with green mottle camouflage over the varnished fuselage

4891/18 with a white/black/white zigzag band around the rear fuselage

7766/18 '1' with a red/brown stained fuselage

'12' with the well known black/white squares marking on the top and sides of the fuselage (features on the cover of the Datafile)

1562/18 which features an interesting winter-white mottle finish over the fuselage and lozenge covered wings

4802/18 'Eleynor'
The decal sheet includes numerous LVG company logos found on the struts & rudder, and also eight instrument faces and a lovely compass face. The crosses for the top wing have cutouts for the aileron cranks – very nice!
Lozenge colours are debated at length and I am no expert, but they looked good to me.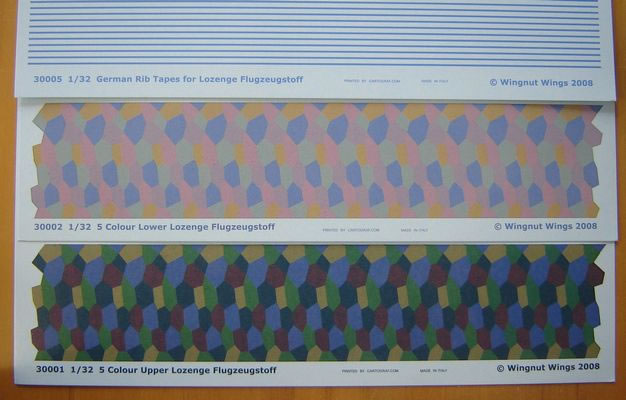 A sheet of rib tapes in blue, salmon and clear doped linen are provided, and the instructions don't say which ones are correct. All these sheets will be available separately from Wingnut Wings in the future.
---
The Instruction Booklet
This item is a gem and would stand alone in its own right as a mini-Datafile. 26 pages printed on quality glossy paper in full colour throughout, including:
Paint colours referencing Tamiya, Humbrol and Misterkit WWI ranges

20 black and white WWI period photos (many of which have not previously been published)

20 colour photos of surviving aircraft/guns/engines

8 LVG company advertising posters

detailed 3D assembly and painting guides

3 rigging diagrams (including correct scale size for the rigging wires)

a full page wood grain painting guide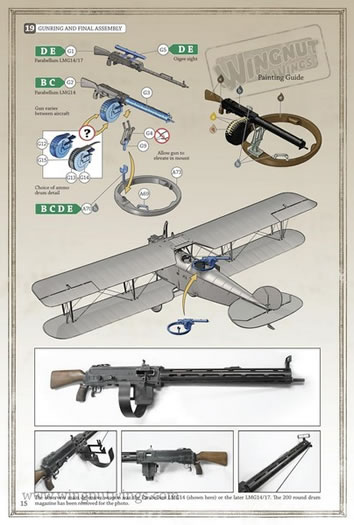 Modellers always want to add detail to their kits, particularly in this large scale, and Wingnut Wings have made this easy by providing close up colour photos from surviving aircraft. No more guessing what colour the German machine guns were – there is a colour photo to guide you. Here are links to the Wingnut Wings website for downloading the instruction booklets (note each is ~10Mb); once you've had a look I guarantee you'll be drooling:
---
The Website
The website is a treasure trove of reference information for modellers:
Archive photos from WWI (33 in the case of the LVG)
Colour photos of survivor or replica aircraft (6 for the LVG)
Colour schemes
Instruction manual (page by page view or full download)
Model images (14 in the case of the LVG)
Hints & Tips
360° Turnaround
Have a look for yourself and you will see the quality, the care and attention to detail that characterises this new kit range.
---
Future Releases
The company has announced the following kits will be available soon, all in 1/32 scale:
Pfalz D.IIIa

Fokker DVII (all variants)

Albatros D.V

RE8

Sopwith Pup

And [drum roll] a Gotha G.IV [73cm wingspan, it will take quite a few brownie points with my wife before I get one of those home . . .]

Plus a large range of 1/32 air and ground crew figures to make the models come alive.
Wingnut Wings has lifted the standard for model kit production to a whole new level. Their range is better quality than another WWI 1/32 range that sells for a similar price and is considerably cheaper than some other ranges which offer the modeller *far* less. I have no hesitation in recommending the LVG, it is a gorgeous kit.
Up until now I have modelled solely in 1/72 but this kit is so good I'll be buying more Wingnut Wings kits.
---
Declaration of Interest
I am not associated at all with Wingnut Models or any related company. I paid for the model myself. Three of the staff of Wingnut Wings are members of the local IPMS club which I am also a member of (but they kept this venture a closely held secret from everyone for 18 months!).
---
Text and Images Copyright © 2009 by James Fahey
Page Created 10 April, 2009
Last updated 11 April, 2009
Back to HyperScale Main Page