Junkers J.1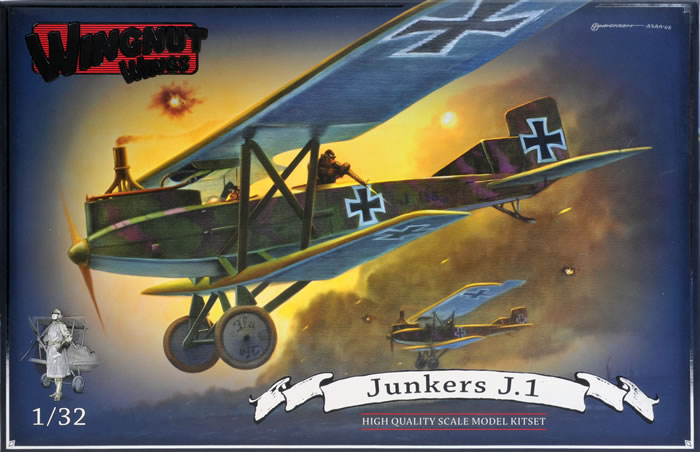 Wingnut Wings, 1/32 scale
S u m m a r y

Catalogue Number:

Wingnut Wings 32001 - Junkers J.1

Scale:

1/32

Contents and Media:

Cleverly engineered for ease of assembly, outstanding representation of the surface detail, crisp clean mouldings, comprehensive decal sheet in perfect register with minimal carrier film, photo-etched seat belts and a mini "Datafile" for an instruction booklet.

Price:

USD$79.00 only available online from Wingnut Wings includes free international postage for a limited time

Review Type:

First Look

Advantages:

Cleverly engineered for ease of assembly, outstanding representation of the surface detail, crisp clean mouldings, comprehensive decal sheet in perfect register with minimal carrier film, photo-etched seat belts and a mini "Datafile" for an instruction booklet.

Disadvantages:

Conclusion:

A brilliant first release for this new manufacturer that provides the modeller with the best kit of this aircraft in any scale. Clearly it has been designed by enthusiasts for enthusiasts. The standard of detail is a giant step above what we would normally expect in WWI models of this size and the whole package just oozes quality. With its minimal rigging requirements and quality of fit it makes the ideal subject for those wanting an introduction to World War One aviation.
Reviewed by Rob Baumgartner

Did the planets suddenly align themselves and point to Wellington, New Zealand?
Well, something phenomenal must have happened because the WWI modelling community is now blessed with a stunning new range of kits from a company that knows how to keep a secret. The remarkable story behind Wingnut Wings can be found here at www.wingnutwings.com and their initial 4 releases show that they have truly raised the bar in this scale.
The Junkers J.I was designed as a low level ground attack and army liaison aircraft. It was heavily armoured and its all metal construction was a Junkers trademark. The crew enjoyed the protection given by the airframe although the extra weight did impair performance.
Despite the 227 aircraft built there is still no proof that one was actually "shot down" behind enemy lines. Vizefeldwebel Robert Nieman of Flieger-Abteilung A250 stated that the J.I could fly with 20cm holes in its wings which is testimony to the strength of the remarkable "Flying Furniture Van".
The first thing one notices is that the box struggles to hold all of its contents, such is the size of this enormous subject. There are 8 large sprues of grey plastic as well a smaller clear one which is set aside for the windscreen. All up we have a total of 214 parts and these are superbly moulded. No defects of any kind were spotted and all of the detail is both crisp and sharp.
There are 5 options in this boxing with each one beautifully illustrated by Ronny Bar. A single decal sheet caters for these and measures a whopping 35cm x 22cm.
The instructions are a work of art...literally. It's a 22 page booklet that doubles as a mini "Datafile" on the subject. Not only are the assembly steps covered in graphic colour, but there are extra pages devoted to photographs of the real Junkers J.I. These include period images as well as close-ups of the surviving 586/18 airframe in Canada and a fuselage held in Berlin, Germany.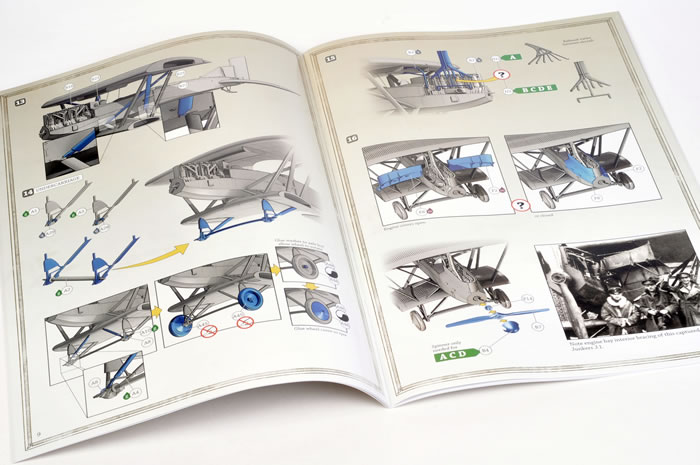 It is important to study the instructions carefully as the style in which the steps are presented is quite different to what one normally expects. In most cases the painting guide is directed at an image of the completed sub-assembly rather than of the individual components.
Nearly 50 parts make up the authentic looking interior and a quick dry-fitting shows that everything falls into place with precision. All of the bulkheads are there as well as the expected cockpit fare. The seat shaped fuel tank has the correct arm rests and both this and the folding rear seat are enhanced with photo-etched belts.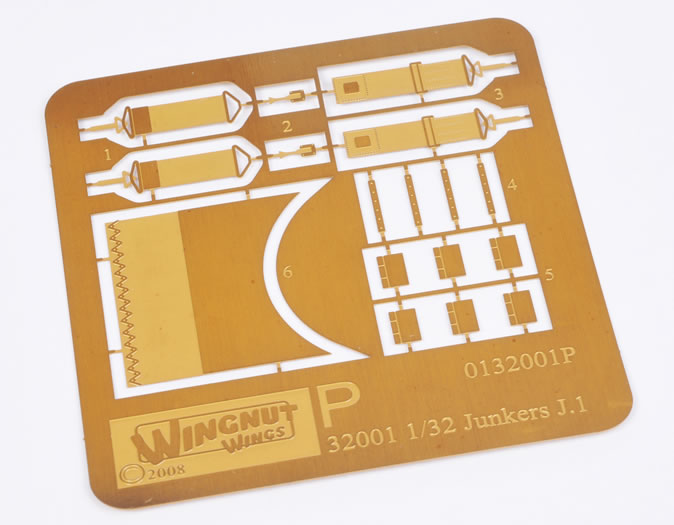 The radio gear is well portrayed and the supplied "plumbing" all adds to create a very busy "office". Instrument faces are courtesy of well printed decals and any excess carrier film should be trimmed to obtain a perfect fit.
Before closing the fuselage halves, there is the superb 20 piece Benz Bz IV engine to add. Two styles of exhaust are supplied as well as the option of having cylinders with and without integrally moulded valve rods. The latter will provide better realism when the modeller adds these for themselves.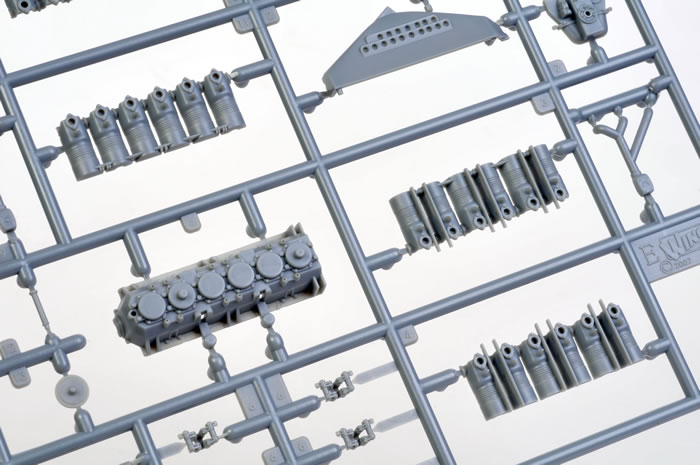 When looking at the interior of the fuselage halves, don't be dismayed by the appearance of a few ejector pin marks. These are only represented by small raised impressions and are easily pared away with a scalpel.
The lower front fuselage panel is a little different in that its small depressions will need filling. These are far enough away from the surrounding detail to allow these necessary blemishes to be filled and sanded without destroying surrounding detail. The same holds true for the swinging engine doors. This feature from the original aircraft is well portrayed here and will be a boon to those wanting to display the kit's engine.
The size of this machine can be gauged by the massive wing span which is nearly 50cm. Close inspection reveals the superb detail that has been applied to these items. The corrugations are faultless with the valleys even displaying the regular array of rivets where appropriate.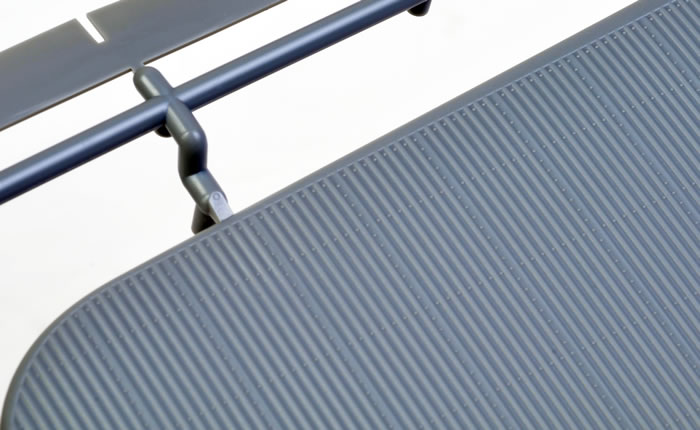 The wings are in multiple parts but thanks to the large assembly tabs, there is no problem with strength. Another bonus is that due to the thickness of the airfoil section, reinforcing ribs have been sensibly moulded to the inner surfaces to eliminate any flexing.
The elevators, rudder and ailerons are all separate parts and allow for easy animation of the subject. A test fit of the latter results in a small gap between the inner edge and the wing which does not appear to be reflected in most photos. Modellers will have to decide for themselves whether this warrants attention or not. There is some lovely "washout" on these components and this addition is a credit to the designers.
One thing you notice about the Junker J.I is the unusual arrangement of the struts. The scale items supplied have positive location points and should have no trouble supporting the enormous flying surfaces.
Different machine guns were used by the rear gunner and the manufacturer allows for this by giving the modeller a choice of the Parabellum LMG14 or LMG14/17 machine guns. An Oigee sight is provided as well as a good supply of ammunition drums.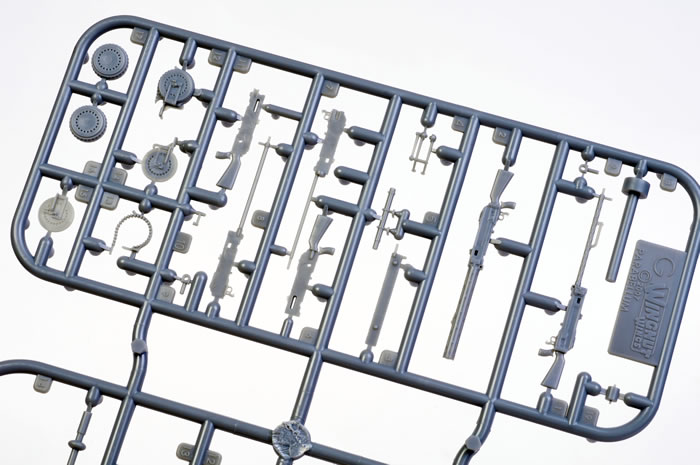 Other extras include the external flare racks. Here we get an empty, half full, or fully stocked receptacle so clearly the spare parts box gets topped up with any unused items.
---
Marking Options
The decal sheet is huge.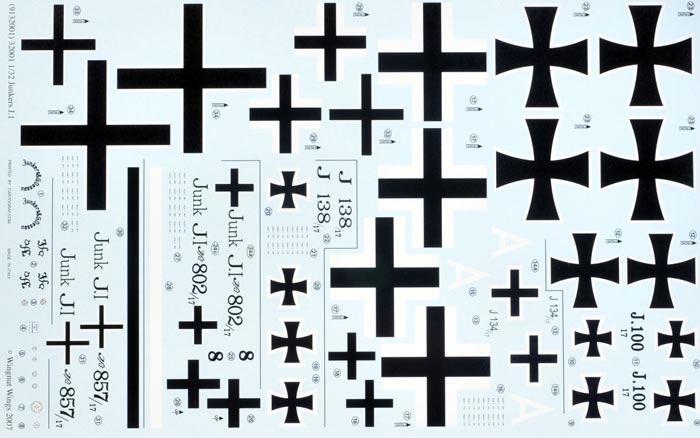 It comprises markings for 5 options as well as a healthy supply of stencil data. They are printed by Cartograf and despite the thinness of the carrier film…are very strong. Decal setting solutions can be used with care but are not necessarily required. In the past I've used a soft chisel shaped brush to gently push the decal into the corrugations and with the help of a mild wetting agent this works very well.
All items were in perfect register and the color density looks good.
Options are as follows:
Junker J.I, serial 100/17, Flieger-Abteilung 19, 1917
Junker J.I, serial 134/17, Flieger-Abteilung (A) 263
Junker J.I, serial 138/17, Flieger-Abteilung 17, 1918
Junker J.I, serial 802/17, Flieger-Abteilung unknown, 1918
Junker J.I, serial 857/17, Flieger-Abteilung (A) 263, 1918
These are all examples that did not have a "lozenge" covered fuselage so those that are wary of applying long strips of decal can breathe a little easier.
Who would have thought we would get a large scale model of this beast in 1:32 scale…and of this quality!
Attention to detail is clear throughout with the sublime surface detail and precision fit. The company says that the kits are designed to be built by experienced and novice modellers alike. A dry-fitting of the components clearly shows that they have succeeded in their aim.
Wingnut Wings is not necessarily a market-driven enterprise and thus is free from producing traditional "safe" WWI subjects. As such a quality 1:32 scale Junkers J.I has become a reality. It's not the obvious choice of aircraft one would expect as a first release from a new manufacturer but it certainly is welcome.
Its distinct lack of rigging it makes the Junkers J.1 an ideal candidate for any modeller wanting to introduce themselves to the fascinating era that is First World War aviation.
Thanks to Wingnut Wings for the review sample.
---
Text Copyright © 2009 by Rob Baumgartner
Images Copyright © 2009 by Brett Green
Page Created 12 May, 2009
Last updated 12 May, 2009
Back to HyperScale Main Page