HMS Eskimo 1941
RN Tribal Class Destroyer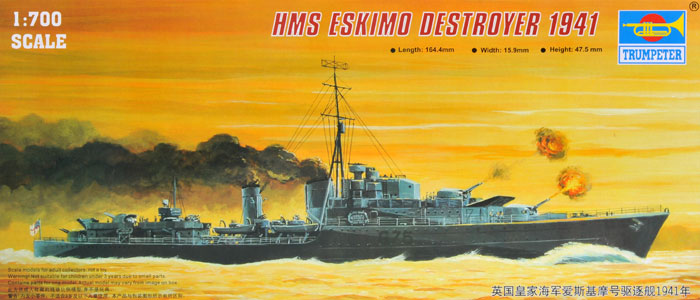 Trumpeter, 1/700 scale
S u m m a r y

Catalogue Number and Description:
Trumpeter Item No. 05757. HMS Eskimo Destroyer 1941.
Scale:
1/700
Contents and Media:
94 light grey/burgundy plastic parts on five sprues with 3, upper hull, waterline plate and lower hull being separate. A 3 page double sided fold-out instruction booklet with parts plan, 9 build diagrams and a separate paint/decal instruction sheet in colour. A small decal sheet with two White Ensigns and three hull numbers (G75) for Eskimo only.
Price:
Around AUD$27.95, distributed in Australia by J.B. Wholesalers
Available through specialist hobby shops worldwide
Review Type:
FirstLook
Advantages:
At last, a reasonable starting point for a 1/700 scale Tribal in plastic.
Disadvantages:

The fo'c'sle deck is parallel to the waterline through-out its length, ie, no rise at the bow, main gun turrets don't have enough chamfer on either side of the roof and gun breeches are moulded into the turrets meaning barrels can't be elevated. There are no boat davits and the foremast would be better scratch built. Torpedo tubes don't look correct and there is no loading derrick.

Recommendation:

You might think from the faults above that this kit is a disaster. It is not however, as most are easily fixed and the important bits are there and reasonably accurate.
Reviewed by Glen Porter


Trumpeter's 1/72 scale Wellington Mk.X is available online from Squadron

HMS Eskimo was one of the few Tribals to survive the war. It was one of 16 built for the Royal Navy before the war. Canada had 8 and Australia built 3. At war's end the Royal Navy only had 4 (Ashanti, Nubian, Tartar and Eskimo) out of the original 16. Canada lost 1 (Athabaskan) and Australia lost none.
They were built with 8 X 4.7" main armament in 4 twin turrets but the biggest problem was that these turrets had no High Angle (A/A) application so most ships had "X" gun removed and replaced by a twin 4" which had A/A capabilities.
This example of Eskimo in 1941 has that H/A 4" gun.
British WW II destroyers have not been popular with plastic kit manufacturers for some reason but we've had a few over the years. First Airfix gave us Cossack and Hotspur in 1/600th scale but they weren't very good. Revell, with their HMS Ark Royal kit included a Tribal in 1/720th scale and it was as horrible as those from Airfix but I don't know who did the original moulds, possibly Matchbox. There have been others which I haven't seen including a Battle Class in 1/350th , I think by Revell.
One of the Japanese Companies, I think it was Skywaves, gave us an "O" Class, a water-line kit in 1/700th scale which was later produced by Tamiya and although the hull was not too bad, the superstructure was terrible and only represented one ship of the class anyway.
Then Tamiya decided to produce their own moulds for ships and we started to get some worthwhile models. First we got HMS Electra, an "E" class ship that with small modifications could be built as any of the "A"- "I" classes. Then they came out with HMAS Vampire, a "V"&"W" class destroyer and one of the famed "Scrap-iron Flotilla" from the Med.
This Trumpeter kit of the Tribal Class is perhaps not as good as Electra and Vampire from Tamiya but a heck of a lot better than the old "O" Class and light-years ahead of the offerings from Airfix and Revell. White Ensign Models produce gorgeous resin kits in this scale but thats another story as they are not for the beginner.
The first thing you will notice is the size of the box. No, they haven't put the wrong scale on it, it is only 1/700th scale, a marketing ploy I guess. On opening the oversized box, you will find that there is an option of waterline or full hull. The upper hull sides are in one piece which I think is a good idea as you don't have to worry about seams at front and rear. There is a waterline plate and a lower hull part both in burgundy plastic but the rub is you can't use both.
The "A" sprue carries the deck, most of the deck-houses, bridge structure,aft funnel, torpedo tubes, foremast and other bibs and bobs.
"B" has fore funnel, boats, funnel caps, pom pom, props, shafts and rudder.
Then there's the "C" sprue with name plate (a good idea), aft gun-deck house and other small bits.
There is no "D", indicating that there are more Tribals to come but instead, 2 "E"s. These have main gun turrets, main gun barrels, A/A guns, Carley floats and their mounts, search lights and anchors.
So, where does it fall short of the later Tamiya kits? Well, all British destroyers had a rise in the Fo'c'sle deck just forward of "A" gun turret. It would not be hard to fix, mind you, a small amount of plastic card and the deck is quite thin and bendable.
The main gun turrets should have a noticeable chamfer on either side of the roof. It is there but with not enough angle. Should be fixable with a few swipes of a file. As mentioned above, the breaches are moulded into the rear of the turrets and the barrels just slot into the front so you can't have the guns elevated. The only fix for this is to go and buy some WEM items.
There are no boat's davits at all. Trumpeter just has them sitting on chocks. Tamiya managed to make them so why not Trumpeter? Again however, they shouldn't be hard to scratch.
The torpedo tubes look very odd. Two banks of two with a space in the middle and a rectangular structure on one side. Now, I believe the Tribals did carry a bank of four, not fives like some of the War Emergency ships but they had no gap in the middle and had a cylindrical structure on top. The best fix for this will be WEM again. There is no loading derrick for the tubes but like the davits should be an easy scratch.
The foremast is not bad but would be easily scratch built with plastic rod giving a better representation and finer detail.
Last and least, the two Carley float supports either side of "Y" gun deck have an open frame with two verticals and two diagonals with the float sitting on top at a slight angle but in the kit they are solid plastic with the frame in relief. There are similar items just forward of the break but the rafts are mounted on the side covering the open frames. Again, an easy fix.
The colour scheme in the kit has the ship in a two colour camouflage pattern consisting of a light and dark grey.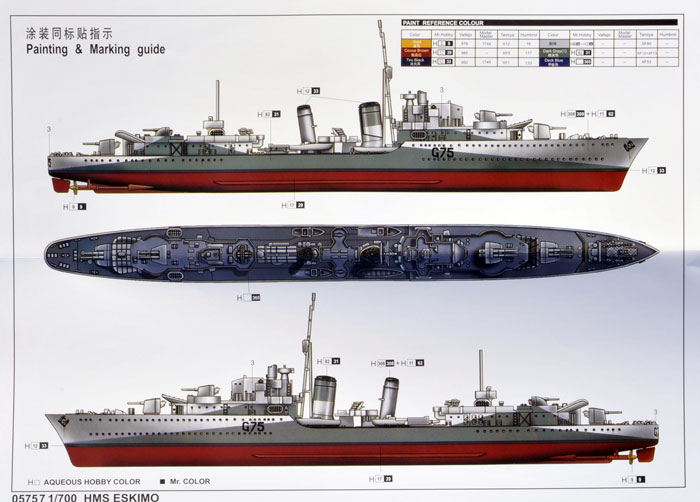 On page 37 of Alan Raven's Warship Perspectives, Camouflage Vol.One, Eskimo is shown in a two colour scheme the same as in the kit but the colours are different. The caption says it's a Peter Scott design, using two colours, Western Approaches Green, Western Approaches Blue and white. Confused? Me too. On the drawing, one colour is obviously white but what is the other, blue or green?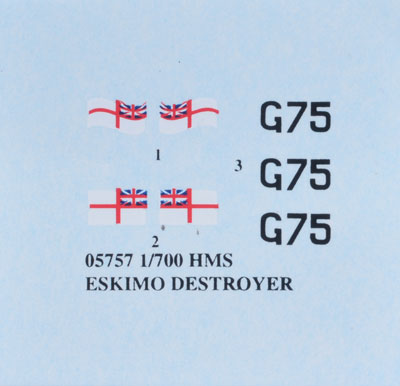 These colours are readily available from WEM under the above names and are considered very accurate.
At last, we have a 1/700th scale Tribal Class Destroyer in injection moulded plastic. It is not perfect but not bad either and certainly a good basis for any of the 27 Tribals that existed. From the parts break-down, it looks like Trumpeter intend to release more Tribals and the best news of all is that, I'm told, they intend to do one in 1/350th scale. As Trumpeter seem to put more effort into the bigger scale hopefully they will fix some, if not all, of the minor problems in this kit.
---
Text and Images Copyright © 2009 by Glen Porter
Page Created 18 March, 2009
Last updated 18 March, 2009
Back to HyperScale Main Page