CAC CA-9 Wirraway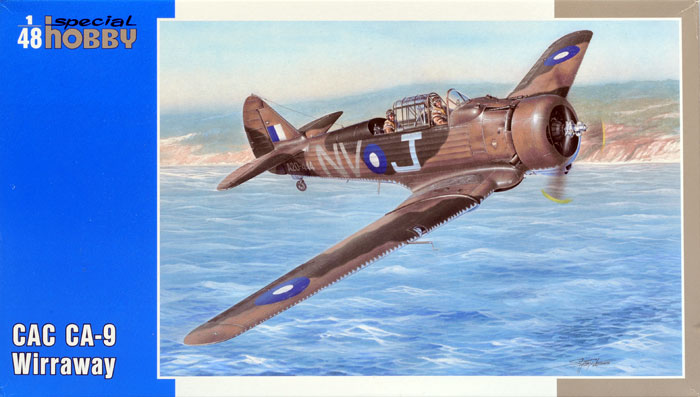 Special Hobby, 1/48 scale
S u m m a r y

Catalogue Number:
Special Hobby 48054 - CAC CA-9 Wirraway
Scale:
1/48
Contents and Media:

28 parts in grey plastic 28; 11 parts in clear plastic; 17 parts in resin; 36 photo-etched parts; decals for three marking options

Price:

USD$50.40 available online from Squadron
From GBP£19.70 available online from Hannants
and specialist model retailers worldwide

Review Type:
FirstLook
Advantages:
Excellent interior detail; high quality clear parts, beautifully rendered exterior surfaces; new sturdier packaging; accurate outline
Disadvantages:
Some detail accuracy questions; modelling skills required.
Conclusion:
This is a well detailed kit of an interesting aircraft, suitable for moderately experienced modellers.

Reviewed by Simon Wolff

Special Hobby's 1/48 scale CAC CA-9 Wirraway is available online from Squadron.com


A Brief History
The CAC Wirraway was an important part of Australian aviation history and amongst the first aircraft mass produced in Australia. Wirraway is an Australian Aboriginal word meaning 'Challenge' - an appropriate name considering it was the first aircraft produced by the new Australian Commonwealth Aircraft Corporation, established in 1936, was a license built version of the North American Aviation NA-16-2k (similar to a BC-1) with changes including some detail and structural alterations. The most obvious alteration was the two forward firing machine guns, as opposed to one on the NA-16, plus the addition of a rear firing machine gun. The Wirraway was in production from 1939 to 1946 and served the Royal Australian Air Force from 1939 to 1959, with 755 being produced.
The Wirraway saw active service during WWII in places like Malaya, where a there was a small training unit was based. The makeshift bombers fitted with 'soup tin' sirens flew against Japanese barges, crewed with New Zealand pilots and Australian observers. In the defence of Rabual New Guinea the type served as a fighter, as you can imagine suffering high losses in what could be termed a one sided battle. Fame came when one example shot down a Zero in combat, possibly the only version of the family to do so. This particular Wirraway (A20-103) is still preserved and currently on display at the Australian War Memorial in Canberra. The type was also used as an army co-operation type and widely used as part of the Empire Training Scheme
The Wirraway was also used as a Squadron hack aircraft, and apparently one aircraft had full USAAF markings while with the 5th Air Force HQ flight.
But the type is best known as a pilot trainer for the RAAF, along with some seventeen serving this roll in the Royal Australian Navy Fleet Air Arm. The Wirraway was also fitted to carry bombs and some variants had dive brakes fitted for use as a dive bomber.
---
The Model
Packaged in the newer and stronger boxing that seems to have been recently introduced, the box art shows A20 444 flying out at sea, although the artist has left the antenna off (which does come in the kit).
Prior to this kit coming along the only way of producing a 1:48 scale Wirraway was by converting the Monogram Texan, possible but a lot of works as there are many differences between the two types.
There were eight variants of the Wirraway, of which one did not see production (the CA 10 bomber variant). This model represents the CA-9 of which 188 were built (A20-435 to A20-622).
The main kit parts are moulded in grey plastic on three sprues - one for the wings and wheels, one for the fuselage and the third for the mostly interior parts. Most of the individual parts looked like they need some minor cleaning up, not drastic just looking fiddly. The surface detail on the fuselage and wings is lovely, very finely done and looks to be accurate.
The cockpit interior is well detailed with cockpit floor, side frame and general interior equipment some of which is resin parts. Looking at photos of two existing Wirraway's (RAAF Museum and A20-10 at Moorabbin) with their side panels removed the framework looks a reasonable representation with some shape problems in areas, however taking in to account the crowded fuselage sides you are unlikely to see a lot of it once the kit is built. There is still room for improvement such as two buttons need to be added to the pilots' handle of control column. For some reason the kit instruction illustrations for the cockpit framework does not match the actual parts, not that this is a major problem with assembly.
The canopy comes as one part, most photos show the observers last piece of canopy removed, certainly if you want to open the canopy this will provide hassles. The canopy also comes with photo etch grab handles, a nice touch.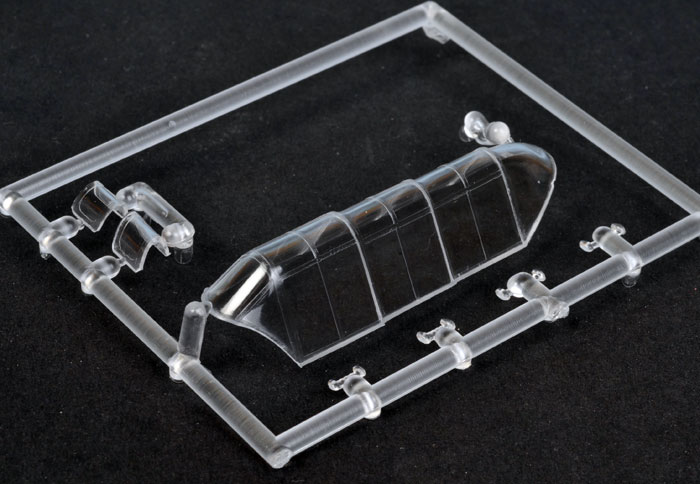 The cockpit panels are beautiful looking, consisting of plastic, photo-etch and a acetate sheet of dials.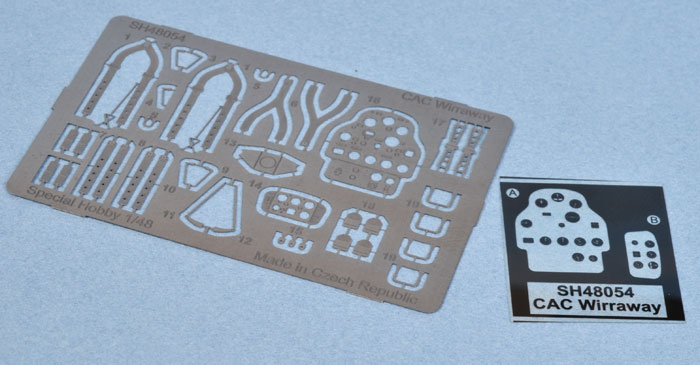 The seats are resin and quite beautifully done, with fine photo etched seat belts one criticism though the rear seat is provided as only forward facing when it should be of a swivelling type so the observer could face rearward!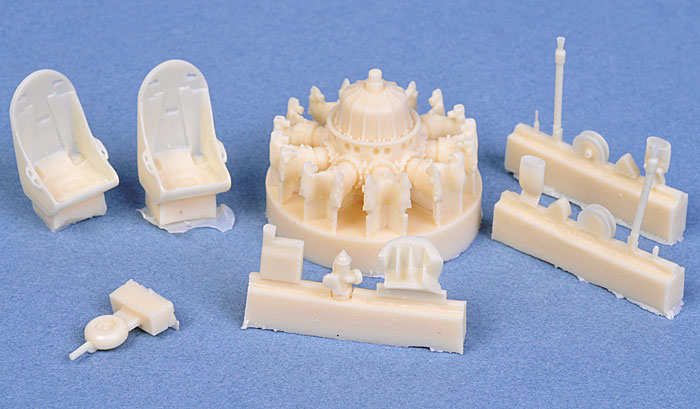 Something missing from the left side of the fuselage is a foot hold, there should be two but only one is shown. The pilot's foot hold is indicated in outline but not provided as a part but this can be easily made.
There are a number of parts provided which are not shown in the instructions, these are two alternative upper cowls, along with the armed version there is an unarmed 'hump' and a plain. There is also a scarf ring provided but not listed, this would most likely have been fitted.
There are two tail wheels provided neither of which look suitable, one looks too large and the other too small! Best replaced from the spares box.
The propeller hub is a bit unconvincing; I believe that Aeroclub could have a suitable white metal replacement, which is what I used when converting the Monogram kit.
The engine is produced in resin and is absolutely beautifully detailed although could do with some additional rods for the cylinder heads.
The instructions for the interior colour is wrong, they say Interior Green it should be aluminium, certainly all the photos of existing Wirraway's show the interior as aluminium.
As with Special Hobby kits most plastic parts come butt jointed which can cause problems in lining up such parts as the tailplanes and the antenna, not to mention leaving the joints rather weak, would suggest drilling and pinning these parts. Also on the review example one of the tailplanes was badly warped.
The decals printed on one sheet, printed by Aviprint, are in register and look to be quite accurate.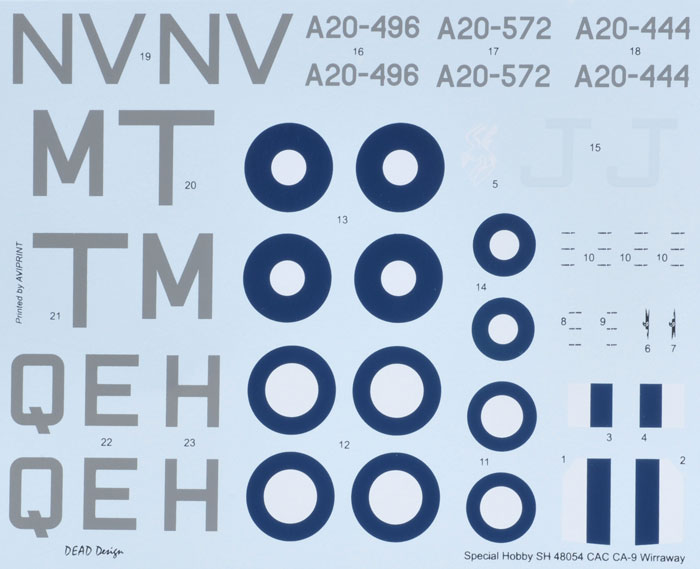 Marking options are as folllows:
CA-9 Wirraway A20-444 NV-J, RAAF 23 SQN, Lowood airbase, Queensland, Australia 1943. Earth Brown/Foilage Green uppers and Sky Blue lowers.

CA-9 Wirraway A20-496 TM, RAAF 23 SQN, Lowood airbase, Queensland, Australia summer 1943. Earth Brown/Foilage Green uppers and Sky Blue lowers.

CA-9 Wirraway A20-572 QE-H, RAAF 4 SQN, Port Moresby, New Guinea, 1942-1943. Earth Brown / Foilage Green uppers and Sky Blue lowers.
Special Hobby's Wirraway is a lovely looking kit with lots of interior detail and accurate in outline.
Being a limited run kit, some extra effort will be required during construction such as cleaning up of plastic parts. The kit will also need some extra work to make it completely accurate, but that would depend if you so feel inclined.
I can't say that I am personally excited by the colour schemes chosen as there are many other more historically interesting schemes. Possibly a local manufacturer will provide optional decal schemes and optional (such as the rear machine gun) parts for later models.
I definitely recommend this kit.
---
References:
Stewart Wilson's superb 'Wirraway, Boomerang & CA-15' In Australian Service, published by Aerospace Publication (could not do much better for information on the types history).

Kookaburra Publications 'Wirraway & Boomerang Markings' by Geoffrey Pentland. Long out of print but worth having if you can get hold of it.

Kookaburra Publications 'RAAF Camouflage & Markings' 1939-1945, volumes 1 and 2, both have useful colour schemes for the Wirraway.

Profile Publications Number 154 The Commonwealth Wirraway, good history of the type and useful photos. Long out of print.

Aussie Modeller International have some Wirraway 'Walk-around' photos on their web site.

Wikipedia, CAC Wirraway.

RAAF Museum A20 CAC Wirraway
Museums with a Wirraway in their collection: Temora, Australian War Memorial Canberra, Australian National Aviation Museum Moorabbin in Melbourne, RAAF Museum Point Cook. Camden Aviation Museum had an example but the museum has been closed for some time. There are a couple of other museums with a Wirraway but can't come up with their names at this moment.
Thanks to MPM/Special Hobby for the review sample.
---
Review Text Copyright © 2009 by Simon Wolff
Images Copyright © 2009 by Brett Green
Page Created 5 January, 2009
Last updated 6 January, 2009
Back to HyperScale Main Page
Back to Reviews Page