Dornier Do 17 K
(Early Version with Short Engine Nacelle)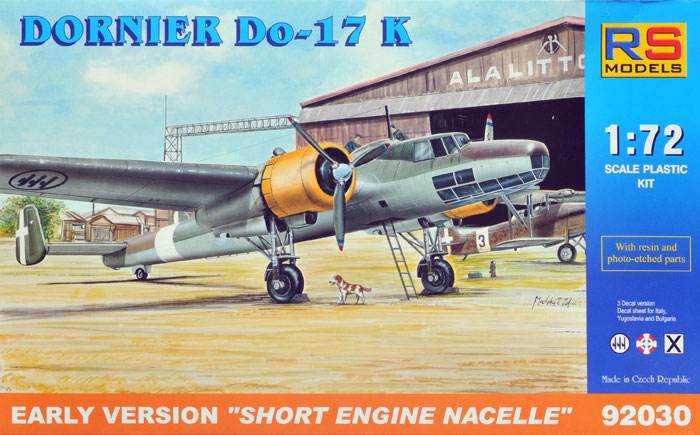 RS Models, 1/72 scale
S u m m a r y :

Catalogue Number:

RS Models item no. 92030 - Dornier Do 17 K (Early Version with Short Engine Nacelle)

Scale:

1/72

Contents & Media

58 x tan styrene, 46 x cream resin, 1x Eduard coloured photo-etch (CPE) fret, 8 x clear styrene, and decals for three subjects

Price:

Available online from Hannants from £26.08 and Modelimex from €29.83

Review Type:

First Look

Advantages:

Generally simple construction (engines aside) and good detail levels for the scale.

Disadvantages:

None worth mentioning.

Conclusions:

A good kit of an interesting and attractive subject.

Reviewed by Mark Davies

HyperScale is proudly supported by
Squadron.com

As most readers will know, the Do 17 was referred to at the time of its introduction as the "Flying Pencil". It was ostensibly created to meet a fast mail-plane specification, when in reality it was to be capable of fulfilling a fast bomber role. It was well received and went on to gain some international recognition prior to WW2 because of its speed. It was to go on to found a family of bombers and night fighters, although these were generally overshadowed by the Luftwaffe's He 111 and the Ju 88 in particular.
The subject of this kit, the Dornier Do 17K, was similar to the German's Do 17M. It was the Yugoslavian export version, and the purchase agreement included rights to licence production. The Yugoslavs decided to power their aircraft with French Gnome-Rhône 14N engine. This decision was based in part on the 14N's higher power rating, although it transpired that the French had over-stated the engine's capability. Despite this, the Do 17K's combination of German airframe, French engines, Belgian machine guns, a Hispano 20mm cannon, Czechoslovak cameras and indigenous modifications all led to an aircraft more capable than any early Do 17 fielded by the Luftwaffe.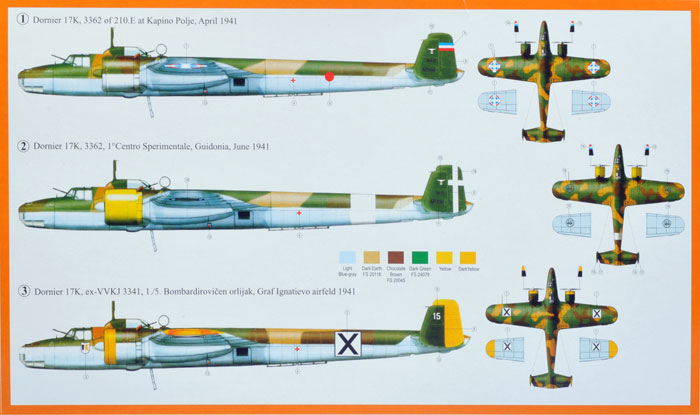 The last three Yugoslavian Do 17s were not built following the German invasion of 1941. Many of the 60 or so that were in service were destroyed early in the German attack, but those remaining carried out some successful raids against the invaders before being overwhelmed. Two aircraft escaped to Egypt carrying King Peter II and members of his government, and ended up in British service. Another seven flew gold reserves to Greece. The Germans captured 18 Do 17's plus three unfinished airframes and the Italians captured two. Of the German haul, six were supplied to Bulgaria and 11 to Croatia. Post-war Bulgaria returned four. Another aircraft served in Hungarian service until the 1950s.
RS Models' 1/72 scale Dornier Do 17 K comes in a typically Czech end-opening box with attractive artwork on the front, and colour scheme and markings plans on the rear for the three decal options provided.
The instructions provide a parts map, and an easy to follow diagrammatic assembly format. Colour call-outs are in both RLM codes and generic colours, and include the detail and interior parts as well as the airframe. They also provide a brief aircraft history and specifications in Czech and English.
The styrene parts are cleanly moulded limited run items with commendably fine engraved panel detail. I have built the RS Models Avia FL-3, and found the fit to be excellent. I have no reason to think this kit will be any different.
Out of interest I decided to quickly compare the RS Models Do 17K to the Airfix Do 17 E/F. The Airfix it was a commendable effort for its day (1972), with some engraved panel lines and fairly fine rivets, and should still build into a nice model today. RS Models have obviously improved on the surface detail, have captured the Do 17K's metal skinning in place of the earlier versions' fabric wing undersides. They place the engine nacelles slightly outboard of Airfix, and the wing chord is about 1mm less. Obviously the engines are different as the Do17 E/F had inline engines. None the less, there is a fair degree of agreement when comparing parts. This suggests that the two brands of kit could be completed and sit alongside each other as part of Do 17 display, and not contradict each other dimensionally or shape-wise too much.
As stated on the box top, this kit has short engine nacelles (they end in line with the flap hinge), but does not clarify which sub-variant it is out of the possibilities of Do 17 Ka1, 2, or 3. By my reckoning this means the kit is either a Do 17 Ka1 or Ka2, as the Ka3 had longer nacelles ending at the wing's trailing edge. However The Do 17 Ka1 and Ka2 had different dorsal gunner canopies; the Ka 1's being shorter with its front edge further from the rear of the pilot's canopy. Therefore I think this kit must represent the Do 17Ka2 because of it has the longer gunner's canopy.
The engines account for most of the resin parts, as they have separate cylinders. This may offer some advantage over a one-piece casting for twin-row radials like the 14N, but in this scale I prefer the simplicity of the single casting (employed very satisfactorily for twin-row radials by Quickboost for example). Other resin parts include nice prop spinners, some engine scoops, crew seats and other cockpit interior detail.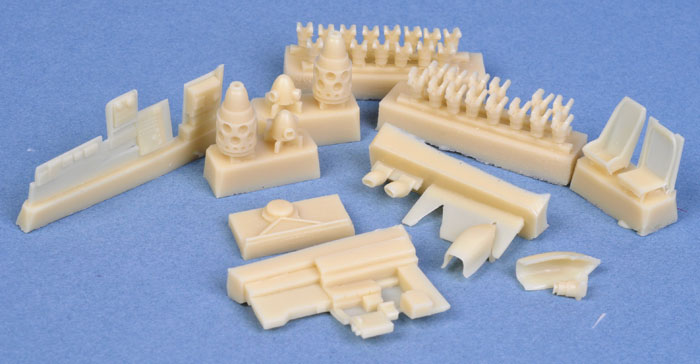 The cockpit and engines are further enhanced by an Eduard colored PE fret. The coloured parts include the seatbelts and two-piece instrument panel. Unpainted cockpit parts included rudder pedals and throttles and small prop pitch levers etc.
The PE set also provides the engine push rods. Personally I don't like this method as I find removing the rods and keeping them straight and equally gapped around the small ring holding them at their base quite tricky. I always end up using plastic rod in their place as I find, aside from being awkward, the PE rods are too two-dimensional, and I don't like the PE ring that holds them in place as this never looks right on the engine crank case. So again, I feel that a one-piece engine with push rods cast in place would have been better. This view is even more justifiable as the Gnome-Rhône 14N engines have very long prop shafts, placing them deep inside their cowls, and then most of the view of the engine is blocked by a large circular baffle plate behind the spinner. On balance, the multi-part engines are not a disadvantage as such, but possibly an unnecessary complexity I'd prefer to do without.
Remaining PE parts provide for fine details like a DF loop, elevator actuators, gunsights and oil coolers. There also some very fine long parts that form part of the main undercarriage braces. Quality of the PE parts is all you would have come to expect from Eduard.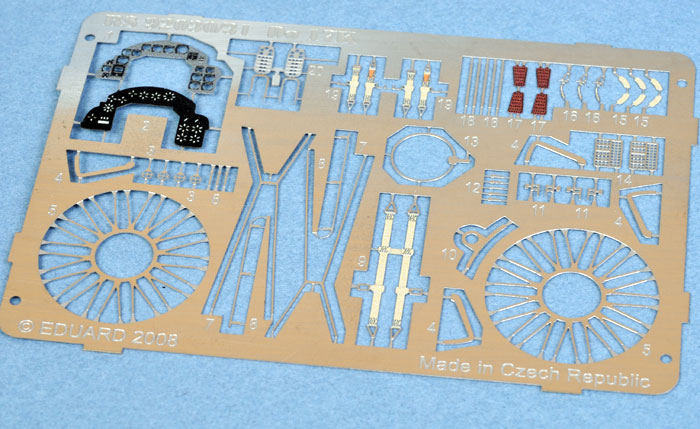 The injected-styrene clear parts are clear and sufficiently delicate to be convincing. Care will be needed when drilling out holes in the canopies for the guns to protrude through. The main cockpit canopy matches the Airfix Do 17E's canopy, so if you really want to show off the resin and Eduard CPE you could use the Falcon vac-form intended for the Airfix kit without any problems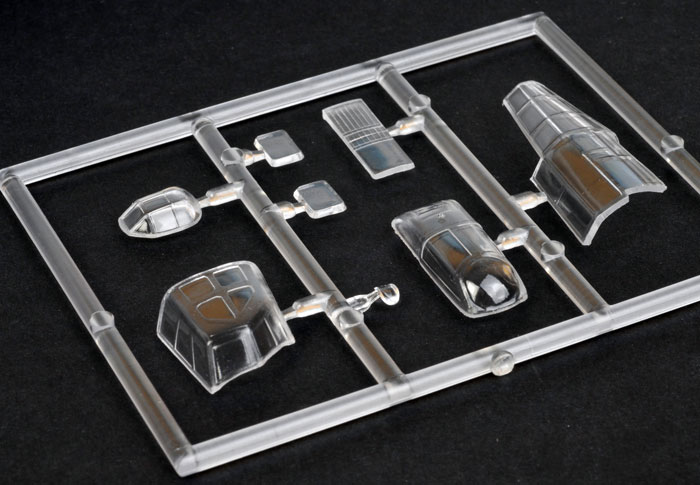 Three decal options cover three camouflaged machines with tri-colour upper surfaces. These being Yugoslavian, Italian and Bulgarian machines. The last two schemes with yellow cowls add a splash of colour to the Yugoslavian camouflage. Decals are in good register and appear to be of good opacity.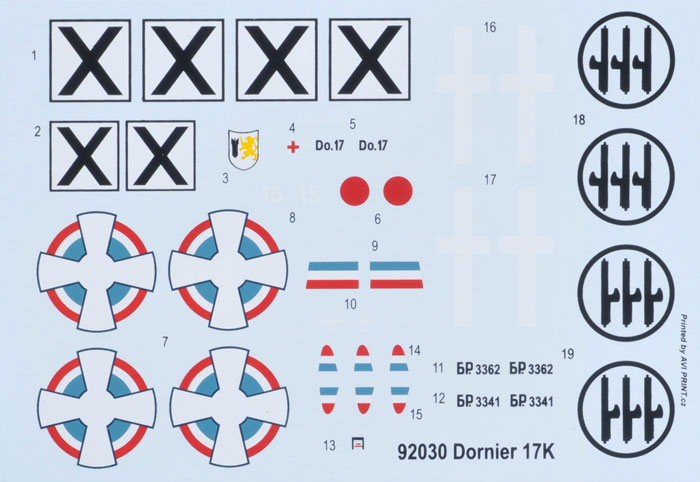 All in all this is a very nice limited run kit of an attractive 1930s bomber. RS Models are offering a range of early Do 17s, and this boxing certainly caters for something a bit different.
Recommended.
Thanks to RS Models for the sample
---
Review Text Copyright © 2008 by Mark Davies
Page Created 7 June, 2008
Last updated 7 June, 2008
Back to HyperScale Main Page
Back to Reviews Page