WWII US Navy
Fletcher Class Destroyer

Revell, 1/144 scale

S u m m a r y

Catalogue Number:

Revell kit number 05901 - US Navy "Fletcher Class" Destroyer

Scale:
1/144
Contents and Media:

500 (yes 500) grey plastic parts; 5 parts in clear plastic; hobby string; decals and signal flags; colour scheme for two ships.

Price:

From GBP£34.03 available online from Hannants website
and hobby retailers worldwide

Review Type:
FirstLook
Advantages:
Crisply raised and engraved surface features; high level of detail, especially many of the deck fittings; easy to follow instructions will make construction straight forward; position able 127 mm Mk.30 guns, rudder and turning propeller.
Disadvantages:

Solid barrelled 127 mm Mk.30 guns. Care will be required when gluing the two launching cradles and 272 kg depth charges, as cleaning seam lines may prove difficult.

Conclusion:

This is a popular class of ship in a great scale. The size and level of detail will make it an eye catching model in anyone's collection.

Reviewed by Ryan Hamilton
Revell has released a new 1/144 scale US Navy "Fletcher Class" Destroyer.
The US Navy "Fletcher Class" Destroyer comprises 500 parts in pale grey plastic; 5 parts in clear, modelling string for rigging and markings for two ships.
To echo comments in the recent 1/35 Schnellboot Type S-100 review, there's no sneaking this model into the house. With a box approximately 1 meter long, those who purchase this model via mail order may wish to obtain an estimate postage cost.
On first look you might assume that the new Revell Fletcher Class Destroyer is actually 1/72 scale. When you compare this model up against a 1/144 airliners (B747), the true size of the Fletcher Class is revealed.
The quality of the mouldings is excellent, with both raised and recessed panel lines and detail. There are no issues with ejector pin circles as they are located on the interior side of the main super structure and the hull.
The main hull is supplied in two halves with internal support braces, which link onto the main deck for additional support. The exterior detail of the hull includes the armour plates down the side of the hull and raised rivets on all the fastening plates. The waterline is marked on the hull with two thin raise panel lines.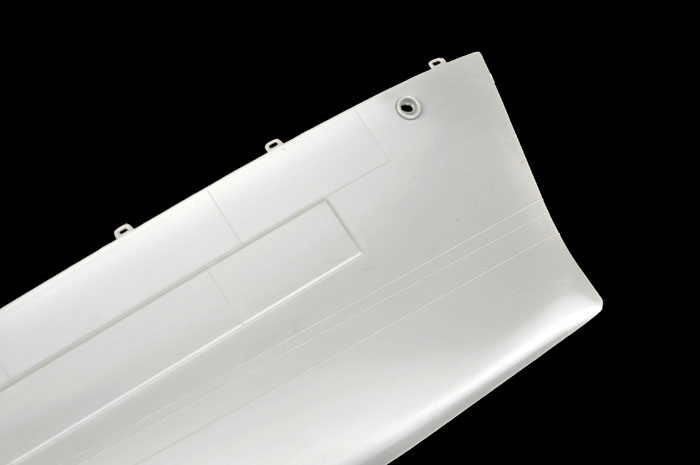 The breakdown of parts is standard for most modern ship models. Test fitting of major components was very good, which will assist with cleaning seam line before painting. Do take you time, especially when building the superstructure, to ensure parts are glued correctly and the fit is good.
Revell provides a movable rudder and propellers, but with such a large model I find this to be more of a novelty then any practical use. The five 127mm Mk30 guns are also moveable once in position.
The main mast and filigree radar equipment is very well detailed, along with the funnels. The advantage of such a large model ship is that detail, which would previously have been provided as photo-etched, can now be moulded in plastic.
Armament includes 5 x 127mm Mk30 guns, 1 x 40mm (Bofors) twin barrelled AA gun; 6 x 20mm Oerlikon machine cannon in single mount; 10 x 532mm torpedo tubes in two groups of five; 6 throwers for 136 kg depth charges; two launching cradles for 272kg depth charges with a total of 28 depth charges.
The detail with the guns and cannons are sensational. The construction of the individual 20mm Oerlikon machine cannon consists of five individual parts.
Care will need to be taken when gluing the 272kg depth charges together as the barrels and cradle are in two halves. The 272kg depth charges had a smooth barrel, where the join of the two halves is down the middle of the barrel. It may prove difficult to clean any seam that remains. The same will apply to the two sets of torpedo tubes. The barrels for the five 127mm Mk30 guns are moulded solid and will require drilling out with is disappointing. With such a large-scale model ship, I would have expected these to be hollowed.
Revell provide a roll of hobby string to use for the guard railing along the side of the ship. Modellers may wish to cut a spacing template from a piece of card to ensure that the correct height is maintained when gluing the string onto the support railing.
I would also be inclined to replace the string with some elastic polymer lines as it can take a knock and is not prone to breaking.
For those wanting to build a later "square bridge" Fletcher Class Destroyer, you may need to wait for a specific release. The major differences between the two versions, especially with the armament, communications and superstructure layout, would make it a challenging conversion.
Clear parts are provided for the bridge windows and the search light lenses. The search light lenses are a nice touch.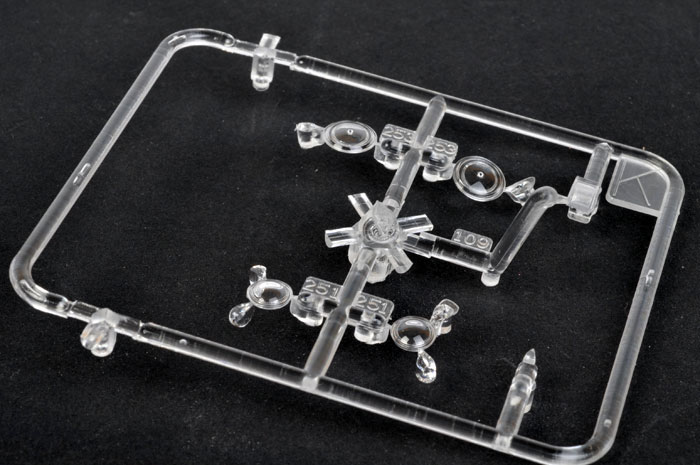 Instructions are detailed over a 20 page booklet with 63 illustrated steps.
Dimensional the Revell 1/144 US Navy "Fletcher Class" Destroyer is on the money as far as the correct length is concerned – 80cm long. The superstructure layout is also correct with reference to photographs – www.navsource.org . I should mention that after reviewing many reference photos of these two ships (DD-451 & DD-445), the main deck is a busy place with supplies and temporary fittings stored on deck. These do not form part of this kit. Many changes are also observed between the difference ships in this class depending on the time, theatre and fit out of the ship. The Revell 1/144 Fletcher Class release depicts an early (1942) destroyer.
Markings are supplied for two ships:
USS Chevalier DD-451, Oct 1942 – Boston.

Two-tone grey hull in a classic style, single grey superstructure, darker grey upper deck, and hull red below the waterline.

USS Frank Fletcher DD-445, 1942 – Navy Yard, New York.

This is the more colourful option of the two schemes with USS Frank Fletcher DD-445 in its three-tone camouflage. The instruction clearly lay out the port, Starboard and upper paint plans as well as sub assembly of the super-structure. A small white ship number decal (445) is supplied for the bow.

The majority of the decal sheet is the black waterline mark. Some modeller may find it easier to paint this black strip instead using the decal. The remaining decals include the ship numbers for both colour schemes, white depth numbers, and two title decals for the stand.
A separate sheet is supplied with the USA and signal flags. These are simple cut out and glued into place.
I can remember not too long ago we were eagerly awaiting the arrival of a 1/350 scale Fletcher Class Destroyer. The large scale 1/144 Revell Fletcher Class Destroyer now brings an increase level of detail. Out of the box your will build a sensational, eye catching model, and yet there is plenty of potential for the aftermarket companies.
At GBP£39.14, you get a lot of plastic for you money. Unlike smaller scales, you wont be building a fleet of 1/144 Fletcher Class Destroyers, but the size and detail of the Revell release will ensure it's the one ship model which will be the centre piece of any collection.
Highly recommended.
Thanks to Revell for the sample
---
Text Copyright © 2009 by Ryan Hamilton
Images Copyright © 2009 by Brett Green
This Page Created on 9 February, 2009
Last updated 10 February, 2009
Back to HyperScale Main Page