Schnellboot Typ S-100
<![if !vml]> <![endif]>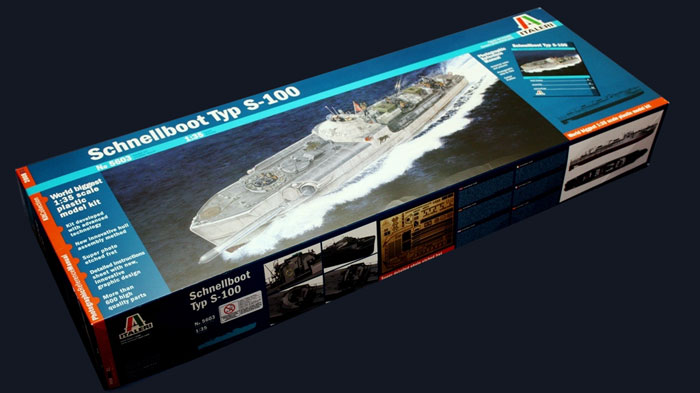 Italeri, 1/35 scale
S u m m a r y

Catalogue Number:

Italeri kit reference 5603 1/35 Schnellboot S-100

Scale:

1/35

Contents and Media:

452 plastic parts in grey styrene; 21 pre-cut windows in a clear acetate sheet; 90 photo-etched parts; decal sheet; 2800mm of thick thread; 2800mm of thin thread; 25 screws; 8 Nuts and a small screwdriver; 44 pages of A4 Instructions; Photographic reference mini book printed in gloss paper A5 format with 24 pages containing 16 black & white wartime photographs, 22 color pictures of the model assembly, 2 color profiles, two wartime illustrations, support text.

Price:

Purchased in Portugal, directly at the local hobby shop. Price: € 123,47
Worldwide Available at your favourite model shop or mail order house.
USD$224.98 available online from Squadron.com

Review Type:

FirstLook

Advantages:

Great subject choice. Giant kit, one meter long (and the box is taller than your legs). Stunning wow effect once finished. Big, however, very well planed and presented to make it quite easy to do. Spectacular box art painting is not marred by typing or logotypes allowing a great framing to d_cor your model room. Professionally presented product. Robust packing. Small book inside. In many key areas this is a highly detailed model. Excellent, in fact outstanding, use of photo etched parts without overcomplicating the kit. Very cleverly designed. Great bridge multimedia design, detail and finished look options. Delicate raised rivets like it should be. Stunning torpedo launchers and exquisitely detailed torpedos. Tremendous realistic depth charge ramps.

Disadvantages:

Some may complain that the hull is moulded in two halves. Unlike the previous Italeri PT-596 kit, this Schnellboot S-100 has no aluminium turned guns. Very fragile rails and guards. Few extras. Kriegsmarine decal flag is censored – you will need to search your spares to complete the design.

Conclusion:

What a breathtaking kit - Without doubt the one of the best Italeri ever created. This is the perfect kit_ a modeller may wish to model all this long winter nights and the finished model has it all to become the centrepiece of your kit collection. Furthermore, for what's in the box, it is a tremendous value for money. Highly recommended to all enthusiasts of plastic modelling!
Reviewed by Nuno Andresen


Italeri's Italeri's 1/35 Schnellboot is available online from Squadron
Italeri has been issuing terrific model subjects in their recent past. After the excellent Elco 80' PT-596 issued last year, now arrives the eagerly awaited Kriegsmarine counterpart – The German Schnellboot Typ S-100.
Kriegsmarine fast crafts are well known in the modelling community. In fact Revell issued a staggering kit of the S- 100 in the small 1/72 scale back in 2001 and the finished product is already quite appealing. You may wish to take a look at this previous Hyperscale article presenting a great model by Chris Wauchup: http://hsfeatures.com/s100cw_1.htm
Now imagine this highly attractive subject twice as large! As you may have guessed you are in the presence of a strong museum masterpiece candidate that only appears once in a while.
I am six feet tall and this box stands one inch above the belt in my pants! Therefore you won't be able to hide it once entering the house. But don't sorrow it. In these long winter nights, you may wish to talk with your beloved one and combine with her a gift... With such a pack you can also promise not buy anything more until next Summer! It will keep you busy till then!
The first moments with the box will reveal a lovely large box art completely isolated from Typing and Logotypes which will allow you to frame it once the model is finished. Just protect this gem during assembly. It is too beautiful to be scratched during normal manipulation. After contemplating for several minutes this exquisite painting, box opening will reveal an extremely well packed and protected kit.
<![if !vml]> <![endif]>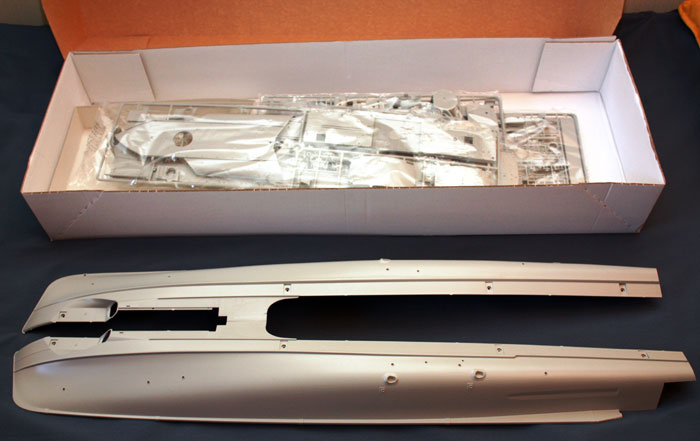 The first logical thing to do is to inspect the two hull halves. The length of these parts is almost one meter each. <![if !vml]> <![endif]>
These halves are beautifully well moulded with all protuberations exquisitely well made and blemish free. They fit together perfectly and leave no gaps. Along the keel, alignment is made easy due to several positive/negative key pins. My sample shows no warping of any kind. But some will complaint they would prefer a one piece hull. To be totally honest, so would I! However, we have to understand that, that would require an even bigger box since a one piece hull and all other sprues would needed to be placed separately inside the box. As you can see in the photographs, in this case the sprues are placed between the two halves making the box width quite smaller than the previous PT-596. Just remember that a bigger box, most probably, would implicate an extra cost and in these turbulent days, cost control is a key decisive factor for the success of any product. So I respect and understand the way the hull is presented. Thinking this way, I even prefer it!
Gluing such gigantic pieces may fear some at first glance. However the kit really reveals that Italeri thought deeply about it and the kit is issued with several helpful space bars to ensure strengtheness and alignment during the assembly process. <![endif]>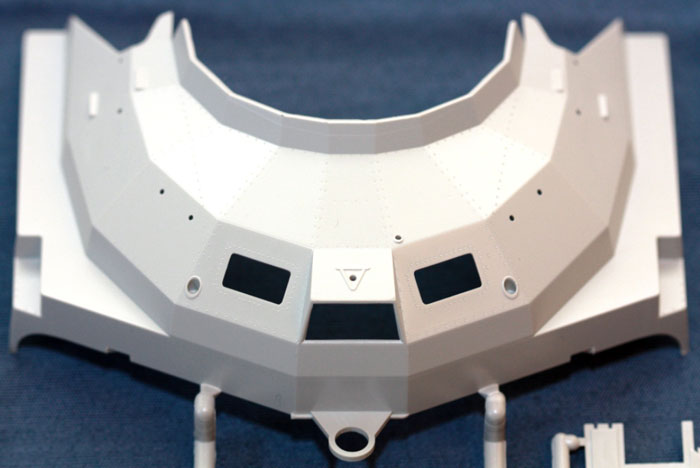 Allow me to say that the horizontal bars you see here being screwed to the hull, will also serve to facilitate the assembly of decks ensuring perfect aligning in posterior steps. Some of you will already be familiar with this helpful screw assembly if you have past experience with Tamiya large 1/32 aircraft. Remember that "Large" doesn't mean "Complicated" and in fact, checking all the kit, its engineering reveals that is designed to be just as easy to assemble as it is possible to concept without sacrificing the ever required precise detail a modeller demands. Through the entire model you really feel that Italeri is perfectly focusing the modeller ensuring the best possible assembly success during the whole construction stages.
Well, I didn't resist and I checked how everything goes together. In this photograph hull halves are not glued, only taped. The gap you see in the keel is only visible on the inside to locate all alignment pins. Look closely and you'll see them on each decimetre of that long keel. From the outside, there are absolutely no visible gaps.
<![if !vml]> <![endif]> Regarding the aft and stern decks, fit is also great. The aft deck you see here in this dry fit has no glue or screws and fits already tight and seamless, stern deck is taped, however fit is superb too. And quite motivating you start to see the shape of this tremendous appealing kit coming to life.
<![if !vml]> <![endif]> If I may pass a small note wishing your success, even with these helpful side bars, due to the sheer size of the hull halves be aware that regular xylol based modelling glue may not create a bond robust enough in the halves. Cyanoacrylate glue is also not a good option as it may settle instantly but it is also not too strong and may brake without warning: Brittle joints are not the best in these situations. Therefore, if I can pass a hint from past experience with really large joints, assemble the model like you normally make kits, block everything with low tack tape to dry (like here!), and once the hull halves are glued to each other and screws are attached use 5 minute epoxy glue on the whole internal joint of the hull halves – from bow to stern. As stated, do this only on the internal part of the hull, not allowing glue to pass to the outside of the model. Just remember that real hull keels are very sharp, well shaped and well maintained, therefore, the hull joint must be blemish free. You'll see how easy it is and how your model will benefit if you create a strong bond.
Regarding the detail, and the delicacy of the whole hull, while it is difficult to show in detail all the features of these two enormous parts, I picked this close up, near the foredeck, to show the torpedo launchers:
<![if !vml]> <![endif]> While the edges need to be sanded to polish the tears you see above from sprue removal (it wasn't me, these halves already come like this, pre removed from their sprues) as you see, these parts are superior well moulded and their rivet representation is really well achieved. These delicate lines of half rounded subtle raised rivets have an enormous lifelikeness to the real subject. If you inspect pictures of the real subject you will also see that there are some missing rivets near the collar of the torpedo aperture (use pages 66, 67 of Warship Pictorial number 15 as reference) but these can be added in seconds – by no means I am a compulsive rivet counter or measurer, so if out of the box is your mood, what you have is perfectly enough to ensure great satisfaction.
Moving amidships, near the bridge you see how consistence and well made detail is. The parts really cry out to be assembled.
<![if !vml]> <![endif]> After the hull experience, it's time to see the detail in the decks. You saw them previously detached to check fit.
<![if !vml]> <![endif]> They are packed together, opposite faces outwards to avoid scratching. They are not warped and at first glance they fit trouble free and gap free with the hull halves. Detail and rivet representation is once again quite well achieved and have in mind that the decks of the real S-100 were almost plain. However, where detail is required, it is all there: From the exquisite rivet rows at the bow to the anti slippery wood planks around mid ship combat station. As it is difficult to find room to present all parts, I also placed here one of the three elegant propellers.
Shall we meet the rest of the ship element by element:
---
Bridge:
<![if !vml]> <![endif]> What a design these vessels had! Even 60 years after development it still looks something quite ahead of its times!
This bridge is one of the most spectacular assemblies of the whole kit and deservingly so, as it will always be the primary focus point of interest in the finished model, just as a cockpit is to an aircraft. This is a multimedia assembly of around 100 parts: Upper window framings are made of photoetched parts bent in half to receive on the inside clear acetate windows. Do not fear this assembly. It is shown step by step in the accompanying booklet and it's simple to do. Just remember not to use super glue or you will fog the windows. Take your time, as this assembly is stunningly life like. Plan your paint work carefully: The whole bridge may not require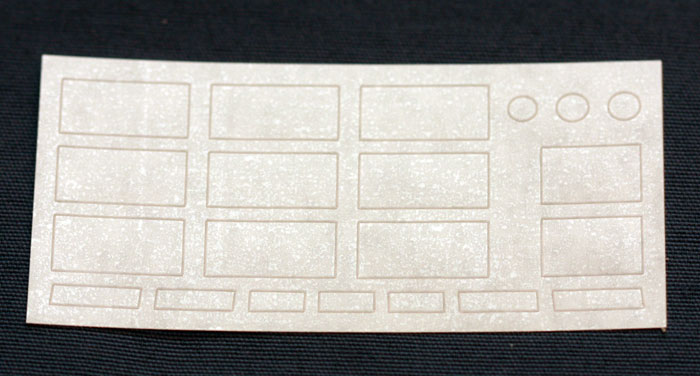 s but you may wish to paint the frames before you install the acetate windows. Moving bellow, you may choose to display "open" or "closed" or a mix of both the central vision ports allowing you to create a customized unique environment and differentiated look just like the real ones tend to exhibit. Inspire yourself by looking at the top corner photograph of Squadron Warship in Action nº 18, page 21.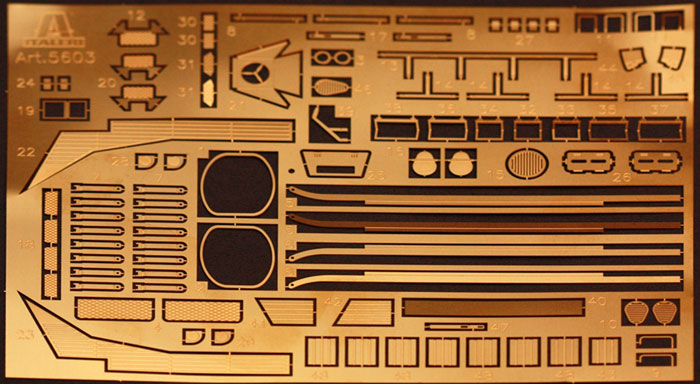 Next, the wooden rudder wheel is quite well done and one obviously smiles after observing the glamorous look of this wheel, as after all, it is installed in a war machine and not in a luxury Yatch as it seams at first glance! I checked my references and, yes, you will have to paint it to look a highly varnished wood wheel. Control instruments are supplied as decals. My sole complaint is that the side doors of parts 34F and 35F are moulded shut. If you plan a dockyard or harbour diorama you may wish to open these doors. The binoculars used on the RZ5 targeting computer will benefit from a little extra detailing with rod and wire. Gladly the supporting booklet that comes with the kit has an excellent period photograph to help this simple, nevertheless necessary job, complementary check too page 42 of the mentioned Squadron book and also Prinz Eugen website (http://www.prinzeugen.com). Anti slip steps and some wooden fittings and several attachment belts like the ones for the life rings are all supplied as etched parts.
As you just red, this bridge is a mini kit in her own right, and a multimedia one. Just remember, once more, the key success factor is to plan your work with care and check the instructions carefully. There are many items when you are allowed to choose how to display them and these will tell how your model will look like: Vision Ports shut or open, Seats up or down, Mast raised or lowered. Furthermore, several parts will have a wood finish, others will be grey and the majority will be white. You won't need masking, but you will need to plan everything accordingly before starting the bridge. In the photographs, I isolated the majority of parts that built the bridge together. Stuning, aren't they?
---
Deck fittings – Rails and Guards:
Briefly, we already saw the decks before. Now comes the time to speak about the fittings that cover these decks from bow to stern. As the subject is a ship, in fact a large scale ship there are railings and guards a little bit everywhere. While they are all impeccably well moulded, some are highly fragile and therefore it will be better to leave them out of the model until the finishing stages (and not as in the instructions). The two sprues "D" come with this 30 centimetres long baluster rails to be placed amidships on both port and starboard. Just remember to use a brand new blade to separate these parts from their sprues. If you build kits regularly you know what I'm talking about!
They will be individually placed at stern and then you'll have to pass the supplied thin rope thought each hole. While the result is a winner (just take a good look at that gorgeous corner rod rail, part 70!), take really care here. I don't know how many out there have previous experience with kits such as Tamiya PT-15 or Vosper (whose bows have similar assembles) but the best advice I can give to non "usual" naval modellers is to previously remove the stress and peel of the rope you are about to pass through the tiny and fragile holes by first gently light brushing it with heavily diluted white glue. If I can use the metaphor, you are going to pass a line of thread through 22 needles and at two different highs. If the rope has stresses, the slightest unwittingly pull will break these fragile rods. And that is a true pity.
Another warning note is that in the instructions, the assembly sequence doesn't end with rigging; after this you still need to assemble and install all the guns and along the centre line, while the rails are on the outside perimeter. But from past experiences, I may advise to place all rails and all safe guards only after finishing the rest of the kit.
Another useful advice to non ship modellers is that normally, aircraft modellers and armour modellers are used to manipulate freely their kits while they assemble them. On the other hand, it is very common amongst ship modellers to fix the finished hull to a solid base (Yes! Like a scale dockyard! Ships take on average more time than other subjects, the less you move, the better) in the early steps and then place parts on the decks without further manipulation of the model. This is exactly why! Naval fittings are quite fragile and hulls quite large – Therefore difficult to manipulate. So plan this ahead and fix the model before attaching the rails to avoid disappointment. A final hint that many ship modellers take as a rule: Avoid long shirt sleeves. I truly hate when my sleeves break a part. Remember that this is like having an aircraft with 30+ pitot tubes.
Now let's speak one final word about the way rails are presented: In many photographs S-100 Schnellboote are seen with the stern rails covered with canvas dodgers (Revell 1/72 kit has this configuration, check the link). Scoop reference pictures as probably some of you will want to customize their kit and just remember, if some nightmare happens with the rails, you can always take this easy path – cover them with tin foil! Existing images of one of the options in the decal sheet shows her exactly like that.
---
Torpedos and Torpedo Launchers:
This is one of my favourite areas in the kit. Torpedo Launchers are simple to assemble and simultaneously exquisitely detailed and quite appealing. While comparing the parts with the excellent S-Boote – German E-ships in Action by Jean Philippe Dallies Labourdete, I noticed there are still some cables and a manometer to be added on each side but again it will be a quick and simple add on.
<![if !vml]> <![endif]> I hope you agree with me. These G7 Torpedos are gorgeous and true life like. Their engravings are great and their fins are already quite thin upon the limitations of Injection Moulded Polystyrene and their propellers are quite well done. You may compare them with their real counterparts using the mentioned Labourdete book. Now, one of the features I enjoyed the most is that these torpedoes will be attached to their supports in the hull using photo etched belts (but simple additions, not one zillion parts like some other etched belts out there).
Final note regarding markings. Check photographs as sometimes these torpedoes had chalk "graffiti" and cartoons. If well done, it may add interest to your model and you may create another great focal point to your kit.
---
Guns:
<![endif]> As I said before, the Schnellboot, unlike the PT-596 doesn't come with aluminium turned guns. Only injection moulded pieces. And the muzzle brakes of the single and twin 20mm flak guns suffer from the limitations of plastic. See them in the photographs bellow, they are part 25. If you really want right now turned metal guns, you're in luck as the 20mm Flak is milled at extreme detail by several aftermarket brands. Just check this incredible compare in Perth Military Modelling Site made to let you choose your favourite: http://www.perthmilitarymodelling.com/reviews/vehicles/flak38/flak38barrels.htm.
The 3,7 barrel is also available right now as a turned metal gun from several companies, so if you really wish a replacement you can have it right now.
It is quite easy to compare these guns, specially the 20mm, to other releases like Tristar and Dragon. And while detail is slightly softer, they won't be difficult to enhance. Gun shields are also a little bit on the thick side and here note that these were unique to Schnellboote, so don't try to find similar ones in armour kits. To see how shell cartridges look like, see above the photograph of the torpedoes. The shell magazines are immediately bellow them.
Gun pedestals and gun mounts are quite well replicated and are a true match of the originals. So globally everything compares favourably.
---
Depth Charges/Mine Ramps:
This is another key feature in the kit as the stern of the S-100 is dominated by this device. In my honest opinion, this is an area you got to see in person to be amazed like I did. The rail ramp is a very simple combination of highly thin plastic and etched parts, however the result is stunningly life like. The photographs you see here makes this assembly no justice, however trust me, with care, the whole will become like their 1/1 counterpart. Even if you are a novice, don't fear this combination. A bending device may be useful but if you don't have one, with a couple of wooden bars (or even two old hardbound books) you can bend them easily. The accompanying booklet also teaches you with a photographic sequence of the process, however avoid, as suggested the use of pliers to bend the metal parts. The final result of this assembly is truly stunning.
<![if !vml]> <![endif]> Unfortunately, one of the things I miss a bit in the kit is that there are no Depth Charges or Mines in the kit. If this was an Opel Blitz I would never sorrow the missing of Jerricans or fuel drums in the payload as there are dozens of accessory kits out there with items to look for. However the reality of this naval world is quite different – There are no injection moulded naval accessories and anti submarine weapons in 1/35. And some would be useful, even if it is a rare sight to discover a photograph of the late types carrying these weapons.
I can almost bet than in a year from now the Aftermarket guys have already filled all these voids. For now, to my knowledge RMG already has a mine in 1/35 and Andrea another one in 1/32. In the meantime, I may add that DM-11 Depth Charges are very simple rounded objects, check your references if you want to make them on your own. Also UMA mines are spherical (but their launching ramp carts will consume more work). Pick once again the H&C S-Boote German E-boats in action and go to page 108-112 if you feel you need to make your own weapons.
---
Colors and Markings:
Markings for 2 well documented Schnellboote: "Ha-Jü" and "Lang". Both in Schnellboot-Weiß. Decals are in register.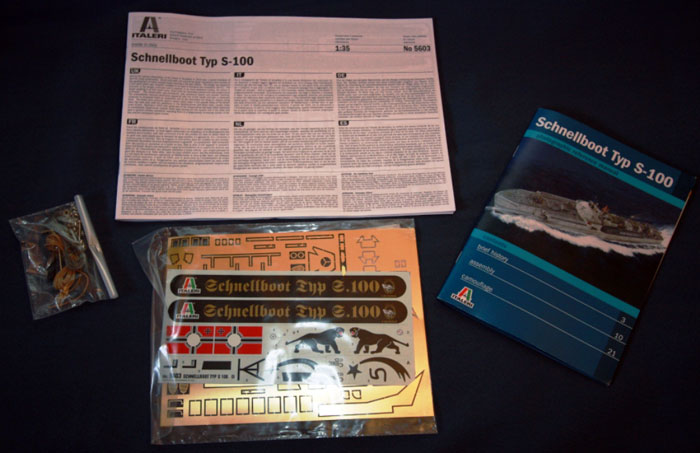 Check your library as they may appear in pristine condition and very faded too. So you have here an enormous weathering potential. Remember to complete, from your spares, the flag design as it only comes with a white circle in the centre. An alternative option will be to pick the recently released True Details Kriegsmarine flags decal sheet.
---
Accuracy:
May I tell you that I am not of those who gets digital callipers and starts measuring the whole hull while compares it to plans to say there is one millimetre here and another millimetre there out of place.
Shipcraft 6, German S-boats comes with great drawings but as you may have guessed they are about four times smaller than this kit. Overall dimensions are right, so are the profile shapes. Most important – everything looks impeccably right!
If you look at photographs, be prepared to discover that many of these boats have small differences between them. Some more visible than others. Continuous improvement is practically a rule in ship construction: it started many centuries ago and prevails until today. So, if you plan a different S-100 rather than the ones in the instructions check first your subject as you may have to switch something or add some bits here and there: Radar, masts, rafts … you know, the usual suspects. Also, if ambition is your trend, you can pick that Tamiya quad flak 20 you have in the stash gathering dust and start building a Typ S-150.
---
Final thoughts:
I have no doubts that this kit has an enormous potential to become the centre piece of a model collection. It may be quite big but her rectangular format doesn't take too much area. You don't need a table to display it, just a one meter shelve. It is also quite colourful and with careful painting and weathering it will have a staggering look, even in your living room!
As complex as naval subjects normally are, this kit is exceptionally well planned to be trouble free and to let the modeller have true hobby pleasure while assembling and painting. And first impressions indicate that fit will be quite good.
Try to look as much as you can to photographs of the real one, as there are ropes and cables a little everywhere especially near the bow and these really enhance the model.
Out of the box, the modeller has everything he may wish to produce a stunning replica. If I look back and remember what happened some years ago with the excellent Revell 1/72 U-boat I'm pretty sure that the Aftermarket manufacturers will gladly produce an avalanche of new stuff to enhance even more this kit. But Italeri already places the bar quite high, and also uses photoetched parts very cleverly and in an uncomplicated way. So it's just about the right time to start removing the parts from their sprues.
Speaking about the price, through all the kit, I had all the time the feel that Italeri made all possible efforts to put on the market the most possible affordable product without sacrificing accuracy or detail. There aren't out many kits as large and simultaneously as cheap as this is, of that I am absolutely sure. I hope that worldwide people can feel the same way, even with exchange rates going up and down everyday,
So, whatever is your area of interest go out there and take this kit with you. I sincerely hope you'll love it the same way I'm enjoying assembling it right now!
---
References:
Go visit http://www.prinzeugen.com. Even Italeri thanks this site in the book they supply. It is a great starting point to know your subject. Regarding books, speaking only of readily available publications in English language, I may advise these four books that were already quoted before:
1) Squadron Signal Warship 18 Schnellboot in Action by T.G. Connelly and D.L.Krakow published by Squadron Signal
2) German S-boats Shipcraft nº6 by Steve Wiper, published by Chatham Publishing
3) Warship Pictorial nº 15 Kriegsmarine Schnellboot by Steve Wiper published by Classic Warships
4) S-Boote German E-boats in action by Jean Phillipe Dallies Labourdette published Histoire & Collections (and also available in French and German editions)
All these publications complemented themselves quite good! There is not a favourite, while some photographs are repeated here and there if you like the subject you may fell tented to pick them all.
Now it's time to close all words and let action roll. The model really deserves it!
---
Italeri kits are available worldwide through hobby retailers and from Squadron.com
---
Review and Images Copyright © 2009 by Nuno Andresen
Page Created 2 February, 2009
Last updated 3 February, 2009
Back to HyperScale Main Page
Back to Reviews Page