Fokker E.II / E.III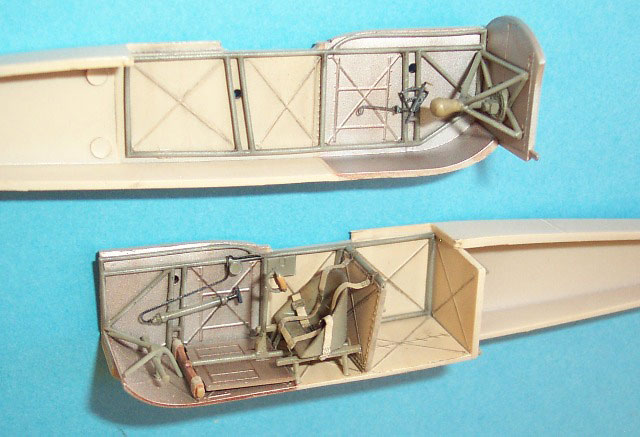 Eduard, 1/48 scale
S u m m a r y

Catalogue Number:
Eduard Kit No. 8156 - Fokker E.II / E.III
Scale:
1/48
Contents and Media:
95 parts in tan coloured plastic; 80 photo-etched parts; markings for five aircraft
Price:
USD$34.95 available online from Eduard
and hobby retailers worldwide
Review Type:
FirstLook and FirstBuild
Advantages:
Updating of an important subject, crisp detail, unblemished wings with sharp trailing edges, multitude of optional parts included, both coloured and standard photo etched frets, decals with a minimum of carrier film, and the inclusion of stencil data.
Disadvantages:

Modifications needed for standard E.II configuration. Some confusion regarding the features presented, decal registration issues.

Conclusion:

A cutting edge kit of a perennial favourite. The kit contains excellent detail with a plethora of parts to choose from. Modelling experience is advisable due to the method of construction and one needs to study their chosen subject carefully.

Reviewed by Rob Baumgartner


Eduard's 1/48 Fokker E.II / E.III is available online from Squadron.com

Eduard's latest release brings back a lot of memories.
Back in 1994, the Fokker Eindecker started a dynasty for this company. It introduced a line of 1:48 scale kits that injected new life into the arm of WWI aircraft modellers. With its "limited run" plastic and multitude of photo-etched parts they did nonetheless scrub up into fine replicas of their chosen subjects.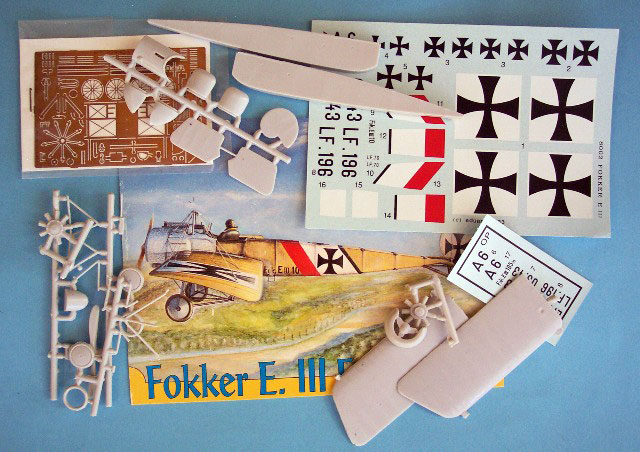 Eduard's original 1994 1/48 scale Eindekker kit
Now 14 years later, this popular fighter is given a fresh going over with completely new tooling.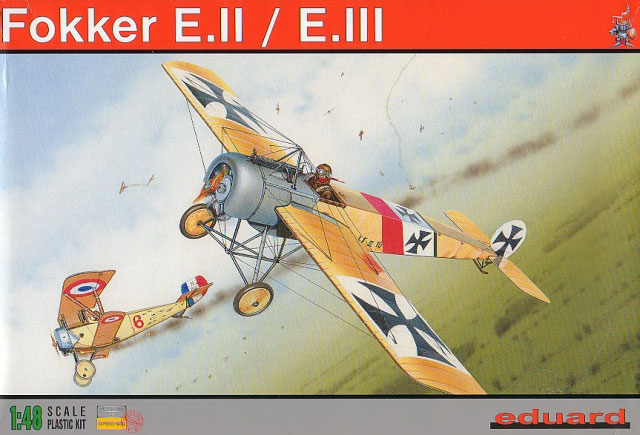 Eduard's brand new 1/48 scale Eindekker kit
The kit oozes quality from the moment one pries open the box. Inside there are three sprues of tan coloured plastic, two frets of p-e (one coloured), a set of masks and a transparency used for the windscreen.
It's clear from the beginning that a lot of effort has gone into this kit which is most evident in the cockpit area. The large opening is a magnet for inquisitive eyes so it's important that Eduard pack as much detail into this area as possible.
Fortunately they have. From at least 95 plastic and 80 photo-etched parts, nearly 50 items are devoted to the interior. Some will be difficult to see but are useful nonetheless as this opens up plenty of diorama opportunities.
Some deft painting will bring out the wire bracing and stitching detail, after which the separate structural framework can be added. With the addition of the floor, engine bulkhead and rear "fabric" screen, the interior is ready for some serious detailing.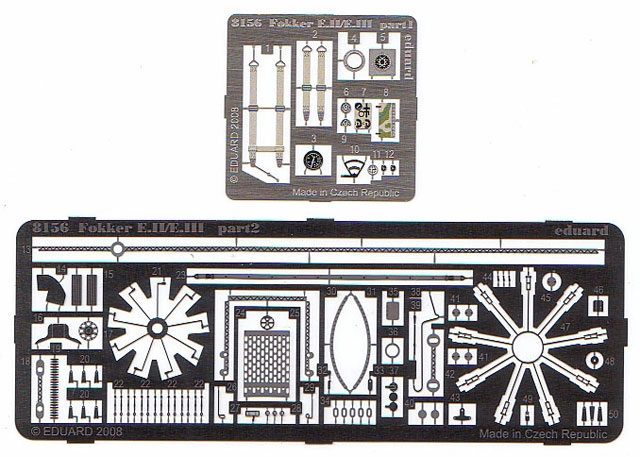 The modeller can go berserk here but for review purposes, the interior was built "out of the box", following Eduard's painting guide. Obviously items such as the seat, control column, and rudder bar are par for the course, but there is also a pressure pump, throttles, main fuel tank, coloured seat belts, ancillary engine parts, shock cords, and seat mounts.
Under the forward cowling is where the compartmented fuel/oil tank, ammo bins, switch panel, and other such details hide. When fitted over the cockpit there is not a lot more that can be added. If you feel the need, an oil pulsator can be fabricated as this is absent from the starboard cockpit attire.
Purists will of course replicate the "swirled" pattern on the metal interior, something I forgot to do in my haste.
The fit of these parts is excellent although care will be needed to make sure everything is lined up correctly at each stage of the building process. One slip early on will have ramifications down the line. Only once did I have difficulty and had to decrease the height of the rudder bar so that this area didn't interfere with the tubing on the firewall.
An unusual deviation from their earlier manifestation is the appearance of the fuselage exterior. This time around, we are given raised tapes corresponding to the position of the interior's structural tubing. These should not be present and period photographs confirm this.
There was also an alignment problem caused by indifferent fuselage halves in my example which called out for some filler. This exaggerated itself when the upper panel behind the cockpit was added so beware of this when committing the glue. The cockpit coaming is also affected on the port side but I'm hoping the deformity is limited to the review kit.
The image below shows the area that needs some serious TLC at a later date.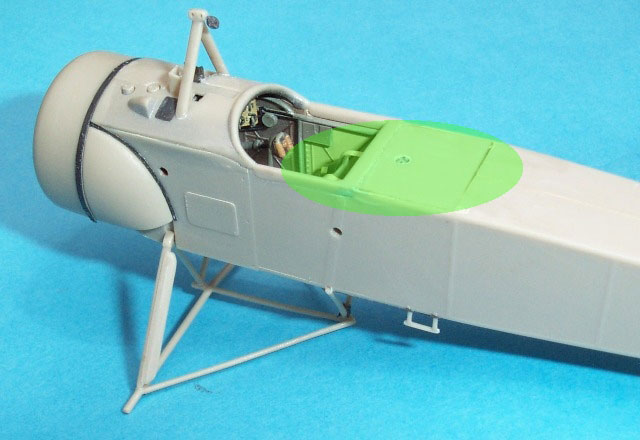 This kit purports to be both an E.II and E.III and this is where things get tricky.
The E.III had a combination fuel and oil tank that was located behind the engine and this produced a different filler arrangement compared to the E.II. To add to the confusion, many repaired E.II aircraft had this combination added and this changed their designation to that of an E.III.
Eduard has given us the later type so for a true unmodified E.II the modeller will have to fabricate the earlier configuration for themselves.
There is a great deal of controversy surrounding the span of the E.II/E.III wings as references differ markedly. Some respected authorities claim the wings of the E.II and the E.III were the same…while other notables say that those of the E.II were shorter. Naturally this puts the kit manufacturer in a quandary.
Eduard's initial release had the outline matching Ian Stair's E.III plans perfectly (in Albatros Productions Datafile 15) which quote a span of 10.04m. In the present incarnation a decision has been made to slightly lengthen them by a few millimetres and this is seen mostly at the tips. Unlike the 1994 release, we now have the correct number of ribs incorporated.
Two sets of wing are included and these are to accommodate the different cowl cheeks. Both square and triangular versions are supplied with each wing having the corresponding cut-out at the inboard leading edge.
Speaking of which, these flying surfaces are superbly moulded. The trailing edges are commendably thin and the rib tapes are represented as raised strips. None of the parts show any sign of deformity which is a commendable piece of engineering.
A lot of the extra detailing comes courtesy of the two frets of p-e. Aside from the aforementioned seat belts, the coloured items include a "wooden" switch panel, dial faces, wing mounted compass and even a map.
Part 2 of this medium is dedicated to the engine, machine guns (both LMG 08/15 and Schwarzlose items are present), fabric eyelets, stitching, turn buckles, ammunition belts, control horns, cowl straps, filler caps, trigger, etc, etc, etc.
One thing that the cowling does miss though is the blast plate under the machine gun muzzle.
Both Germania and Garuda airscrews are supplied and these fit onto the well appointed Oberusal 100hp engine.
The undercarriage and struts are well in scale and have been moulded with as much of the final assembly in place as possible. This adds some strength to these delicate components and the softer plastic allows handling that would normally snap these items in the cleanup process.
Some aircraft were seen with streamed attachments to this tubing. Eduard spotted the detail and has provided the modeller with add-ons for the appropriate members. The instructions call for these to be applied on both sides of the strut but clearly only the rear portion is necessary.
The displayed rigging can be a challenge if one wants to replicate that seen on the original. Eduard helps the builder down the path of authenticity by supplying the various wheels and termination points as photo-etched parts. It adds a touch of finesse but does require a deft hand when adding your favourite rigging product.
Surprisingly the tyres are separate from the wheel discs. This is great news as it allows for the introduction of spoked wheels. These aren't included on the frets in this release but could be an option later on.
---
Marking Options
Five subjects are catered for on the two supplied decal sheets.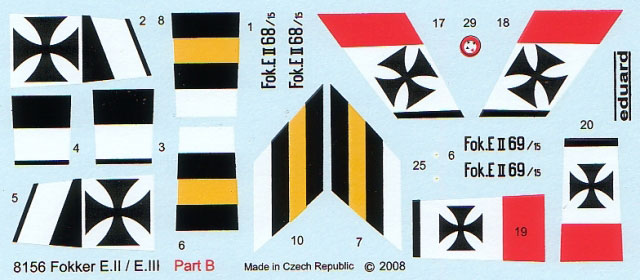 The minimal carrier film is thin, yet strong enough to allow positional changes during application. Unusually for an Eduard product, one set of decals was very much out of register. Fortunately this applied only to crosses on the surrounding white fields but is irritating nonetheless.
An excellent selection of stencil data is provided and this includes logos for the propeller.
Fokker E.II 68/15, flown by Lt. Bruckman, late 1915

Fokker E.II 69/15, flown by Lt. Kurt von Crailsheim, late 1915

Fokker E.II flown by Vfw. Ernst Udet, early 1916.

Fokker E.III, flown by Leopold Anslinger, Summer, 1916

Fokker A.III 03.42, Austro-Hungarian K.u.K. Luftfahrtruppen, 1915/16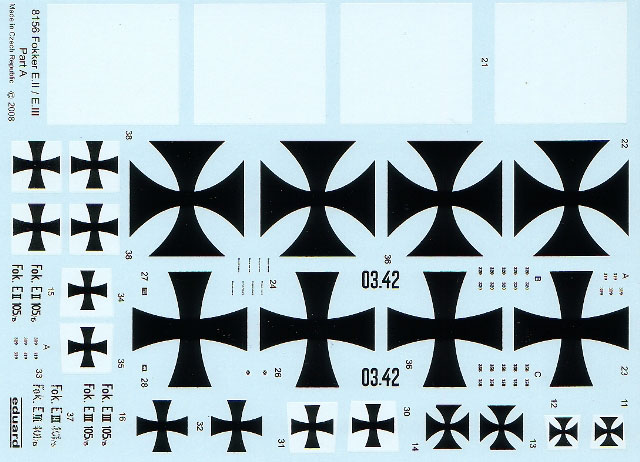 Note that there is continual debate regarding the colours, markings and designations of some of these aircraft.
Eduard's all-new 1/48 scale Fokker E.II / E.III kit is a pleasure to build.
All parts are well moulded with sharp detail and no blemishes. The generous use of photo etched items allows a standard of detail that is essential for a delicate subject such as this. A closer look at the contents will reveal that Eduard have also supplied some of the parts for an E.I, a subject long needed in this scale.
Some curious decisions have been made regarding the features portrayed in this kit. As a result, the assembly process requires more care than usual for an Eduard WWI release. The main area needing modelling experience is the fuselage assembly and external fittings that go with it. Patience and a lot of dry-fitting should reward the builder.
Sadly references for these aircraft are not consistent; a fact not helped by the various upgrades to repaired E.II airframes. This means that you should take nothing for granted and study your subject carefully.
Having done that, the experience should be a pleasant one!
Thanks to Eduard for the sample
---
Review Text Copyright © 2009 by Rob Baumgartner
Page Created 19 January, 2009
Last updated 19 January, 2009
Back to HyperScale Main Page
Back to Reviews Page