SPAD VIIs of the Lafayette Escadrille, SPA124 and the 103rd Aero Squadron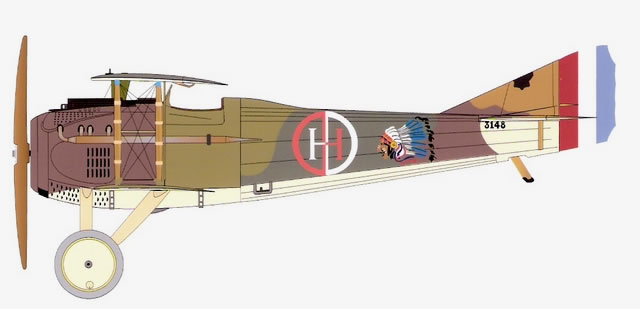 Pheon Models, 1/32 & 1/48 scales
Summary

Catalogue Number:

48002 & 32001 SPAD VIIs of the Lafayette Escadrille, SPA124 and the 103rd Aero Squadron

Scale:

available in 1/48 and 1/32 scales

Contents and Media:

Waterslide decals, colour profiles, instructions and notes

Price:

GBP £14.47 (1/48) and £21.34 (1/32) available from pheon.models@hotmail.co.uk

Post & packing: £1.10 to the UK, £1.57 to European destinations and £2.09 to the rest of the world

Review Type:

First Look

Advantages:

Fourteen interesting, colourful options for one of the most famous WWI squadrons and aircraft. Perfect register and good opacity, manufactured by Fantasy Printshop. Outstanding support material; sheet packed with markings.

Disadvantages:

Rather expensive but unavoidable given 10 colour printing and low volume production

Conclusion:

First rate research and top quality decals for SPAD VIIs in these famous squadrons
Reviewed by James Fahey

HyperScale is proudly sponsored by Squadron.com

The Manufacturer
This is the second release from Pheon Models, following hard on the heels of their first set featuring Sopwith Pups in 1/72 and 1/48 scales reviewed earlier here on Hyperscale .

Rowan Broadbent is the talented modeller behind Pheon Models and his passion for WWI aviation, accuracy and quality is very evident.
---
The Lafayette Escadrille
This famous squadron comprised mostly American volunteers serving in the French Aviation Militaire and was established in April 1916 with Nieuport fighters, later re-equipping with SPADs. Originally named Escadrille Americaine it was renamed in December 1916 following diplomatic pressure from Germany as America was a neutral country at the stage. Raoul Lufberry was the unit's first and highest scoring ace with 16 victories. The unit was transferred to the US Army Air Service in February 1918 as the 103rd Pursuit Squadron.
---
Intended Kits
The instruction booklet provides information on the available kits. In 1/48 there are three SPAD VII kits: JMGT in resin, Blue Max (out of production) and Special Hobby, which is the most readily available and best of the three. In 1/32 scale there is the recently released Roden kit. As moulded the Roden SPAD is ideal for the earlier examples provided on Pheon's decal sheet. Minor conversion would be necessary to the Roden kit to represent later built SPADs and this is outlined in the instructions.
---
The Decals
The decals include a mix of early SPADs in clear doped linen finish and later versions in five colour camouflage.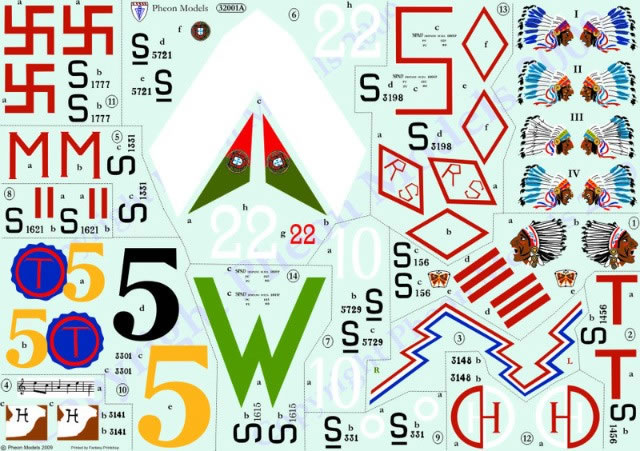 Coverage of the unit through its service history is comprehensive with 13 markings common across both scales with one variation depending on scale:
S331 Cpl S Bigelow (clear doped linen finish with head & red nose )

S156 Cap Thenault (the unit's first commander, clear doped linen finish with head and three coup bars)

S1456 Lt Thaw (clear doped linen finish with 'T' & head)

S1777 Sous-Lt Lufbery (succeeded Thenault as the unit commander, clear doped linen finish with head & swastika marking)

S1615 Sgt Willis (clear doped linen finish with big green 'W')

S1331 Sgt Marr (clear doped linen finish with 'M' & head)

S1621 Lt De Maison-Rouge (clear doped linen finish with head & two coup bars)

There are two different aircraft: in 1/32 Lt Ford (5 colour camo & 'lightening' zig zag stripe & head) and in 1/48 S4239 Sgt Parsons (clear doped linen finish with tricolour elevators and fuselage chevron & head)

S3141 Capt Hill (5 colour camo, stylised map & musical notes, head)

S3301 Lt Turnure ('5T' & head)

S3198 Capt Soubiran (red diamond with 'RS' & head)

1Lt Dolan (red/white 'H' & circle, head)

Adjutant Pilat ('10' & white fuselage sash)

Lt Portella ('22' & white fuselage sash, Portuguese coat of arms)
The decals feature minimal carrier film, excellent registration and accurate colours matched to existing fabric samples. National markings for French and USAS aircraft are included, with the French blue used initially by the 103rd and the later, darker USAS blue. The cockades are presented in the 1,3,5 proportions particular to all SPAD aircraft in French (and USAS) service. The 1/32 set spans two A5 sheets; one in 1/48.
Pheon had three minor problems which have all been corrected with provision of additional decals: two affecting the 1/32 sheet - the white outline for Marr's 'M' was omitted and the white underlay '5' decal for the top wing of option 10 was too narrow which would have resulted in an undesirable outline effect. Notwithstanding the specific research into cockade colours, the blue on the cockades of both scales was incorrectly printed. Extra cockade decals with the correct colours are included.
At this stage Pheon do not propose to produce a 1/72 version as the economics of the short print run of this set are not viable in the smaller scale.
---
Instruction Book
This is a gem with 16 A5 pages covering a wealth of information on the units background, available kits, wing cockades, rudder stripes, research into the French blue cockade colour, Sioux heads, colouring notes, references, decal application, pilot histories and notes on the squadron's famous lion mascots.
In addition there are six sheets of full colour profiles/placement guides printed on glossy card, and a frameable postcard-sized glossy print of one of the options, chosen at random from the sheet.
These decals are superb! Great subjects and outstanding quality. The price seems quite high for a decal sheet but having seen these decals for myself I have no hesitation in recommending them.
Thanks to Pheon Models for the review samples.
Until Rowan gets his own website established, you can check out his products here: http://www.britmodeller.com/forums/index.php?showforum=227 and his email address is mailto:pheon.models@hotmail.co.uk.
---
Next releases
Rowan has invited feedback and suggestions from the modelling community concerning future releases and is currently busy planning new decals to support Wingnut Wing's new 1/32 SE5a and Bristol F2B kits.
He is also well advanced with Sopwith Triplane decals for all the RNAS squadrons in 1/72 and 1/48, and is taking pre-orders for a set covering JGII Fokker Dr1s - thirty aircraft in 1/48 and 1/72 scales: eleven Jasta 12 aircraft, three from Jasta 13, four from Jasta 15 and twelve from Jasta 19. Prices will be £13.80 for 1/48 and £12.74 for 1/72. In 1/32 scale there will be sixteen options: six from Jasta 12, one from Jasta 13, three from Jasta 15 and six from Jasta 19 for £15.70.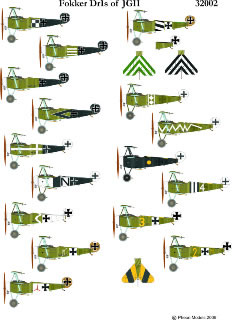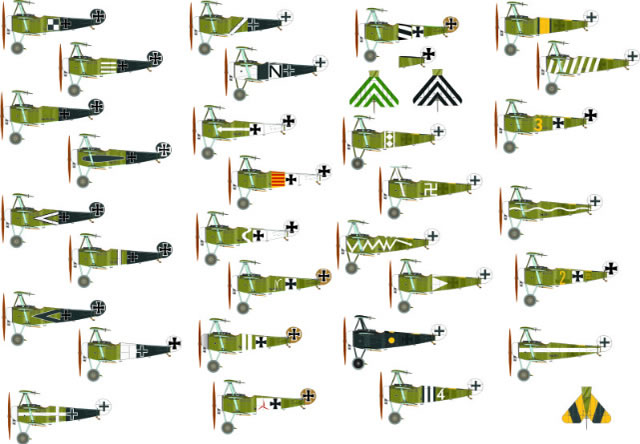 Another set covering Jasta 5 aircraft is also being researched.
Pheon look ready to start filling the huge gap left after Americal Gryphon ceased production, however as a small operation, future releases will depend on the support from WWI modellers for the current ranges.
---
available from pheon.models@hotmail.co.uk
---
Text and Images Copyright © 2009 by James Fahey
Page Created 8 May, 2009
Last updated 8 May, 2009
Back to HyperScale Main Page