MAW Hornets Part II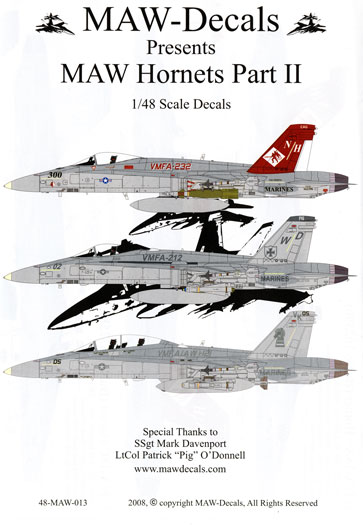 MAW-Decals, 1/48 scale
Summary

Catalogue Number:

MAW Decals 48-MAW-013 - MAW Hornets Part II

Scale:

1/48

Contents and Media:

Three sheets of waterslide decals plus instructions and notes

Price:

Review Type:

FirstLook

Advantages:

Good colour saturation; perfect register; thin carrier film; excellent colour instruction sheet; linked to comprehensive reference on MAW website

Disadvantages:

Conclusion:

Provides excellent quality decals and reference for three contemporary machines in service with the USMC.
Reviewed by Rodger Kelly

HyperScale is proudly supported by Squadron.com

In case you missed them before, MAW-Decals is based in the United States and is operated by Creighton Henthorn Jr, a serving member of the United States Marine Corps and a name that is sure to be familiar amongst modellers of U.S. Navy and United States Marine Corps aircraft.
As their name would suggest (MAW being the abbreviation for Marine Air Wing) the main focus of MAW-Decals is to produce high quality modelling decals for aircraft of the United States Marine Corps.
This sheet, 48-MAW-13 MAW Hornets Part II, brings you markings for three F/A-18 models, an A+, a C, and a two-seat D. Details of the individual options are as follows:
F/A-18A+, Bureau Number 162396. Information provided on the placement guide/support sheet advises that this machine is a Lot 7/Block 14 Hornet with the A+ upgrade. The machine has the SJU-5 ejection seat, five bladed Information Friend or Foe (IFF) antenna on the nose (bird slicers), swept UHF antenna; Ground Positioning Satellite (GPS) dome on the spine and wears reinforcement plates on the vertical stabiliser. The markings depict the machine when it was assigned to VMFA-232 the 'Red Devils' in March 2007 when it was serving aboard the USS Nimitz. The machine is in the standard Tactical Paint Scheme (TPS) of Federal Standard – 36320 dark ghost grey upper surfaces over Federal Standard – 36375 light ghost grey undersides. The aircraft served as the Squadron's CAG bird and as such it wore a modex of 300 and its markings were in colour. A bright bird indeed, it featured red vertical stabilisers and interestingly, white rudders, a throwback to the days of gull grey and white camouflage when all control surfaces were gloss white. She wears red with white outlined unit titles on the spine white 'devil' unit insignia and white 'NH' airwing designators and CAG titles on the vertical stabilisers. Her national insignia is in full colour and intake and ejection seat warning stencil data are in red.
F/A-18C, Bureau Number 163758, assigned to VMFA-212 'The Lancer' in May of 2003. The placement guide advises that the machine is a Lot11/Block 28 and is fitted with an SJU-5 ejection seat, swept UHF antenna, GPS dome, and a later style centre pylon. Camouflage scheme is standard F/A-18 TPS and her markings are all subdued
F/A-18D, Bureau Number 165411 assigned to VMFA(AW)-121 'Green Knights', a lot 20/Block 51 Hornet she is fitted with SJU-17 ejection seats, swept UHF antennas, GPS domes, screen style vents, duel chaff/flare buckets and a late style centre pylon. The markings depict the machine as it was when it participated in Operation Iraqi Freedom in 2007. As per the previous option, she too is in standard TPS with subdued markings.
The decals have been printed by Cartograf. They are silk screen printed, thin and in perfect register. Complete markings are provided for each option including separate sets of stencil data. Especially impressive are the data placards as they are black on a silver background. Apparently, there is an error with the main landing gear placards and this is currently being resolved with Cartograf. An insert is to be provided in the near future (keep an eye on the MAW-Decal website for availability). To be truthful however, the provided ones look great to me! You also get two sets of chaff/flare bucket decals (in separate colours) to simulate loaded buckets. These are fiddly to say the least but look great on a completed model!
The placement guide/information sheet is A-4 in size and shows full colour left and right hand side profiles of each option on the front with a generic upper and lower surface plan views on the back. The sheet also contains thumbnail size photographs to show the placement of the data plates. MAW-Decals web site at http://www.mawdecals.com/ has a truly great reference section with full high fidelity colour walk-around images of the machines on this sheet as well as others – go there! It is worth a visit.
The decal sheets (three are provided, a normal sized one and two smaller ones that carry walkway decals and slime lights (three sets of each), and the placement guide/information sheet come packed in a clear plastic zip-loc bag.
This sheet is well and truly up to the high standard set by MAW-Decals. It provides excellent quality decals and reference for three contemporary machines in service with the USMC.
---
Text and Images Copyright © 2009 by Rodger Kelly
This Page Created on 8 January, 2009
Last updated 8 January, 2009
Back to HyperScale Main Page