VMF-225/VMA-225 Part 1 Piston Engine Aircraft
1943 - 1958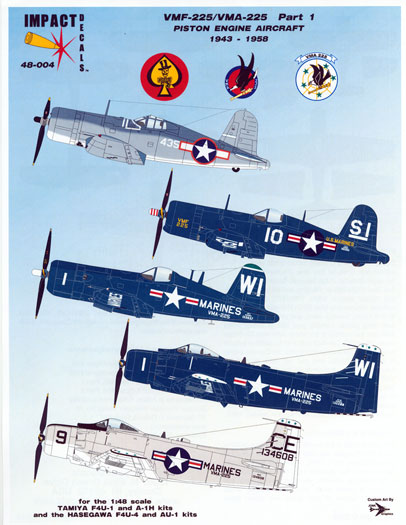 Impact Decals, 1/48 scale
Summary

Catalogue Number:

Impact Hobby Decals 48-004 - VMF-225/VMA-225 Part 1 Piston Engine Aircraft 1943 - 1958

Scale:

1/48

Contents and Media:

Waterslide decals; instructions and notes

Price:

Review Type:

FirstLook

Advantages:

Interesting approach; high quality decals; ample instructions and support material

Disadvantages:

Conclusion:

Excellent decals and first rate support materials at a great price
Reviewed by Rodger Kelly
New decals from Kevin Taylor and Dan Yeiter, the guys who make up Impact Hobby Decals, the Camby, Indiana based decal producer.
But first, a reminder that the company's philosophy is to issue sheets that are based on units and/or squadrons rather than by aircraft type. This will explain why the sheet features so many different types.
As the title suggest, this is Part 1 of the coverage of VMF/VMFA-225 "The Vagabonds" as they were known as during the period that these decals span.
Markings are provided for five different machines in all:
F4U-1 Corsair Bureau Number 02435, squadron number 435 of the then titled VMF-225, based on Vella Lavella airstrip in the Solomon Islands in 1943. An early "bird cage" F4U-1, it is in tri-colour camouflage scheme of non-specular sea blue, intermediate blue and white. Twos sets of national insignia are provided, early modified 'white bar' national insignia and the briefly worn red bordered examples.
F4U-4 Corsair Bureau number 96802, aboard CVE 112, the USS Siboney, in 1947. The machine is in overall glossy sea blue and wears the large underlined block letter SI on the vertical stabiliser and upper and lower surfaces of the starboard and port wings respectively. These markings identify the aircraft as belonging to the USS Sibony – the underlining of these letters signifies that the machine belongs to a USMC squadron. Its propeller dome is white with a thin read spiral. The sheet also provides the squadron and Marine titles in yellow. This is not correct, they should be in white and Impact Hobby Decals have an errata sheet in works to correct this. National markings are the current style.
AU-1, Bureau number 133837 based at NAAS Edenton, North Carolina in 1952. The squadron has now been re-designated as an attack squadron hence the change from VMF to VMA. The machine is in overall glossy sea blue with a white propeller boss and it sports a green tip with a white bar to its rudder. It also wears large white WI block letters in the same places as the previous option signifying that it belongs to VMA-225. National insignia is of the borderless white type with red bars.
AD-4B Skyraider (Bureau number unknown) of VMA-225, based at NAAS Edenton, in 1955. Whilst the bureau number for this machine is in the 132 series, the actual number worn by the depicted machine is not known so Impact Hobby Decals have provided four sets of 0 to 9 numbers so as you can either make up a spoof one or, if your research reveals the correct bureau number you can apply it accordingly. The machine is in overall glossy sea blue with a white fin cap and wing tips that bear three green stars on both sides. National insignia is borderless white with red bars. Large white WI are also worn and applied as per the previous two options.
The final option is another Skyraider, this time an AD-6. Bureau number is 134608, and it was based at NAAS Edenton, in 1957. This option is in gull grey over white with the same fin cap and wing tip markings worn by the previous option. National insignia is the current type and it now wears the new designation of CE rather than WI in the normal places. CE was the identifier that replaced WI when the designation system was re-vamped in the early 1950s.
The decals themselves have been printed by Cartograf. Everything is in perfect register and the whites appear opaque enough to survive application over the glossy sea blue of the two Corsair and single Skyraider options. Understandably, given the range of the aircraft on the sheet, no stencil data is provided. You do however get a complete set of national insignia for each option. Two sheets are provided with this issue, a large one measuring 8½" x 11¾" (217mm x 273mm) and a smaller one measuring 4" x 6?" (113mm x 155mm). The decals and placement guides/information sheets come packed in a clear plastic zip-loc bag.
The two large placement guide/information sheets are printed on good quality glossy paper and provide a single side profile of each option as well as upper and lower plan views of each option in full colour. You are also provided notes on the markings of each aircraft type as well as notes to assist you in detail painting. A list of references rounds out the information.
The suggested kits are the Tamiya F4U-1 and AH-1, and the Hasegawa F4U-4 and AU-1.
Impact Hobby Decals continue with their philosophy of providing markings for a single squadron on the same sheet with this one. They also combine excellent decals and first rate support materials at a great price.
---
Footnote
If want to see what Part 2 of the series looks like (VMA/VMA(AW)-225 Jets) go to the Aviation in Scale Zone-Five.net forums at http://www.zone-five.net/showthread.php?t=1105 for a preview
Thanks to Impact Hobby Decals for the review sample.
---
Review Copyright © 2009 by Rodger Kelly
This Page Created on 18 May, 2009
Last updated 18 May, 2009
Back to HyperScale Main Page
Back to Reviews Page