S u m m a r y

Catalogue Number and Description:

RCAF Sunderlands: Canadians in Coastal Command #2

Scale:

1/72nd and 1/48th Scales

Contents and Media:

Decals with comprehensive instructions

Price:

1/72nd Scale $14.49
1/48th Scale $19.99 w Roundels or $14.99 w/o Roundels
Available from Aviaeology Website and their E-bay Store

Review Type:

FirstLook

Advantages:

Perfect colour density and registration. Interesting subjects. High quality instructions with diagrams and notes.

Disadvantages:

Careful trimming will be required when removing the markings from the paper

Conclusion:

High quality markings for Sunderland in two scales.
Aviaeology continues to release decals with an emphasis on RCAF aircraft of WW 2. One of their recent releases is for the Short Sunderland flying boat in 1/72nd and 1/48th scales.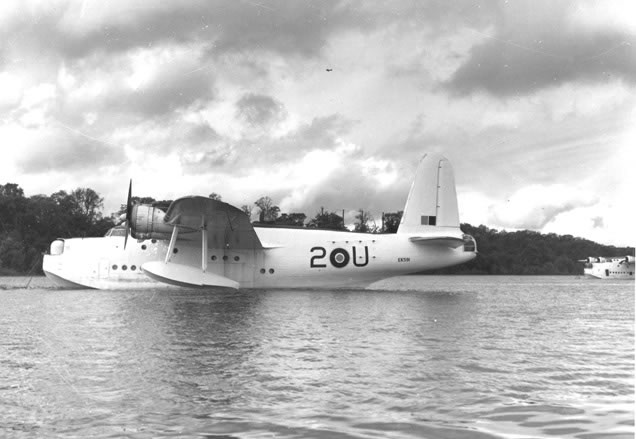 Included with this release are markings for three aircraft:
Sunderland GR.III, DD859 from 423 Squadron circa August 1943

Sunderland GR.III, ML825 from 423 Squadron circa September 1944

Sunderland GR.III, EK591 from 422 Squadron circa Early-Mid 1944
One of the most impressive items that are provided with the package is the extensive instruction notes that accompany the decals. The new Sunderland instruction sheet is packed with four pages of details about the aircraft. Included are extensive notes about the weapons load out for Sunderland in the ASW role. Side and upper views with accompanying notes of the three aircraft are used to fully explain the camouflage and marking details.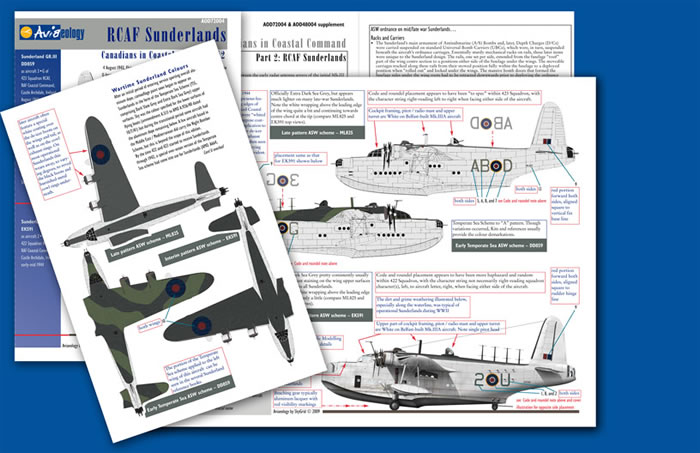 The instruction sheet uses an exquisite airbrush profile of EK591 and line art for the other two. The rationale behind this is that this aircraft is profiled in a soon to be released book from Aviaeology. This aircraft, similar to the Beaufighter decal subject I reviewed here, will be one of those covered in depth by Carl Vincent in his soon to be released book entitled Canadian Aircraft of WWII. The book will be the first in Aviaeology's AviaDossier series and will include large colour profiles of each aircraft, as well as additional photos and well researched text. The profiles used in this decal release's coverage of 2•U are smaller versions of those made especially for the book.
The decals are printed in limited and very short production runs. They differ from more traditional styles of silkscreen decals in that these markings are printed over paper covered in carrier film. Consequently, each marking needs to be cut out in such a way to limit the amount of carrier film. The technology behind these new decals is fully explained within the instruction notes. Another nice feature is the option for the1/48th scale the modeler to purchase decals with or without roundels. This provides an optional price difference in the larger scale.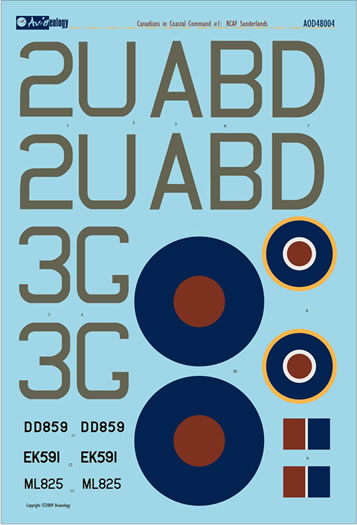 Modelers should note that when the decal package is shipped, the enclosed instructions are printed in black and white. Colour instructions are subsequently sent via e-mail in a hi-res, pdf format when you receive an e-mail confirming shipment.
This new decal printing process allows Aviaeology to supply us with reasonably priced Sunderland markings that others are unlikely to attempt. This is especially true for the1/48th scale kits currently available. The comprehensive information package alone as supplied with the package is well worth the value and I recommend this release without hesitation.
Review Sample Compliments of Aviaeology