U-Boot Im Focus
Edition No. 4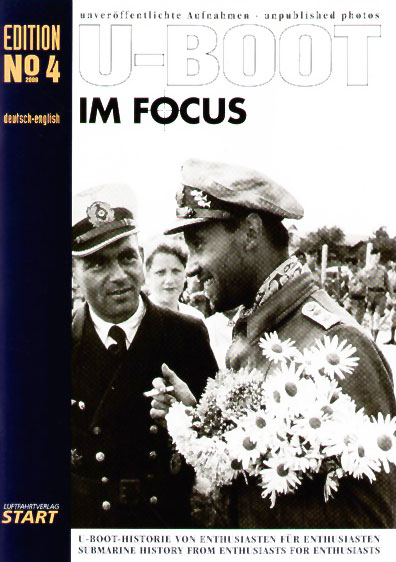 Start-Verlag
S u m m a r y

ISBN:

Start-Verlag ISBN 978-3-9811042-9-5 U-Boot Im Focus No.4

Media and Contents:
50 pages plus soft cover in A4 format with 58 unpublished B&W photos, 2 colour shots and 6 full-colour artworks
Price:
€14.80 incl. postage in Germany
€16.80 incl. postage Europe and the rest of the world
Available worldwide from Start-Verlag
Review Type:
FirstRead
Advantages:
Interesting articles, excellent colour and B&W photos and relivant artwork. Readable from cover to cover.
Disadvantages:
Conclusion:

If you are into WW II U-boats, no matter whether modeller, historian or just enthusiast, this series of magazines are for you.
Reviewed by Glen Porter


U-Boot Im Focus Edition No.4 is available online from Squadron.com


U-Boot Im Focus Edition No. 4 follows the same format as the earlier Nos. 1,2 and 3. Text is in both German (On the left) and English (On the right) as are all of the captions for both photos and art-work. Beginning with an Editorial and Reader's Forum followed by 15 articals under the headings Type II U-boats, Type VIIB U-Boats, Conning Towers, Colour Photos etc, finishing with the Fate of a Bridge Watch.
Conning Towers is of a Type VII D minelayer, U-214, with unusual Camouflage. There are side and front view art-works with a disruptive light and dark grey pattern showing the green sordfish and boat enblem of a horseshoe with a rearing black panther plus relivant B&W photos.
Another article, Boat in Focus, shows U-307 with what they call Iceberg Camouflage and a white bow wave with the rest of this TypeVII C boat in dark grey. Apart from the three photos, there is a full-colour three page fold-out side view of the complete hull.
Hunting Polar Bears with a U-boat? As I've said before, this magazine always manages to come up with something different.
The last article reminds me of an incident that happened a few years ago when an RAN Submarine dived with two crew members still working in the tower structure. It was several minutes before they were missed and although the sub surfaced imediately, one crewman was found drownd still in the tower while the other had apparently been washed out and was never seen again.
In the magazine article titled Fate of a Bridge Watch, U-46 was cruising on the surface with four members manning the conning tower on watch when the boat suddenly dived without warning. They just managed to get the hatch closed from above and then hang on for their lives. When the crew finally got the boat under control and sufaced, they found two of the bridge watch clinging the 20mm cannon on the winter garden, one with serous injuries. They had been dragged down to 12 metres below the surface before the sub began to come up. The other two had been swept out of the tower and were seen strugling in the wake but by the time U-46 had turned and got back to them they had gone, apparently too exhausted to inflate their life preservers.
These magazines really are a pleasure to review as they always manage to find something interesting and a little different like Polar Bear hunting or outside toilets on a U-boat. There is at least one complete colour profile in every edition along with conning towers and the photos are usually of top quality. No matter what your interest in U-boats, you will find something in these mags.
Thanks to Start-Verlag for the review sample.
---
U-Boot Im Focus Edition No. 4 is available online from the Start website
---

Review Copyright © 2008 by Glen Porter
This Page Created on 31 July, 2008
Last updated 31 July, 2008
Back to HyperScale Main Page
Back to Reviews Page