S u m m a r y

Title and Author

Sea Fury in British, Australia, Canadian & Dutch Service
by Tony Buttler

Dalrymple & Verdun Publishing

ISBN:
1-905414-11-6
Media:
Soft, glossy, laminated colour covers; 21.5cm x 28cm portrait format, 144 good quality satin-finish pages.
Price:
GBP£24.95 plus post and packing
Review Type:
First Read
Advantages:
Good coverage of the development and service life of a thoroughbred aircraft. Fine collection of reference photographs, complimented by Richard Caruana's excellent colour profiles.
Disadvantages:

Possibly the price.

Conclusion:

Another impressive work from both Tony Buttler and Dalrymple & Verdun, offering a goldmine of useful images and a valuable resource on Hawker's ultimate piston-engined fighter.
Reviewed by Steve Naylor


HyperScale is proudly supported by Squadron.com
This latest title from Dalrymple & Verdun, actually appeared in mid-November last year, but thankfully a copy has at last reached this grateful reviewer's hands. Having finally been fortunate enough to see and hear a Sea Fury in action (Yeovilton Air Show 2007), and with a Trumpeter 1:48 kit sitting in the stash, I was keen to see what this new book would have to offer the enthusiast or modeller. At this point, I should just say that the fact that it also contains, not one, but two colour photographs of the exact aircraft I want to model will not, I assure you, cloud my judgement, so lets take a look.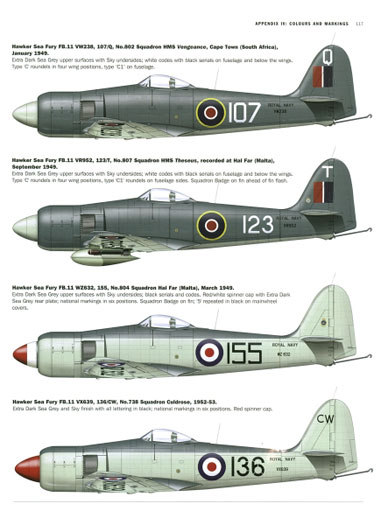 The first thing to notice, is that at 144 pages, Dalrymple & Verdun's new book is the thickest title on an individual aircraft, they have so far produced. Only their book on Fleet Air Arm camouflage and markings is bigger (at 152 pages), an increase in part due to one chapter being dedicated (not unsurprisingly) to the Sea Fury in the Korean War, but mostly by the inclusion of an entirely new feature for them, namely a chapter of the recollections of former Sea Fury aircrew. This is an interesting development, since another well known publisher's titles have had such a chapter from the outset, a feature which served to set them apart from the rest. Considering that there has also been some overlap in subject choice between these two publishers, this is a bold but potentially risky strategy by Dalrymple & Verdun. On the plus side though, there must now be a lot of former naval pilots and aircraft handlers out there, who have had (and are having) their reminiscences recorded for posterity, preserving insights and anecdotes which might otherwise have been lost.
Looking at this new title in more detail, the book is, as usual, just under A4 in size with soft glossy covers. The striking black and white front cover image, is a composite of two photos from within the book; Sea Fury FB.11 VW697 landing aboard HMS Glory, superimposed over Sea Furies of No.898 Squadron on HMS Ocean's foredeck, undertaking 'Pin Wheeling' in Malta (i.e. using their combined propeller thrust to aid ship manoeuvring). Text, as usual, is printed on semi-gloss/satin pages, in two-columns-per-page style, interspersed with numerous photographs and colour artwork profiles.
After an introduction by respected author Tony Buttler, who's work will be familiar to many I'm sure, the story of the Sea Fury is told in five chapters, accompanied by five appendices and a glossary/bibliography.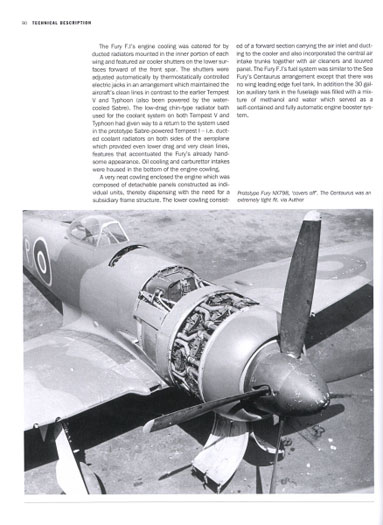 Chapter 1 ('Creation') naturally covers the development of the Sea Fury by Hawker, from its progenitors the Typhoon and Tempest, against competition from the Folland Company and influenced by the original needs of the RAF coupled with several proposed engine options. There are some excellent black and white photographs of the various prototypes, a diagram showing the increase in span of the tailplane and a three-view drawing of the 'competition', the Folland Fo.118. The chapter concludes with the story of the eventual two-seat development, from the 'Baghdad Fury' to T.20 trainer.
Chapter 2 ('Service Career') is relatively self-explanatory, covering the introduction and use by the Fleet Air Arm, Second Line and RNVR (Royal Naval Volunteer Reserve) units and the Royal Navies of Australia, Canada and the Netherlands. Mention is also made of the Sea Fury's operation by the civilian Fleet Requirements Unit (FRU) at Hurn on the south coast of England. Again, there are numerous splendid photographs, including some in colour.
Chapter 3 ('Korean War') gives an insight and understanding of the intricacies of that conflict, one which we think we know all about, but here of course, told from the British perspective. Though Lt. Carmichael's famous MIG kill is quite naturally covered, it was in reality, a rare event amidst the daily toil of ground attack and spotting for artillery and ship's guns, mundane tasks which occupied most Sea Fury pilots at the time.
Chapter 4 ('Recollections'), as was mentioned at the beginning, is a collection of experiences written by former Sea Fury aircrew, to give an insight into just what the aircraft was like to fly and fight in. There are some distinguished names here and aside from the very informative recollections themselves, it is interesting to note the important and high-powered jobs, as well as ranks, that many of these pilots ultimately rose to. Many good photographs again, especially those colour images of RAN Sea Furies 'VX750' and 'VX756' (both at some point coded '100') of No.805 Squadron's display team, in all-over silver and with red spinner, wing-tips, fin leading edge and sliding canopy surround.
Chapter 5 ('Technical Description') concludes the main part of the book and describes the design and construction of the various prototypes and variants. As well as photographs, there are also profile drawings of the Griffon and Sabre-engined Furies, as well as the production Sea Fury versions 'X', 11 and T.20. As a bonus, there is also a Hawker three-view and part-section drawing of the 'Hawker Fury Mk.1' (the Sabre-engined Fury).
Rounding off, we have the five appendices, namely: 'Fury and Sea Fury Technical Data' (dimensions, power plants, performance, etc.); 'Sea Fury Squadrons and Units' (all services, countries and other units or establishments operating the type); 'Sea Fury Aircraft Carriers' (listed by class and then by vessel, with three carriers illustrated in photos); 'Colours and Markings' (sixteen pages of superb colour profiles by Richard Caruana, the last ten pages being five double-page spreads providing three-view colour profiles, in all, depicting twenty-eight different aircraft). The book ends with 'Production Histories' (twelve pages, listing all Sea Furies produced, by order date and then by serial number, giving brief details of each aircraft's allocation and ultimate disposal) and a list of abbreviations and a bibliography.
Without doubt, this is another impressive work from both Tony Buttler and Dalrymple & Verdun. The text is well thought out, informative and copiously illustrated with no less than 156 excellent photographs. As I alluded to at the start, the inclusion of the chapter of personal recollections, assuming this continues, is very welcome and raises this series to a new level. My only concern, is that it also raises it to the same level as that of another well-known publisher. Quite whether the market can stand the presence of two publishers producing such excellent and (now) well-matched books, largely covering the same Service (Fleet Air Arm) but also on occasions, covering the same aircraft, remains to be seen - let's hope so for everyone's sake. Naturally, price plays its part here and both publishers have (understandably) increased their prices recently, though some of this must also be a reflection of increased content in both cases. That said, at this new price point (£24.95 GBP), the danger for me at least, is that this may push some potential purchasers into the realms of 'how much do I really need this book', whereas before, they may not have hesitated.
In summing up, I would very much recommend this book to fans of the flying navy and modellers everywhere. This book is a goldmine of useful images, particularly for details of liveries and for good detail of degrees of 'in service' weathering. Those of us a bit longer in the tooth, may already have accumulated quite detailed information or books on the Sea Fury, if so, there is still some good stuff to be had here. Whether it is worth the extra now being asked, is a difficult one to call. On the other hand, if your Sea Fury references are meagre, this book will certainly prove a valuable resource on Hawker's ultimate piston-engined fighter.
Thanks to Dalrymple & Verdun Publishing for the review sample

---
Copies should be available to order from most good book retailers, but can also be ordered direct from:
Dalrymple & Verdun Publishing
33 Adelaide Street
Stamford
Lincolnshire
England
PE9 2EN
(UK)
mail@dvpublishing.co.uk

www.dvpublishing.co.uk

---
Review Copyright © 2009 by Steve Naylor
This Page Created on 23 January, 2009
Last updated 23 January, 2009
Back to HyperScale Main Page