Luftwaffe Im Focus
Special No 3 Bf 109 im Einsatz - Teil 1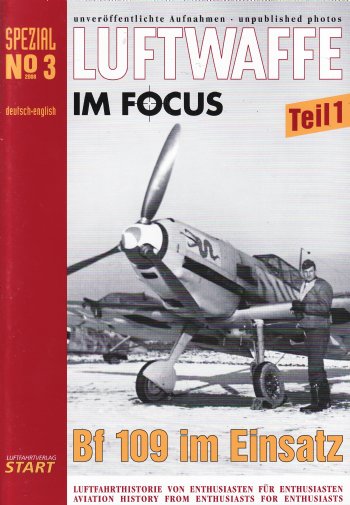 Start-Verlag
S u m m a r y

Publication Details and ISBN:
Start-Verlag Luftwaffe im Focus - Special No 3
Bf-109 im Einsatz - Teil 1

ISBN 978-3-941437-00-5
Media and Contents:
50 pages plus soft cover in A4 format with 58 unpublished B&W photos, 2 colour shots and 6 full-colour artworks
Price:

MSRP- USD$34.95

Review Type:
FirstRead
Advantages:
Interesting articles, excellent colour and B&W photos and relevant artwork. Readable from cover to cover.
Disadvantages:
Conclusion:

Little gem of information
Reviewed by Floyd S. Werner Jr.


Luftwaffe Im Focus is avaiable online from Squadron.com
Another 109 book? Do we really need another one? What more could be said about this airplane? Well to answer those questions, yes, yes and a lot more.
Written in this popular series of books, this softbound 56 page book covers the 109 from early war until the end. I am always amazed at the amount of new material being found and not just crashed airplanes in black and white photos. There are seven new color photos included as well. These compliment the 60 black and white photos very well.
There are plenty of pictures that are remarkably clear and well exposed. Most of the photos have never been released before. The pictures that have been released before have only been seen in the expensive unit histories. The ones that have been released are obviously first generation pictures as they are clearer than I've seen before. In particular I love the JG54 G-6 which is a full page and it is plainly visible that the inside of the flaps are RLM 02 and the dark overspray of the fuselage. It looks so cool in full page splendor.
OK so there are a lot of really cool photos, but did you learn anything? Well that is where this book really excels. Each photo is accompanied with a thorough explanation about the plane and the pilot. These explanations are written in German and English. It is a nice way to brush up on my German as well as enjoying my favorite airplane.
There are also some six first class color profiles by Ronny Bar that are inspirational for the model builder. I don't agree with the profile interpretation of Black 12 "Hermannchen" but that is part of the fun with Luftwaffe aircraft. Modelers will love the red legs on the JG-300 Erla G-10.
There is also a full color profile complete with sand filter and under fuselage pod. This airplane comes with personal markings and a unique unit marking. Here is something really nice for decal manufacturers to embrace. This book also has quite a few unique markings, including personal markings, that decal manufacturers should take note of. Resin guys don't forget to see the remarkable picture of the fragmentation bomb rack with little 96 SD-2 bombs. There is Gerhard Barkhorn's Bf-109F-4 "Christl" with its unique three wire aerial system and a new JG53 cartoon aircraft.
People will always ask why do you model so many 109s? Well after looking at all these camouflage patterns, overspray, colors and markings how can you not build more 109s? If you haven't become familiar with this series of books, you need to. They are little gems of information and offer excellent value for the money.
Thanks to Aeroplane Books for the review copy. You can obtain your copy at https://www.aeroplanebooks.com/ . Let them know you heard about it here
---
Luftwaffe Im Focus is available online from the Start website
---

Review Copyright © 2008 by Floyd Werner
This Page Created on 31 July, 2008
Last updated 31 July, 2008
Back to HyperScale Main Page
Back to Reviews Page