S u m m a r y

Title and Author
Allied Wings No. 6
Grumman FF
by Phil H. Listemann
Philedition
ISBN:

978-295-32-5440-2

Media & Contents:
40 A5 sized pages plus a card cove
Price:
13.50 € available online from Philiedition's website
Review Type:
First Read
Advantages:

Easy to read format, excellent selection of period photographs, superb colour artwork.

Disadvantages:
Conclusion:
An ideal quick reference guide to a little known but significant Grumman aircraft.
Reviewed by Rob Baumgartner


HyperScale is proudly supported by Squadron.com
Grumman was certainly no aircraft designer in the 1920s.
They did contemplate the idea but an opportunity had not yet made itself available. In 1930 such an occasion did arise when the Navy requested a need for a new two-seat ship-board fighter. Included was a request by the Bureau of Aeronautics to see if the new retractable undercarriage by Grumman was suitable for existing carrier fighters such as the Boeing F4B and Curtiss F8C.
Rather than let others benefit from their successful undercarriage design Grumman decided to answer the Navy's request for a new aircraft themselves. Thus was born a lineage of famous aircraft that eventually ended with the F-14 Tomcat.
Continuing this popular series of monographs Phil Listemann takes a look at the aircraft that started it all…the Grumman FF.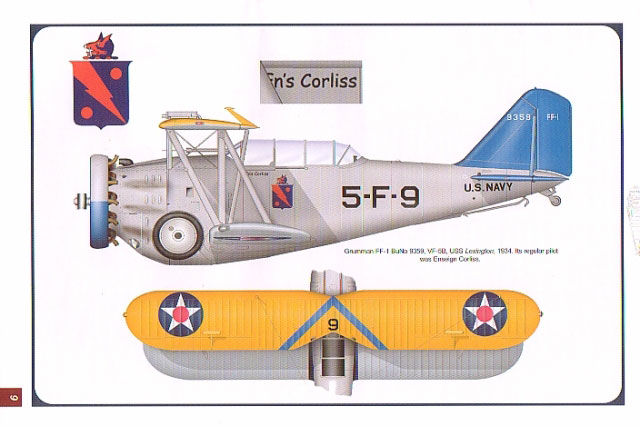 The format is A5 and within the 38 pages there are 37 black and white photographs. Ten of these are detail shots which will give assistance to those modelling this aircraft. There are 7 lovely colour profiles and these come courtesy of Malcolm Laird. Where necessary, the upper wing is displayed to allow the reader a full understanding of the markings carried. There is also an additional page devoted to the Section colours worn by VF-4B in 1934.
The book is divided up into several parts with the first chapter discussing the units that used the FF-1, with obvious emphasis being placed on VF-5B. Second line duties are discussed next when the "Fifis" were transferred to Navy Reserve units. Aircraft converted to the fighter-trainer FF-2s get a mention and we see these machines serving with the various Naval Reserve Aviation Bases.
One of the most interesting portions of the publication is the "Register". This list gives a brief history of each of the 27 FF-1s ordered under contract 27654. Those that crashed come in for some special commentary, which is quite revealing …sort of an abbreviated form of "Air Crash Investigation".
The text is easy to read and as a quick reference source it is ideally suited for both the modeller and Grumman enthusiast alike.
Thanks to Philedition for the review sample
---
Review Copyright © 2009 by Rob Baumgartner
This Page Created on 4 March, 2009
Last updated 4 January, 2009
Back to HyperScale Main Page