S u m m a r y

ISBN:

978-0-620-43076-0

Media:

263 pages, hard cover

Price:

Approx. €40.

Review Type:

First Read

Advantages:

Clear chronological history of one of the most important SAAF bomber / anti-shipping squadrons in WW2. Detailed description of all aircraft used, camouflage colours and excellent profiles.

Disadvantages:

Currently only available in South Africa

Recommendation:

Highly Recommended

Reviewed by Sinuhe Hahn

HyperScale is proudly supported by Sq
uadron.com
Decent books on the SAAF (South African Air Force) are scarce; an excellent treatise of individual squadron histories is truly a rare event. In this context, I am pleased to report that Drs. Bouwer and Thompson have collated as complete a history of the "Aegean Pirates" as possible, and have presented it as a very readable narrative.
Stefaan Bouwer is well known in SAAF circles for his book "The SAAF at War" and his contribution to the South African Colours and Markings series. He is also an excellent modeller and is a frequent contributor to a number of forums. Gerald Thompson has the distinction of serving with 15 Squadron during their action in the Western Desert and Northern Italy.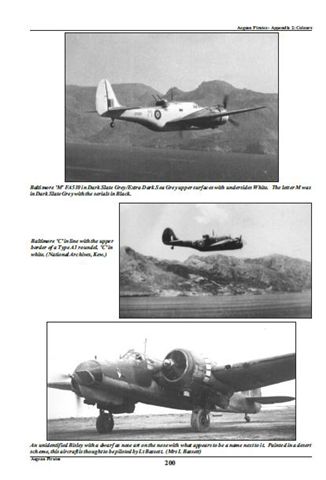 When the storm clouds of an approaching war loomed over Europe in 1939, the SAAF hastily started mobilizing whatever aircraft could be used for military purposes. Of the aircraft that it seized upon were the Junker Ju 86's of South African Airways. Of interest is that one of these machines was a straight bomber version, and not the usual civilian passenger transport. At that time an odd choice for an emerging airline, but in hindsight rather wise. These aircraft were to be used for maritime patrol, in order to monitor and protect South Africa's expansive coastline and the crucial shipping routes past Cape Town.
Along with 3 other bomber/reconnaissance units, 15 Squadron was formed in September of 1939 and stationed at Wingfield in Cape Town. Each squadron was allocated 6 officers, 12 enlisted men and 3 former SAA Ju 86's. On 2nd December 1939 the Squadron made the first intercept of a enemy vessel, namely the SS Watussi and played an important part in the scuttling / sinking of this freighter.
The next episode deals with the Abyssian campaign in the Horn of Africa, where the SADF/SAAF played a leading role in defeating the Italian forces. The antiquated aircraft operated by the SAAF during this campaign are a sign of how desperate the times were for the Allied forces; fighter squadrons having to make do with aging Gloster Gladiators and fabric winged Hurricanes, while bomber squadrons such as 15, had to make do with Fairey Battles, which suffered from persistent engine trouble, later identified to be due to a faulty fuel mixture. Despite these setbacks, 15 Squadron played an important role in this "forgotten" campaign of WW2.
The idiosyncrasies of wartime training become evident in the squadrons recall to Germiston in South Africa, where conversion onto Maryland aircraft took place, after which the squadron moved to North Africa where it was equipped with Blenheim IV's and Bisleys, continuing with maritime operations. One of the squadron's more spectacular successes was the sinking of the fuel tanker "Prosperina", thereby starving the Axis forces off much needed supplies. Sadly, this effort cost the lives of several aircrew, with only 2 of 5 aircraft returning to base, including the loss of Lt. Leisegang's Bisley, which collided which with a RAF Beaufort, during the hectic attack.
An indication of the camaraderie and team-spirit which reigned in 15 Squadron, and which was commented upon by several other members seconded form other squadrons, was the unwritten rule that all decorations should be viewed as being property of the squadron as a whole. As such they were never worn by a sole awardee. When Maj. Pidsley was awarded the DFC for his part in this attack, he implemented this rule, only to be alter rebuked by a visiting Air Marshall with the caustic remark that "if we take the trouble to give you an award, then you can take the trouble to wear it!"
It is during this period that the most serious indicent in the squadron's history occurred, the so-called Kufra Tragedy, in which three Blenheim IV's set off from Kufra Oasis in the midst of the Sahara Desert, on a training flight to familiarize the crew with the hazards of navigation over this inhospitable and featureless terrain. Due to a series of errors the trainees got totally lost, made a successful emergency landing, only succumbed to the fierce elements during three days of agony, while search efforts were hampered by a sandstorm that reduced visibility to less than 100 ft (30m). This ordeal, is documented in the form of a reprint of an article by JJM Coetzee in the Military History Journal Vol.12, No.2, 2001.
The book concludes its historical narrative with a discourse of 15 Squadrons real claim to fame as the "Aegean Pirates", where equipped with Baltimores (in temperate and maritime schemes) they made Axis movements unsafe in this sphere of the Mediterranean, after which they move on up into Italy. It is here that 15 Squadron became particularly noted for its persistent night attacks, which plagued both the Italian and German forces. During the last stages of the war, the Squadron assisted with the harassment of anti-communist Cossack forces fleeing the advancing Russians in April of 1945. It is debatable if these attacks would have been carried out with such ferocity if the squadron members had been aware of the subsequent fate that awaited these men, as the victorious allies handed them over to Stalin as part of "Operation Keelhaul".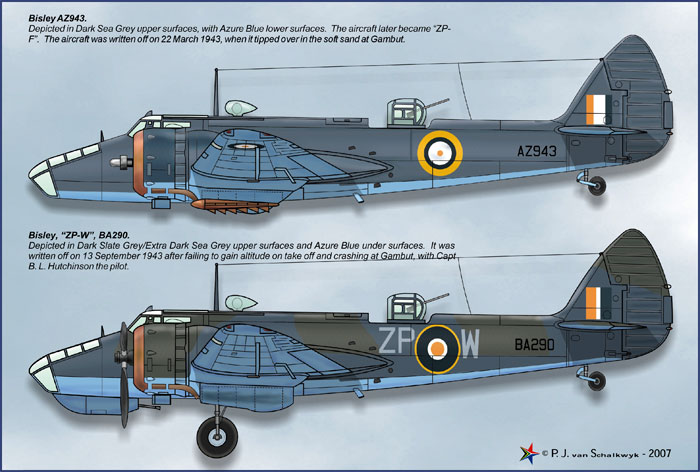 This volume includes an extensive appendix which includes a detailed list of all aircraft types flown, serial numbers, a discourse on the camouflage schemes employed, which are apply illustrated by a series of photos (black and white, as well as colour) and colour profiles by well known SAAF aviation artist, Piet van Schalkwyk. Those who find it a pity that 15 Squadron persistently flew some of the ugliest aircraft in the Allied repertoire, can take solace that a volume describing the activities of 16 "Beaufighter" Squadron is underway
Although it is a hefty volume and postage likely to be expensive, I can heartily recommend this book as a valuable resource to anybody interested in SAAF history, the Abyssinian Campaign or the MTO. The book is available directly from: www.avaitionshop.co.za.
---
Review Copyright © 2008 by Sinuhe Hahn
Page Created 28 April, 2009
Last updated 29 April, 2009
Back to HyperScale Main Page