S u m m a r y

Title and Author
Swordfish
from the cockpit No.10
by Donald Payne
Ad Hoc Publications
ISBN:
0-946958-67-2
Media:

Soft, glossy, laminated card, colour covers; A4 portrait format on 208 semi-gloss pages (16 in colour). Includes 70 colour artworks and 228 black and white photographs.

Price:
GBP£19.95 net
Review Type:
First Read
Advantages:
Superb photographs and colour artworks. Excellent and informative text.
Disadvantages:
Recommendation:
Containing all the chapters you would expect, this long over due reappraisal, will change your previous perception of the Swordfish and its role. Given the price and the exceptional number of pages, this is excellent value for money overall.
Reviewed by Steve Naylor


HyperScale is proudly supported by Squadron.com
Probably obsolete when it appeared in the early 1930's, certainly obsolete when the Second World War started and definitely obsolete when it ended, Ad Hoc Publications' 'Swordfish - From The Cockpit 10', tells the tale of a remarkable aircraft and the equally remarkable aircrews that flew it.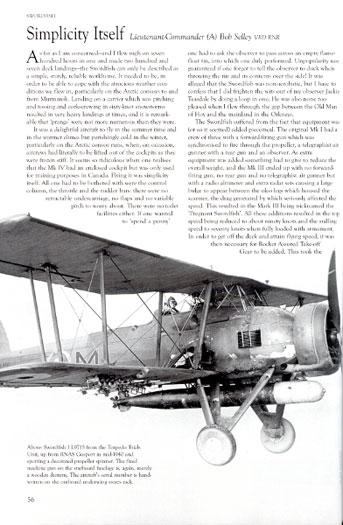 Despite its seemingly poor pedigree, it was judged by most, to have been the only aircraft capable of undertaking the many onerous tasks, routinely asked of it. Proof of this, can be found in the fact that Fairey's sublime Swordfish, has the distinction of being one of the few aircraft to have been in service in greater numbers at the end of the war, than at the start.
An impressive aircraft, calls for a similarly impressive book to do it justice. This new title from Ad Hoc, at 208 pages, the largest they have produced so far, is certainly a contender for that honour. Although nominally by author Lieutenant (A) Donald Payne RNVR, who flew the 'Stringbag' in Atlantic and Russian convoys, this book is really the collective testament of some two dozen former Fleet Air Arm pilots, observers, 'TAG's (Telegraphist Air Gunners) and maintainers. Whether a fan of biplanes or not, the reader cannot fail to be impressed, if not moved, by the tales told of endless patrols, atrocious weather, horrendous enemy fire and unstinting comradeship. Read this book and your previous perception of the Swordfish and its role, will undoubtedly be changed.
Beautifully produced, in Ad Hoc's familiar style, the informative text is profusely illustrated with 228 superb black and white photographs (many previously unpublished) of the Swordfish in action, on the ground, on the water, in the air, and on the assembly line. The detail contained here, will provide a fantastic resource for historian and modeller alike. Fantastic detail, such as camouflage and markings, weapons fits, rigging details and weathering, are all covered in these excellent images. Sadly there are no colour photographs, but this is compensated for, by the 70 colour artwork profiles by Roger Chesneau, spread over 16 pages. Covering various service aircraft (even some RAF) and variants, the profiles also include a two-page, 4-view spread of Swordfish Mk III 'NR864', as flow by the author with 835 Naval Air Squadron, from HMS Nairana, in January 1945.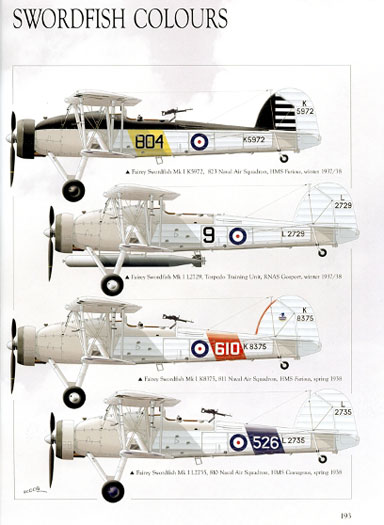 Normally, I would have gone into some detail regarding the actual contents of this book, but I feel that on this occasion, there is so much I could mention, that this would rapidly become very tedious. Hopefully, what I have already said, will give you an inkling of this book's worth as record of the Swordfish and its operators. Suffice to say that all the usual chapters are there (on the development, construction and capabilities of the aircraft), as well as describing its flying ability (the ubiquitous Captain Eric Brown of course), tales from the cockpit and on operations (inevitably including famous actions such as the attack on the Italian fleet at Taranto, the crippling of the Bismarck and the 'Channel Dash'), plus chapters on the various front and second line units which operated it.
So, are there any downsides to this book? Well, not really. The only error I spotted was a compositing one, in that the picture described as providing the background double-page spread for the Contents, was actually used for the same purpose on pages 182-183. Not bad I think, for such a large volume, and no harm done, since the image actually used on the Contents pages is of the same aircraft anyway, perhaps later in the same flight. Other than a cutaway drawing, there are no plans or walk-rounds of course, but regular readers of this series will know not to expect that anyway.
All in all, this is a comprehensive work, on what most agree, was one of the most successful military aircraft ever built. With some excellent injection-moulded 'Stringbag' kits already out there, and with a 1:32 kit from Trumpeter due soon, an up to date title on this aircraft has been long overdue. Considering the price and the exceptional number of pages, this title is excellent value for money for fans of the Royal Navy's most enigmatic and iconic biplane.
Thanks go to Ad Hoc Publications for the review copy.
---

Copies should be available to order from most good book outlets, but can also be ordered direct from;

Ad Hoc Publications
Cedars
Wattisham Road
Ringshall
Stowmarket
Suffolk IP14 2HX
(UK)

Tel: 07776 134277 Email: sales@adhocpublications.com

www.adhocpublications.com
---
Review Copyright © 2009 by Steve Naylor
This Page Created on 4 February, 2009
Last updated 11 April, 2008 18 December, 2009
Back to HyperScale Main Page