LF Models' 1/72 scale
Kellet XR-8 "Eggbeater"

by Piotr Dmitruk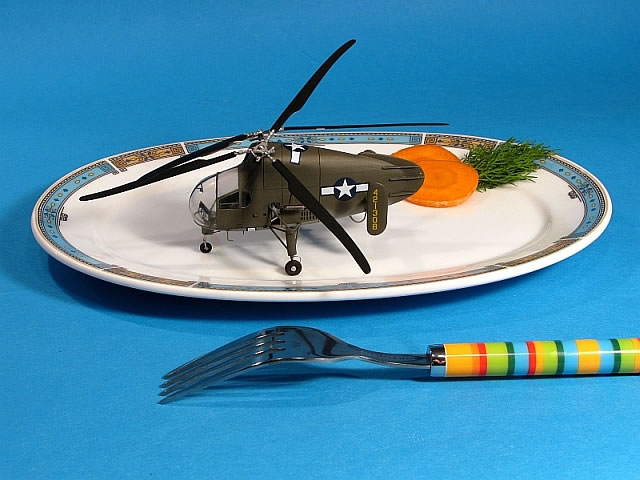 Kellet XR-8 "Eggbeater"

HyperScale is proudly supported by Squadron
The Kellet XR-8 helicopter was built during WWII to test the system of two intermeshing rotors, which requires no tail rotor. First proposal from Kellet was send to USAAF in 1942. In august 1943 it was assigned nearly million dollars for constructing of two prototypes, one with three- bladed rotors, second with two-bladed rotors. Fuselage was of steel pipes construction, covered with metal sheets and linen. Rotors were from steel, covered with plywood. This machine was powered with Franklin O-405-9 engine, giving only 245 hp.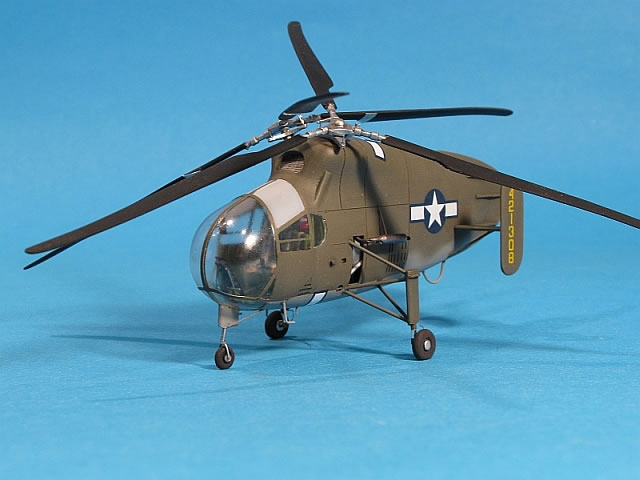 The first flight took place on 7th august 1944, with Kellet's chief pilot Dave Driscoll at the controls. There was a lack of stability, so two stabilators were added. A more serious problem was the rotors collision during the flight. From March 1945 a second prototype was tested, with two-bladed rotors, but it became unflyable due to violent vibrations. In 1946 program was cancelled, and the prototype was sent to the National Air and Space Museum, where it is still rests today.
The 1/72 scale resin kit of this helicopter from LF Models comes in tiny box with unattractive artwork. The hand drawn instruction are almost useless. This is not a good kit in general.
The vacuformed cockpit canopy is not transparent enough, and is divided in two halves. There are rear windows, that are too small, but the vertical "bumps" on the fuselage over them are too big. Panel lines are wrong, and upper cockpit windows are too big, and since they use to be painted over, there is nothing visible in the cockpit. The best way is to make your own cockpit canopy from scratch. Unfortunately I didn't notice that until it was too late, so I didn't improve it.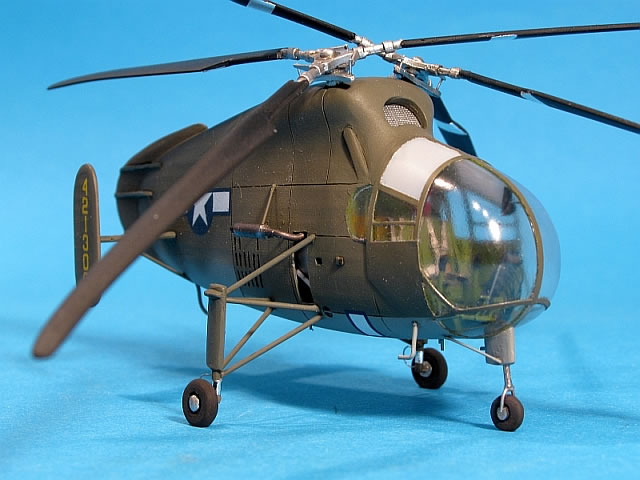 There are many small imperfections: there is no cockpit interior except seats and fire extinguisher, no details in white metal rotor hubs, no openings, scoops, handholds, steps and antennae(?). There is not even an engine, only the hole through the fuselage. Exhaust pipes are too small and wrong in shape. Engine cooling vents are only marked on the fuselage. It means, there is 31 oval holes to drill.
The shape of the upper cooling inlet is wrong, and there is only ugly resin part to plug in it. I replaced it with photoetched mesh. The wire supplied to make undercarriage legs bearers is too thick.
On the other hand, decals are superb. They are thin, performing well on application, with no silvering, and with almost invisible film.
The fuselage of this helicopter always reminded me the body of the fish. The real machine was given the unofficial nickname "Eggbeater", but when I looked at the model from above, there was another association in my mind's eye – sabre dancing!
---
Model, Images and Text Copyright © 2009 by Piotr Dmitruk
Page Created 23 April, 2009
Last Updated 23 April, 2009
Back to HyperScale Main Page