Fisher Model and Pattern's 1/32 scale
Hawker Sea Fury FB.11
by Michael Prince
Hawker Sea Fury FB.11

HyperScale is proudly supported by Squadron
Fisher Model and Pattern's 1/32 scale Sea Fury is available online via their website
---
Background
The Hawker Sea Fury could easily be described as the ultimate piston engine fighter aircraft. It was a navalised version of the land based Hawker Fury, an evolutionary development of the Hawker Typhoon and Tempest. Whereas introduction into service of its land based equivalent was overtaken by the advent of jet powered fighters, the poor acceleration of these early jets and their long take-off runs created concerns within the UK Royal Navy over the ability of these aircraft to be used from the deck of an aircraft carrier. The first Sea Fury flew in February 1945.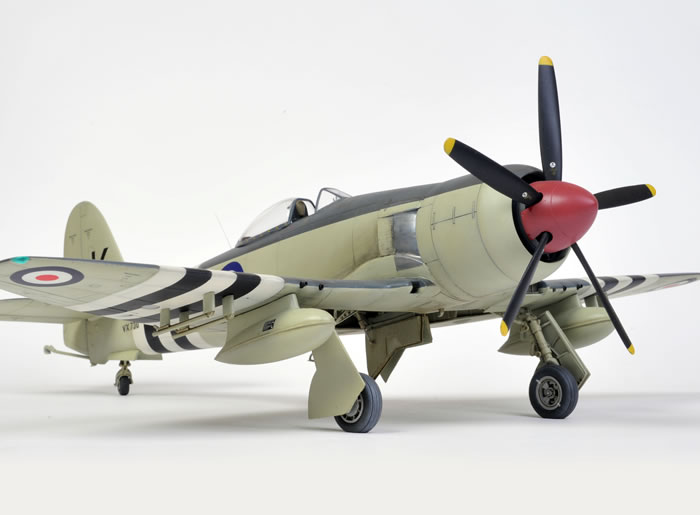 Sea Furies eventually served with the navies or air forces of the United Kingdom, Australia, Canada, Pakistan, The Netherlands, West Germany, Egypt and Iraq. Sea Furies are best known for their operations from British and Australian aircraft carriers during the Korean War.
---
Australian Service
In 1948 HMAS Sydney was commissioned into the Royal Australian Navy (RAN), followed thereafter by HMAS Vengeance (on loan from the United Kingdom) then HMAS Melbourne in 1955. Sydney's Air Group initially consisted of Hawker Sea Furies and Fairey Firefly FR5s, the individual squadrons embarking in Sydney in 1949 following workup in the UK. Ultimately, the RAN took delivery of 101 Sea Furies between 1949 and 1953.
From early October 1951 to late January 1952 Sydney deployed to Korea to relieve HMS Glory with 805 and 808 Squadrons embarked, both equipped with Sea Furies, along with 817 Squadron equipped with Firefly FR5s. Roles performed by the Fireflies included spotting for naval bombardments, dive and low level bombing of rail targets, bridges and other transport infrastructure, attacks against troop concentrations and armed reconnaissance. Eight Sea Furies and three pilots were lost to enemy ground fire, whilst the hazards of operating from a small escort carrier also took their toll. Attrition replacements were drawn from Royal Navy stocks both during the deployment and during the return passage to Australia. Following a subsequent deployment to the UK and return via the United States, Sydney conducted a second deployment to Korea from November 1953 to June 1954, this time contributing to enforcement of the truce signed between North and South Korea in July 1953. No combat flying was undertaken during this second Korean deployment.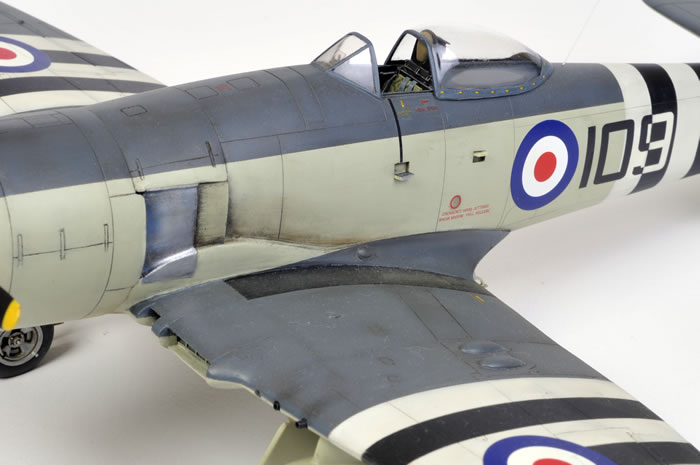 With the arrival in Australia of Melbourne with a Carrier Air Group consisting of DeHavilland Sea Venoms and Fairey Gannets in late 1955, both the Sea Furies and Fireflies became obsolete. Between 1957 and 1959 the vast majority of Sea Furies were retired from service, though a number soldiered on until the mid 1960s.
Fisher's Large Scale Sea Fury
The Fisher Model and Pattern Sea Fury is an all resin kit. It is beautifully moulded inside and out and would have to be one of the easiest and most enjoyable kits I have ever built. While some may think the kit is a tad expensive, it's worth noting that the level and quality of detail means that buying after-market items for this kit is completely unnecessary. With a few minor exceptions, this kit has therefore been built out of the box.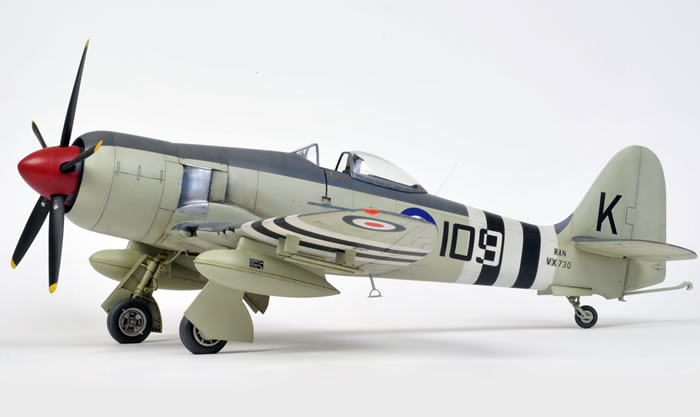 It should be noted that there have actually been two versions of this kit. This is the early version with the multi-part wing similar to a traditional injection moulded kit. The later version has either a single piece wing, or a three part wing if it is to be displayed with the wings folded.
---
Additions
The small amount of additional work undertaken included:
Handhold on fuselage side opened and scratch built. This was linked to the access step beneath the wing; if the step was lowered, then the hand hold was open.
Cannon barrels replaced from brass tube.
Pitot tube and arrester hook shaft replaced from brass tube (for durability).
Three small access panels scribed in ahead of the windscreen and drop tank filler caps (all omitted from kit).
Whip antenna added.
Inner rocket rails omitted (these were frequently removed when drop tanks were fitted).
All painting was undertaken using Humbrol enamels, though I used Humbrol's Dark Sea Grey instead of the specified Extra Dark Sea Grey as Humbrol's version of EDSG appears way too dark on any scale of kit. Alclad stainless steel was used for the panels behind the exhausts, laid down over a base coat of Future.
The aircraft has been weathered as it would have appeared during operations rather than in the well known photograph taken while Sydney was still on passage to Korean waters. This was achieved using darker and lighter shades of the base colours instead of pre-shading, with panel lines highlighted with a thin wash of acrylic dark brown. This wash was repeated in areas where grime would have built up, as well as being progressively sprayed to achieve the exhaust staining.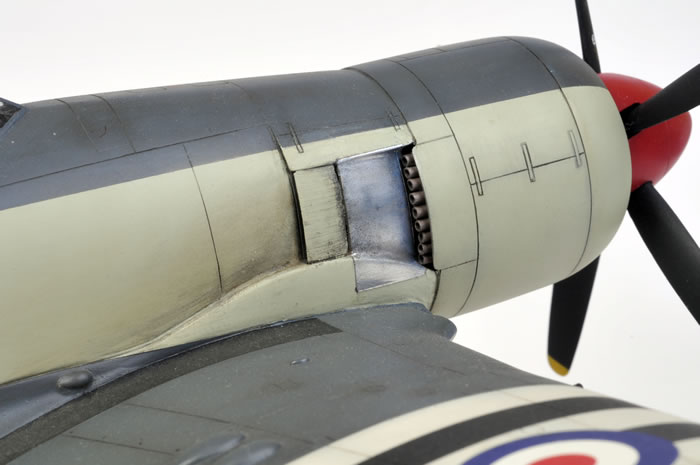 Markings came from a combination of the magnificent Cartograph decals supplied in the kit, along with the uniquely Australian markings from Aussie Decals. The Aussie Decals 'K' on the fin was significantly under-size for this particular aircraft so was replaced using strips of black decal, while the identification stripes were painted. The spinner was painted red and the back-plate painted EDSG in accordance with the aircraft as it is currently displayed in the Australian War Memorial, though some references show VX730 with a grey spinner. There are no known original colour photos, though period black and white photos clearly show the spinners of at least some Sea Furies during this deployment to be something other than EDSG or Sky.
The final clear finish was a 60:40 mix of Humbrol satin and flat finish, applied in three very thin coats.
The Fisher Model and Pattern Sea Fury is an absolutely magnificent kit; accurate, beautifully detailed and moulded with no need to add any aftermarket detail sets. It is also remarkably easy to build – in other words, for anyone that likes naval aircraft and can get one, still an absolute must-have.
---
References
Sea Fury, Firefly and Sea Venom in Australian Service - Stewart Wilson, Aerospace Publications, 1993
Korean Air War - Robert F Dorr and Warren Thompson, Motorbooks International, 2003
---
Model and Text Copyright © 2009 by Michael Prince
Images Copyright © 2009 by Brett Green
Page Created 18 May, 2009
Last Updated 22 May, 2009
Back to HyperScale Main Page