Hasegawa's 1/48 scale
Mitsubishi J2M3 Raiden

by Marty Sanford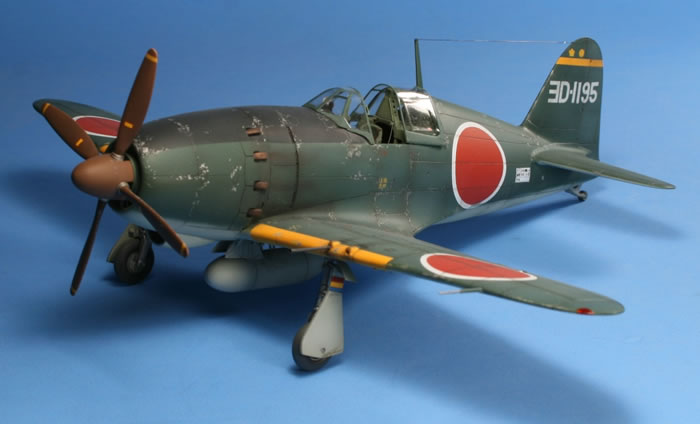 Mitsubishi J2M3 Raiden

Hasegawa's 1/48 scale Raiden is available online from Squadron
This is the Hasegawa 1/48 scale Mitsubishi J2M3 Raiden (Thunderbolt), Kit # JT148, Allied code name "Jack". It is finished to represent the aircraft flown by Imperial Japanese Navy ace, Lieutenant junior grade Sadaaki Akamatsu, of the 302nd Air Group, Atsugi airfield, 1944-45. Located approximately 20 miles South West of Tokyo, the 302nd formed an integral part of the defense of the Capitol against a variety of Allied aircraft, including USAAF B-29's, P-51D's, USN F6F Hellcats and F4U Corsairs.
Aftermarket parts used in the construction:
I elected not to use the Eduard Photo etch instrument panel, and instead used the instrument dials from the kit decal sheet on the kit supplied plastic instrument panel. After a final coat of clear flat, each dial received a drop of Future (Pledge?) acrylic floor polish.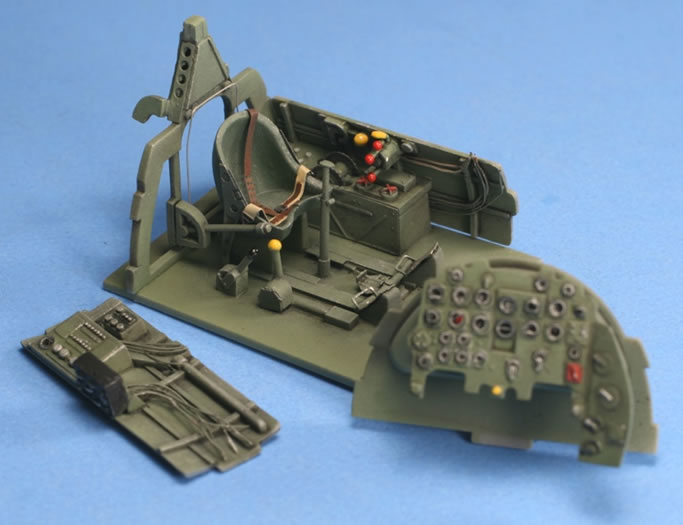 Other modifications:
Wire (taken from a piece of ordinary insulated wire) was added for brake lines on the landing gear and in the cockpit
Monofilament nylon thread was used for the aerial wire
The kit pitot tube was replaced by a piece of .022 inch brass rod nested in a section of steel tube, taken from an old Testors liquid glue squeeze dispenser
Canopy: The windshield and rear canopy panels were sawed off the kits' one piece canopy transparency with a JLC razor saw, followed by sanding the edges smooth with sanding sticks. These were glued on the model, and the Squadron Vac sliding hood was positioned in the open position. The Eduard express mask Ex 48 095 ("Kabuki tape") was used to mask the canopy frames.
Paint:
Interior parts were finished in a mix of Tamiya acrylics were used to represent Mitsubishi Interior Green
3 parts XF 71
2 Parts XF 22
2 Parts XF 2
After a wash of Turpenoid and oils, other cockpit interior details were picked out in silver, black, red and yellow. The Eduard seat belts were painted with Tamiya acrylic Buff (XF-57) and with Testor's enamels.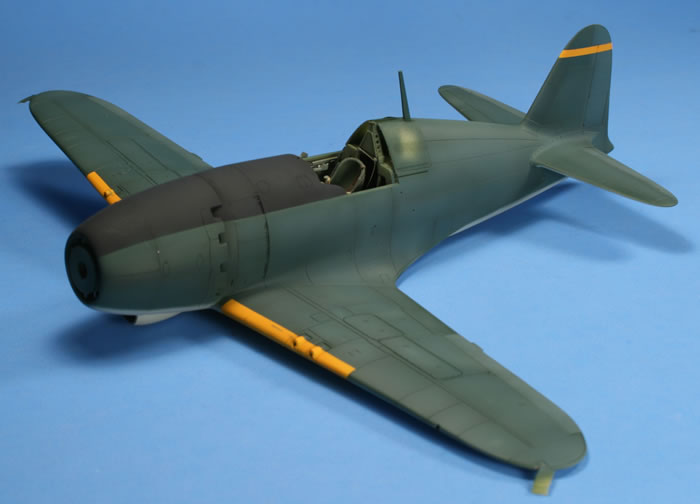 When assembled, the entire exterior of the model was sprayed with Tamiya AS-12 Aluminum lacquer, decanted from the rattle can and shot through my Paasche H airbrush.
Undersurfaces were painted with a mix of:
5 Parts XF-12
2 Parts XF-22
2 Parts XF-2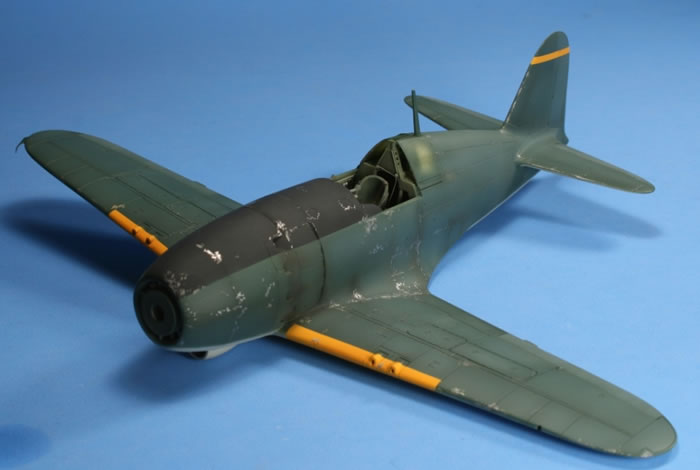 Rather than use XF-70, IJN (2) Green straight from the bottle on the uppersurfaces, I came up with my own mix to simulate Imperial Japanese Navy Mitsubishi Dark Green:
4 Parts XF-70
2 Parts XF-22
2 Parts XF-8
2 Parts XF-2
When painted, the exterior of the model was sprayed with Tamiya clear gloss lacquer TS-13, straight from the rattle can. This was the first time I had used this product, on the advice of Roy Sutherland. I was very pleased how this performed as a gloss coat in preparation for decals.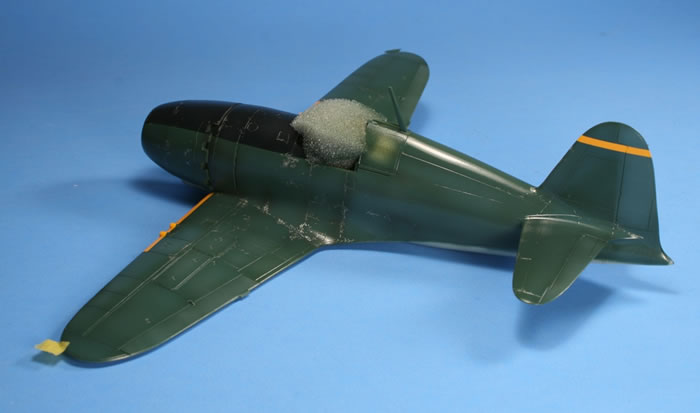 Decals came from a variety of sources. Stencils and Hinomarus were from an old Aeromaster sheet (48-287, "Empire Defenders, Part 4") and some detail markings came from the Hasegawa kit decal sheet. The Aeromaster sheet I used did not have the tail code for Akamatsu's Raiden, but I found one on the decal sheet of the Tamiya Raiden kit. For even a 20 year old (+) decal sheet, the Tamiya code number decal for Akamatsu's 302nd Air Group went on with the aid of Gunze decal setting solutions just fine.
Overall this was a very pleasant and satisfying build, and I found the Hasegawa Raiden to have superior fit and detail.
---
Model, Images and Text Copyright © 2009 by Marty Sanford
Page Created 18 March, 2009
Last Updated 18 March, 2009
Back to HyperScale Main Page