Hasegawa's 1/48 scale P-39Q
Built for a Veteran
by Dave Sherrill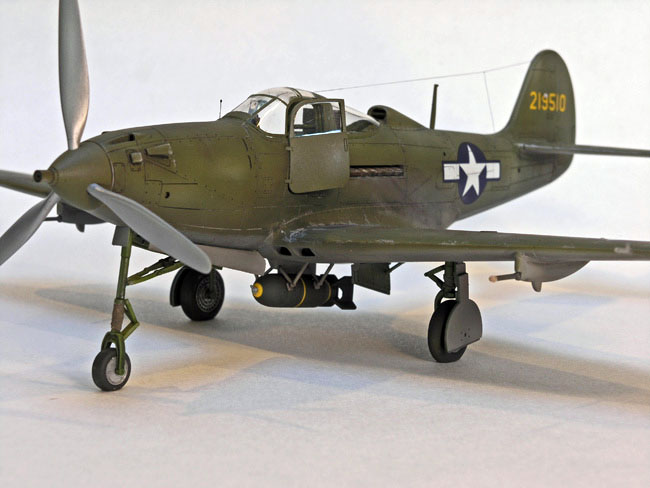 Bell P-39Q Airacobra


Hasegawa's 1/48 scale P-39Q Airacobra is available online from Squadron.com


This past summer, through a mutual friend, I was fortunate to make the acquaintance of Lt.Col. James "Jim" Van Nada, USAAF, Ret. Jim was a fighter pilot in World War II with a long and distinguished wartime record. Enlisting in late 1941 he flew combat in the Pacific Theater from the spring of 1942 until the very end of the war. Aside from the fact that Jim was overseas for almost the entire war, what is most impressive about Jim's military service is the number of different fighter aircraft he flew. In the Southwest Pacific he flew the P-40E, the P-39Q and the P-38J. Based out of Iwo Jima in early 1945 his final mount, as well as his favorite, was the P-51D. For all the flying he did in harm's way it was somewhat ironic that Jim's life nearly ended on the ground during the early morning hours of March 25, 1945. That morning the 21st FG encampment on Iwo Jima was raided by nearly 400 Japanese soldiers making a surprise suicide attack from their underground hiding places. Some 27 pilots were killed in this attack. Wounded by a grenade, Jim returned to action in May after a short convalescence in Hawaii.
Attaining the rank of Major, he concluded his nearly four years of war service commanding the 72nd Fighter Squadron on Iwo Jima and flying combat missions over Japan.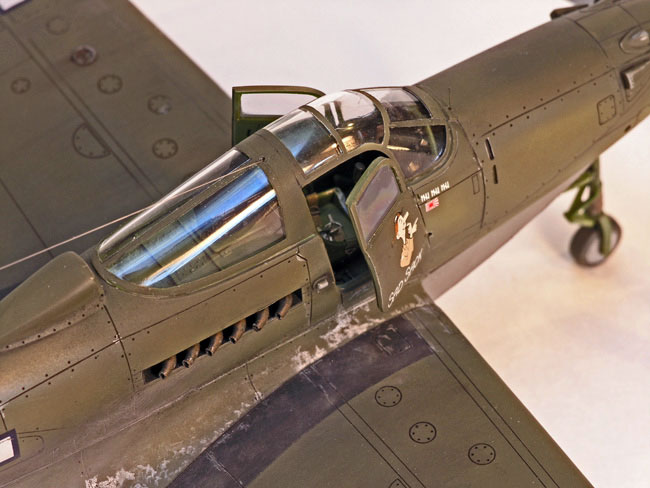 Being a modeler of WWII fighter aircraft, I had a lot of questions for Jim when we first met and we had a lengthy conversation. I think Jim also liked talking with someone who had a more than pedestrian knowledge of the aircraft he had flown. Jim is in his early 90's, but he is still in good health and leads a very active life. You can tell that he enjoys talking about the planes he flew and his life during the war years. After the war Jim had a career as a math teacher in the Los Angeles city schools. He now resides with his wife Janet, in Eugene, Oregon. Jim was kind enough to loan me a DVD containing a collection of his war time photographs. As I was looking through this enormously interesting collection of pictures I saw several photographs of the P-39Q Jim had flown while stationed on Makin Island. "My gosh! I've seen this plane before", I thought to myself. (Actually, it might have been something other than, "My gosh") I wasn't quite sure where I'd seen it, but most likely it was on some decal sheet. It took me only about fifteen minutes of research on the internet until I'd found it. On the Three Guys Replicas sheet #48014, is the Airacobra "Sad Sack" that was Jim's personal aircraft from his time in 1943-44 with 7th Fighter Command.

I could hardly believe it. Not only had I just met and spoken with a real WWII fighter pilot, but now I had the opportunity to build an exact replica of the very plane he had flown during the war. (Never mind that the P-39Q was not Jim's favorite fighter, "It was a fun little plane to fly", he said, "but it wasn't much of a fighter at altitude.")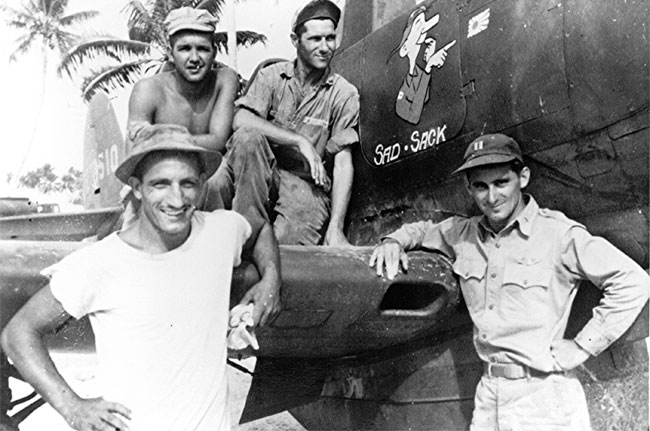 Capt. VanNada and his ground crew
No one had ever built a model for Jim and I very much wanted to honor his service to our country with the best model I could build. Jim was unaware that a decal of his plane existed. (I believe that the Osprey book on the P-39 has a profile of "Sad Sack" as well.) Fortunately, a couple of the decal sheets were still readily available for purchase through Flightdecs. Remembering that I'd recently seen the Hasegawa 1/48 P-39Q kit at the local hobby shop I was soon happily cutting parts from the sprue and beginning my build.

Jim had originally drawn a simple outlined profile of the cartoon character Sad Sack on the starboard door of his Airacobra. (I thought it looked more like Charles DeGaulle than Sad Sack.) Someone else in his unit who, according to Jim, was a much better artist, later painted the final artwork version of Sad Sack. The decal sheet offers both versions. Jim wanted me to build the later version. The sheet provides the option of putting another Sad Sack on the port door, but according to Jim, the artwork was only on one side.
I received some much needed and appreciated help from Steve "Modeldad" Eisenman in building this model. Steve kindly delved into his vast archive and found a few pictures of "Sad Sack" that showed the aircraft having bare metal propeller blades, a gaiter protecting the front oleo, and tape on the barrels of the under wing gun pods. My guess is that sand was a serious problem on Makin Island. I tried to replicate these details as best I could on this model.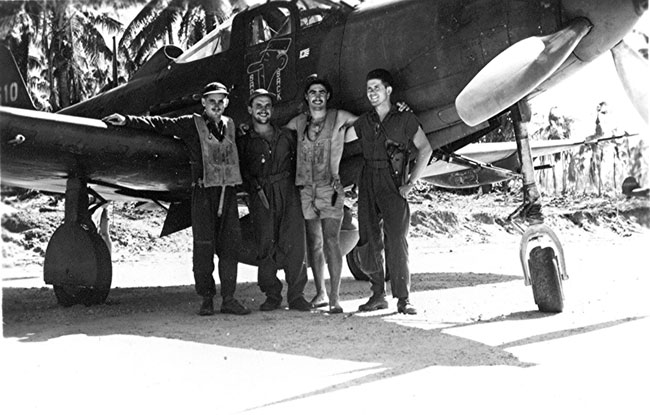 Jim (l.) and some of his fellow pilots with the first version of Sad Sack. Not the sort of uniforms you'd see in the ETO.
The Hasegawa P-39 kits are of excellent quality and the model went together quickly without any significant problems. The only criticism I would offer involves the somewhat dodgy fit of the canopy and the doors. The doors did not fit well in the closed position, but I wanted them to be open so that the interior could be viewed. Not open too much though, because otherwise the doors look like a pair of large ears.
Aside from the decals the only aftermarket items I used on this kit were some Eduard PE seatbelts and Quickboost resin exhausts.
The Olive Drab color was a combination of Tamiya acrylics XF-51 Khaki Drab and XF-58 Olive Green that I learned about from reading a Chuck Wojtkiewicz build article on Modeling Madness. I like this formula because it has a green, not brown hue to it.
I have been a serious modeler now for about twelve years and in that time I have been very fortunate to receive a few nice awards for my work at modeling shows. But, building this model for my friend Jim and having him appreciate my work was the most rewarding experience that I've had, or could ever hope to have as a modeler.
We modelers build these plastic kits for many varied reasons. I'd like to think that a couple of the reasons for building models we all have in common is a desire to keep history alive as well as to honor the service of the brave pilots and crewmen of every air force.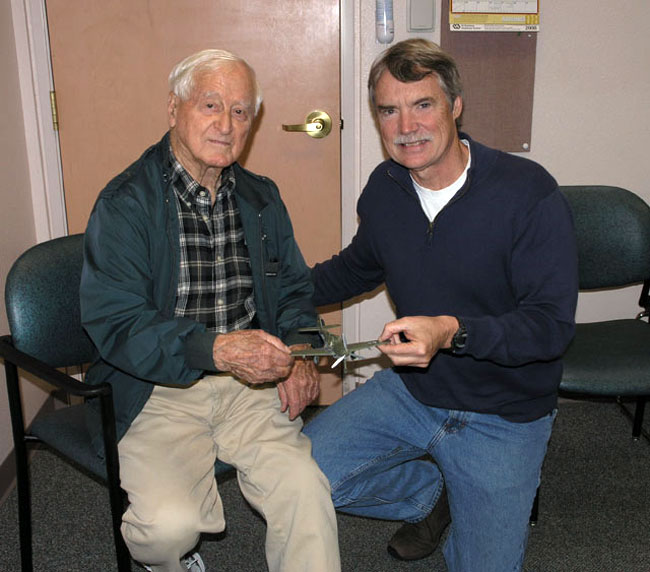 Jim VanNada and Dave Sherrill
---
Model, Images and Text Copyright © 2009 by Dave Sherrill
Page Created 19 January, 2009
Last Updated 19 January, 2009
Back to HyperScale Main Page