Italeri's 1/48 scale Messerschmitt
Me 262 A-1a

by Bob Carr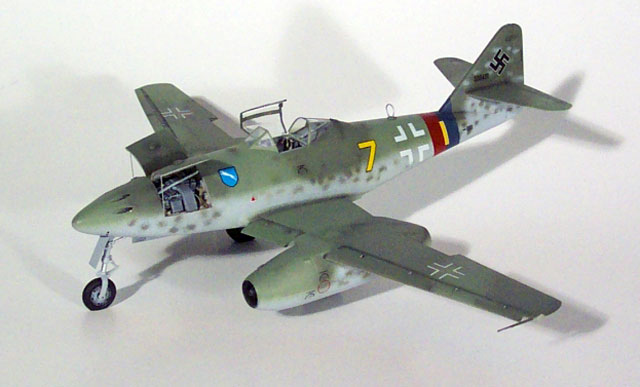 Messerschmitt Me 262 A-1a


Italeri's 1/48 scale Me 262 A-1a is available online from Squadron.com


This is the 1/48 Italeri Messerschmitt Me 262 A-1a marked as a plane of 11./JG7. My understanding is that this kit is descended from the old Dragon/DML kit. If so, the fit issues have been well documented elsewhere. Other than the fairing in the wing roots, I encountered no major problems. There is one (that I know of – I'm not a German aircraft expert – this was one of those change of pace projects) major, obvious self-inflicted oops! on the model. See it? Answer below.
I added the Verlinden update set. I have used many Verlinden products and been quite pleased, however, I must say that this was not one of their better efforts. Many of the kit parts were superior to the resin replacements which tended to be "soft" in the execution of the details. Perhaps the Italeri kit has been improved a bit over what the original Verlinden product was intended to replace? In any event, I wound up using about half the resin replacement parts. Once worked in, the overall effect of the resin was pleasing. In particular, the engine and gun bay provide a nice look once plumbing and wiring are added.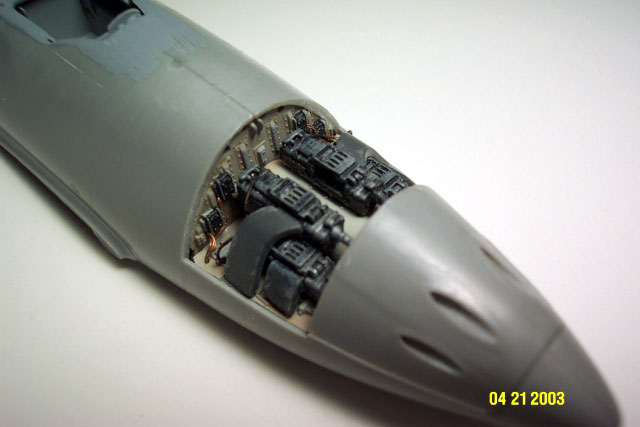 In addition to the resin parts, I added some scratchbuilding primarily in the fuselage area around the underside of the cockpit tub. Wiring, plumbing, linkages, etc. were fabricated from fine electrical wire and plastic shapes. Wiring bundles were made by lightly twisting together several very fine strands of wire. Once secured in place and painted, they make convincing wire runs. By the way, old lamps provide an excellent source of very fine wires. Just cut the cord, strip the insulation and you will generally find a nicely twisted bundle of fine wire. One cord can provide a lifetime supply.
The wiring behind the instrument panel was also scratchbuilt although it is not readily noticeable.
What is the oops!? As I was proudly admiring the finished model and noting how nicely I had painted the red and blue identification (?) bands, I couldn't help but notice that both my reference photos and the kit instructions appeared to incorrectly show the order of the colors. It seemed quite odd that a photo, in particular, would be incorrect, however, the only other explanation would be that the photos and instructions were correct and that I had mistakenly reversed the order, but that didn't seem likely! Well, as unlikely as it seems, I did manage to screw up. Since it would be difficult to correct, I'll leave it as is and concentrate on forgetting that it's wrong. I've used that technique before and it's quite effective.
---
Model, Text Copyright © 2008 by Bob Carr
Page Created 14 January, 2009
Last Updated 14 January, 2009
Back to HyperScale Main Page