Bf 110 C/D/E
Royal Class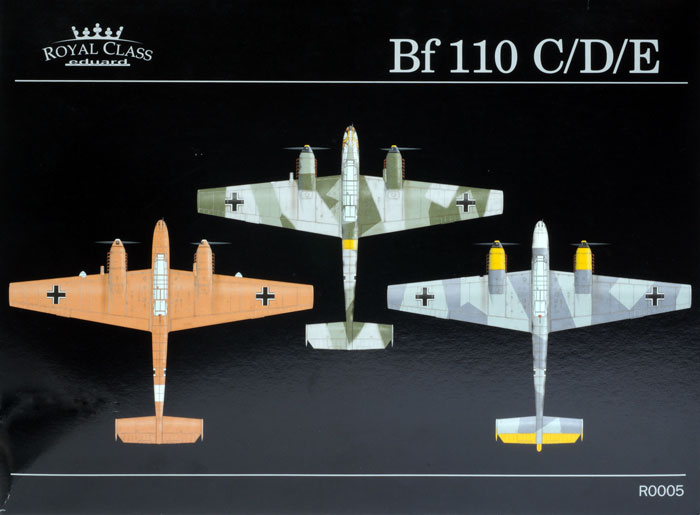 Eduard, 1/48 scale
S u m m a r y

Catalogue Number:
Eduard Kit No. R0005 - Bf 110 C/D/E Royal Class
Scale:
1/48
Contents and Media:
Two complete kits comprising well over 500 parts in olive coloured plastic; 24 parts in clear; nine photo-etched frets including four in colour (includes workshop ladder on a large photo-etched fret); four resin parts; masking sheets; markings for 12 aircraft; replica Iron Cross; 1/4 scale Messerschmitt Bf 110 instrument panel including additional clear parts and two extra colour photo-etched frets.
Price:
USD$185.00 plus shipping, available online from Eduard
Review Type:
FirstLook
Advantages:
Luxurious limited edition presentation; two full kits which may be built as Bf 110 C/D (including separate fuselages with long "boat tail"), standard E, E night fighter with radar, or an E/Trop with larger oil coolers and sand filter intakes; revised and upgraded photo-etched details for important aspects including radio faces; fabulously detailed; superb surface features including crisply recessed panels and subtle rivet lines where appropriate; includes comprehensive colour photo-etched parts; separate canopy parts for closed/open cockpit and rear clamshell; attractive marking options; very high quality plastic; narrow sprue attachments.
Disadvantages:
Modelling experience is required; only later style wheels supplied.
Recommendation:
Highly Recommended to experienced modellers or Luftwaffe aficionados

Reviewed by Brett Green

Eduard's 1/48 scale Bf 110 C/D/E Royal Class will be available online from Squadron.com

The Messerschmitt Bf 110 entered the Second World War as a new and prestigious weapon of the Luftwaffe, performing the roles of bomber escort, heavy fighter and troop support during the German invasion of Poland. It performed well against Polish fighters, and put its heavy armament to effective use against ground targets after the Luftwaffe had established air superiority. The Bf 110 repeated these roles during the campaign in the West. The long range of the Bf 110 was especially useful for escorting bombers deep into France.
The twin engine Messerschmitt was more than a match for most contemporary French fighters, but early encounters with Spitfires and Hurricanes resulted in unaccustomedly heavy losses. This was an ominous indicator of the coming months over the British Isles.
In those Summer months of 1940, Messerschmitt Bf 110s on long-range escort missions suffered heavy losses to British fighters. Eventually, Messerschmitt Bf 110s had to be escorted themselves by the more nimble Bf 109s.
Even if its fortunes as a pure fighter aircraft were mixed, the Messerschmitt Bf 110 had a better record as a defensive weapon.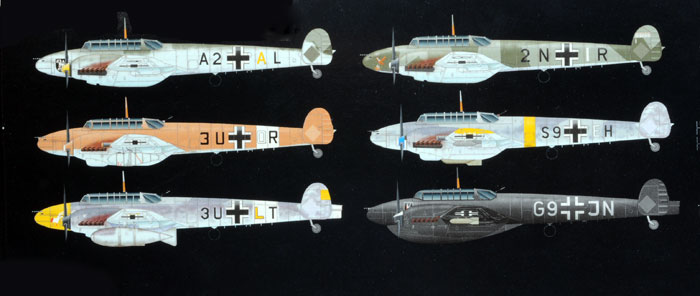 As early as December 1939, Bf 110 C aircraft of I./ZG 76 were involved in the decimation of an armed reconnaissance patrol over the Heligoland Bight. Eight Wellingtons out of a total 22 on patrol were claimed by the Zerstörers. This single event put massed daylight bombing off the agenda until 1943, but ZG 2 and ZG 76 continued to enjoy superiority over Blenheims and Wellingtons in the following months.
The Messerschmitt Bf 110 E, was a refinement of the C and D models with production beginning in August 1940. The Bf 110 E was a useful long distance bomber and heavy fighter. In addition to its ordnance and new gunsight, revisions were also made to the rear machine gun, and inside the cockpit. The most obvious exterior change was the addition of a rectangular air intake on the front of the top gun cowl. The versatile Bf 110 E served on the North African, Mediterranean, North Atlantic and Russian Fronts until 1942 and beyond.
Arguably the most important contribution made to the German war effort by the Messerschmitt Bf 110 was as a night fighter. The role was initially ad-hoc. From July, 1940, day fighters were simply painted black and sent aloft to deal with British bombers, now making their attacks under the relative protection of darkness. These early night fighters had no additional equipment nor ground control assistance. Enemy aircraft were held in the cone of a searchlight, and the Bf 110 would engage the bomber while it was illuminated in the beam.


I am excited.
Eduard's Royal Class boxings are always special but this release includes, in my opinion, the most valuable additional parts and bonuses that we have yet seen.
Eduard launched their Bf 110 series with the E variant in September 2007. They followed up with the Bf 110 C in December last year.
Not surprisingly, most of the plastic parts in this new kits are common with the earlier release. Most, but not all.
Before we get stuck into the detail of the kits, let's see what is different in this box.
---
What's New
Enough parts are included to build two complete Bf 110 C, D or E kits.
One of the most exciting and unexpected inclusions in this release is the revised engine nacelles with the deep oil cooler housings and tropical filters required to build a Bf 110 E/Trop. This has been a long misunderstood variant that has never been kitted previously in any scale. The engine nacelles of this variant look like a cross between the early C/D/E and the later F/G versions. In fact, the deep oil cooler is even more pronounced on the Bf 110 E/Trop than it is on the F and G.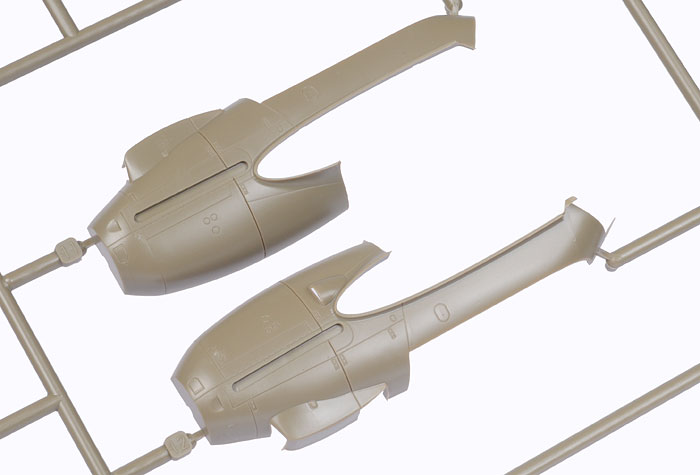 This version was used in tropical climes and also on the Eastern Front. The brand new plastic nacelles are accompanied by two sets of resin air filters. These are delicately detailed and perfectly cast.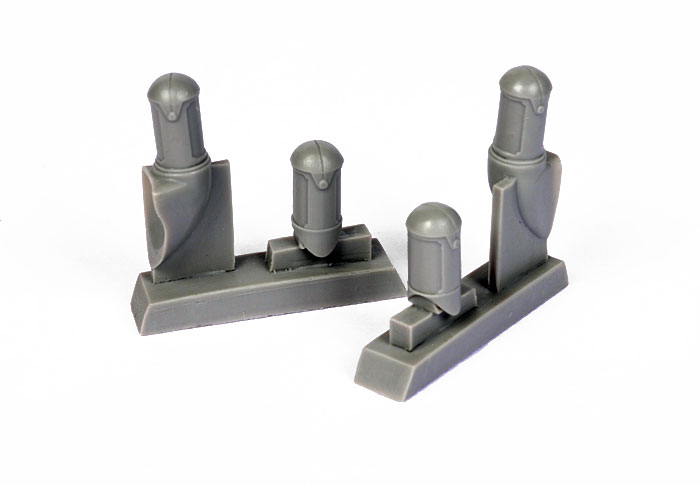 Also included on the new sprue are a pair of capped spinners, radar masts, two 300 litre drop tanks and alternate rudders with large trim tabs. The radar masts are complimented by photo-etched dipoles permitting a Bf 110 E night fighter to be built.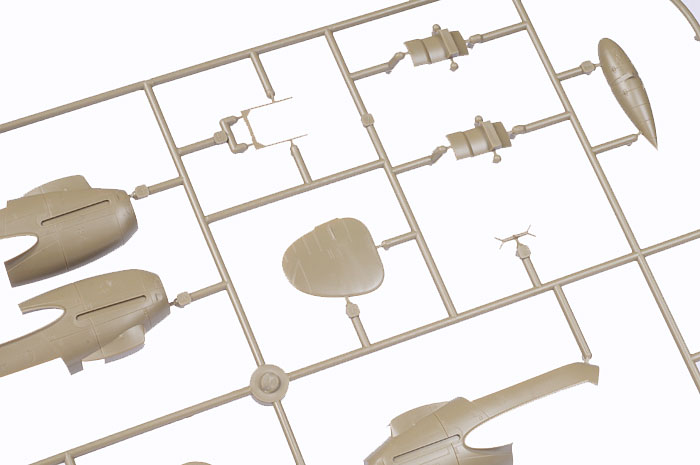 Another completely new moulding is the long fuselage with the "boat tail" often seen on the Bf 110 D. This is an all-new fuselage in addition to the two standard fuselages also included in the box. The "boat tail" fuselage has the boat deployment cable moulded along the edge of the port-side fuselage spine - a nice touch.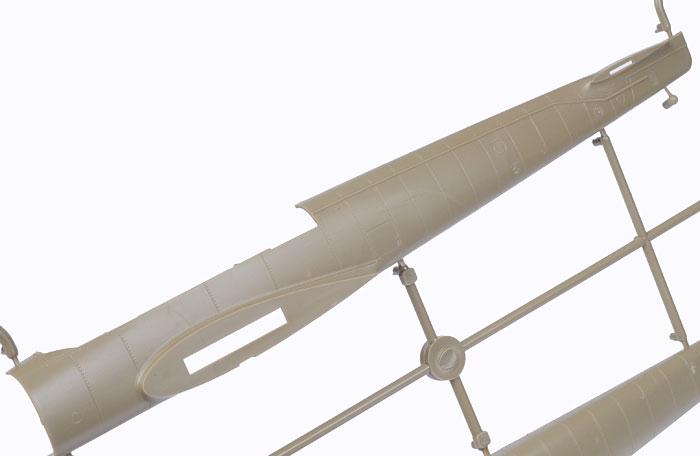 The photo-etched frets have been upgraded and revised to comprise two colour and two nickel plated frets. The cockpit interior benefits from colour photo-etched radio fronts and placards, plus the perforated holders for oxygen bottles and a wealth of optional parts to replace plastic exterior and structural details.
Interestingly, Eduard has now settled on a standard colour of RLM 66 for all the instrument panel options (quite correctly, in my opinion).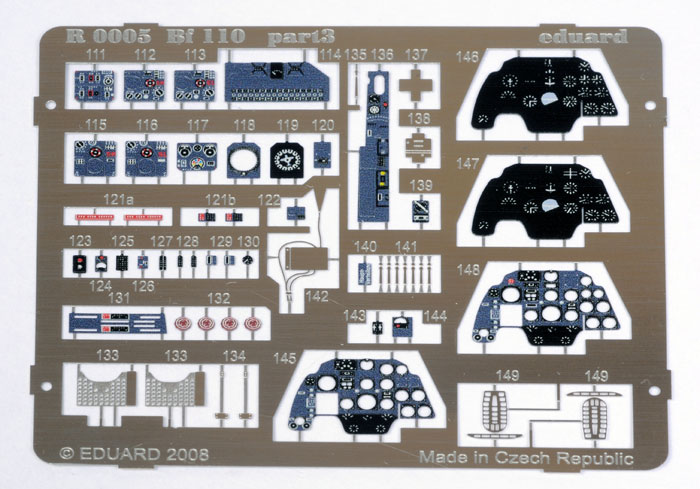 Some innovative bonus items are included too, but I will get to them later.
---
The Kits - The Details...
This release continues Eduard's recent tradition of world class quality injection moulded parts, remarkable detail and colourful markings.
The styrene parts for each kit are attached to seven sprues via fine connectors. Moulding quality is superb. I could not find a single sink mark or ejector pin in any area that will be visible on the finished model.
Crisply recessed panel lines are partnered with incredibly subtle rows of rivets. I like the treatment of the fabric control surfaces too, with rib tape detail being the most prominent feature - no massive sagging of fabric.
The fuselage is broken down into the main halves with a separate nose (upper and lower) plus an insert for the deck immediately aft of the cockpit. As mentioned earlier, two "standard" fuselages are supplied along with a separate longer fuselage with the "boat tail" moulded in place.
The cockpit is beautifully fitted out with a combination of delicate plastic and colour photo etched parts.
The lower fuselage cannon are visible through the fuselage floor, and plenty of spare ammunition is provided. The rear gunner's seat can be made to swivel, while the navigator's seat may be posed up or stowed.
The nose is fully equipped with four MG 17 machine guns and ammunition feeds plus oxygen bottles. These may be displayed by posing the separate gun cowl open.
The wings are moulded with the flaps and leading edge slats in the closed position. This may disappoint some modellers, but I did a quick check of several books and nearly half of the Bf 110s were parked with the slats and flaps up. If you really want to drop the flaps and/or slats, the kit engineering will make this task fairly straightforward with the bulges behind the nacelles moulded as part of the bottom of the kit flaps.
Ailerons are provided as separate parts.
Wheel well detail is excellent
The shape of the spinners looks good, and the prominent pitch collars are moulded near the base of each propeller blade. These should be clearly visible when the propeller assembly is complete. The main wheels are still the same as those included in the Bf 110 E kit, but reference photos suggest that the hubs should be smaller for the Bf 110 C and D.
Two sprues of clear parts are included for each kit. The prominent glasshouse is an important part of the Bf 110's character, and Eduard has done an especially good job on the complex rear clamshell. If the rear canopy is to be depicted open, separate parts are supplied for the clamshell and the sliding top rear sections. If the canopy will be closed, a totally separate single part is used. A separate piece of armoured glass is also depicted, with an alternate photo-etched frame if the modeller prefers. The side and top canopy parts are also individual pieces to permit posing in the open position. Furthermore, alternate styles of rear canopy are offered - with the machine gun cutout and without. Handles and other canopy details are supplied in both photo etch and plastic. Eduard masks are also included to ease the pain of painting that maze of canopy frames.
---
Marking Options
Two large decals sheets cover 12 varied options. These are all new - none have been covered in the previous two Eduard Bf 110 issues. Decals are beautifully printed, with perfect register and colour saturation.
The specific subjects are as follows:
Bf 110 C, 6./ZG 2, Eberhard Heinlein, Gyancourt, France, 1940 6./ZG

Bf 110 C, I.(Z)/JG 77,Theodor Weissenberger, Kirkenes, Norway, September, 1941

Bf 110 C-7 Trop. W.Nr 3100, 6./ZG 1, Russia, 1942

Bf 110 D, 9./ZG 26, W.Nr. 3406, Sicily, 1941

Bf 110 D-0, W.Nr. 3170, Lt. Felix Brandis and Uffz. Guntram Weigl, 1.(Z)/JG 77, September 16th, 1941

Bf 110 E 7./ZG26, Mediterranean, 1941/42

Bf 110 E, 1./Erg. Zerst. Gr. Deblin-Irena, Poland, December, 1942

Bf 110 E, Stab II./NJG 1, Deelen, Holland, Spring, 1942

Bf 110 E 'Dackelbauch', 5./NJG1, Deelen, Holland, Spring, 1941

Bf 110 E, W.Nr. 3866, Hans-Joachim Jabs, Staffelkapitän 6./ZG 76, Argos, 1941

Bf 110 E-2 Trop, 1./ZG 1, Russia, 1942

Bf 110 E-2 Trop, 7./ZG 26, Libya, 1942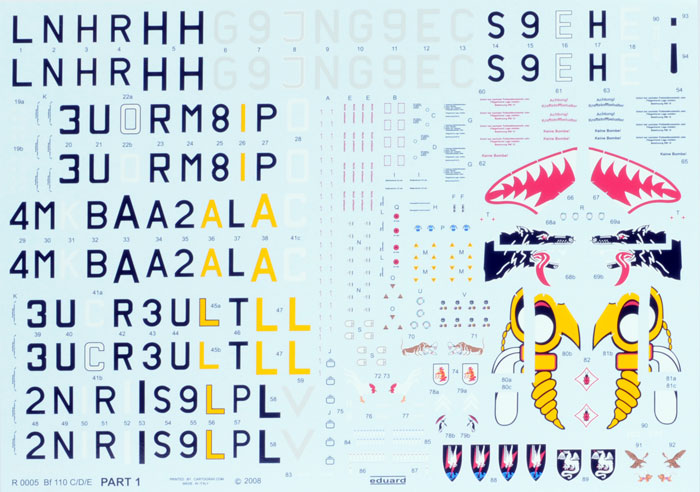 Once again, the painting instructions call out RLM 74/75/76 Greys for the Bf 110 Ds and Es, but I would have expected at least some of them to be finished in RLM 02/71/65. The actual colours and camouflage transition on Bf 110s is far from an exact science, but it would seem that the new RLM 74/75/76 scheme was not actually applied at the factory until at least March/April 1941, well after the commencement of the Bf 110 E production run. Having been finished in RLM 02/71/65, it is unlikely that these aircraft would have been repainted until major overhauls.
It is your call!
This premium package also contains some terrific bonus material:
1/4 scale Bf 110 Instrument Panel
Yes, that's right, one quarter scale.
This is a brilliantly executed idea that really takes advantage of Eduard's state-of-the-art moulding capabilities and their innovative colour photo-etch technology.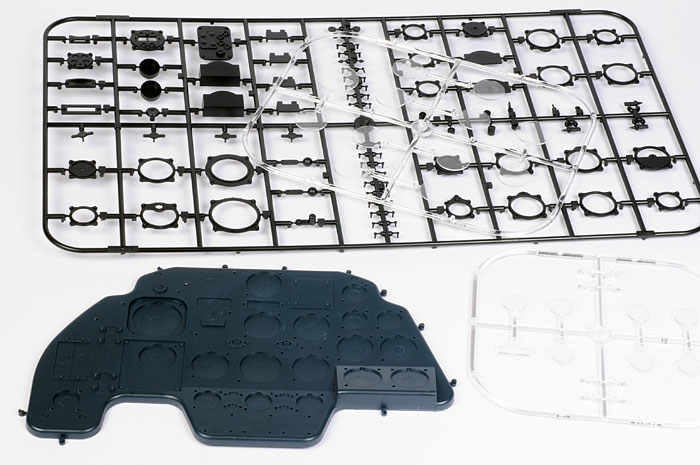 A basic panel is supplied as a single piece, with individual parts for bezels, screws, switches and handles. The instruments themselves are made up from a combination of self-adhesive stickers and colour photo-etched parts. Each instrument is covered by a clear plastic lens.
There does not seem to be any special skill required to build the panel - just make sure you keep glue away from those clear instrument lenses!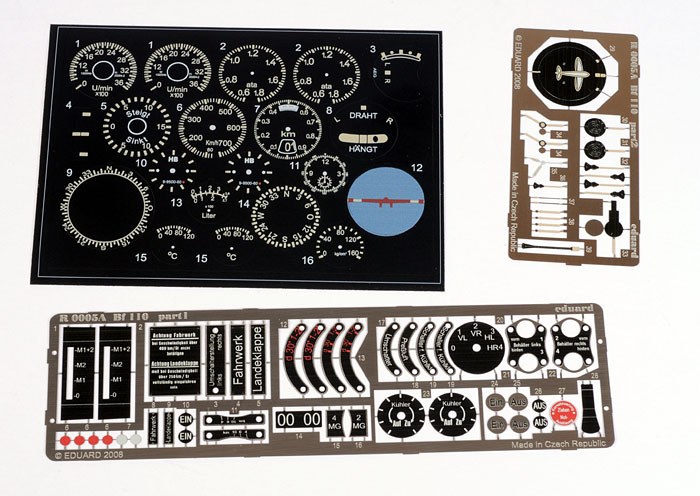 At 20cm wide, the panel is big enough to make an impressive display piece for your model room or den.
---
Workshop Ladder
A workshop ladder is provided on one large photo-etched set. This will offer some interesting diorama potential for your Bf 110 model(s).
---
Replica Iron Cross
This is a full-sized metal replica of an Iron Cross presented in a plastic case
This is Eduard's biggest Royal Class offering to date. It has more parts, more photo-etch, more marking options and a bigger bonus than any that have gone before it.
The option of being able to build a Bf 110 E/Trop is very welcome, as is the availability of a full "boat tail" fuselage and the relatively rare Bf 110 E with radar.
The refined and upgraded photo-etched parts improve the detail compared to the original release (and the original releases were very good). This is a beautifully presented and detailed kit.
Having built the original Bf 110 E kit last year, I can also advise that it looks as good when it is finished as it does in the box!
I am very impressed with the 1/4 scale instrument panel, both as a standalone display piece and as a relevant accessory to the kits. I think that this will be on my workbench before long.
At USD$185, Eduard's Bf 110 C/D/E Royal Class is a very serious investment, but bear in mind that Propagteam's 1/4 scale instrument panel kits sell for around GBP30.00 (USD$60 at today's exchange rates), and I don't know if these are anywhere near as well detailed or user-friendly as Eduard's. Considering the value of the extra photo-etched parts, decals and newly moulded plastic, the price is understandable.
The high parts count and some of the smaller and delicate parts mean that previous modelling experience will be helpful before tackling this project. Although this model is by no means a fast build, Eduard's Royal Class release undoubtedly sets the benchmark for Bf 110 kits in all scales.
Highly Recommended.
Thanks to Eduard for the sample
---
Review Text Copyright © 2008 by Brett Green
Page Created 4 June, 2008
Last updated 4 June, 2008
Back to HyperScale Main Page
Back to Reviews Page