Hasegawa's 1/48 scale
Mustang Mk.IV
by Bob Aikens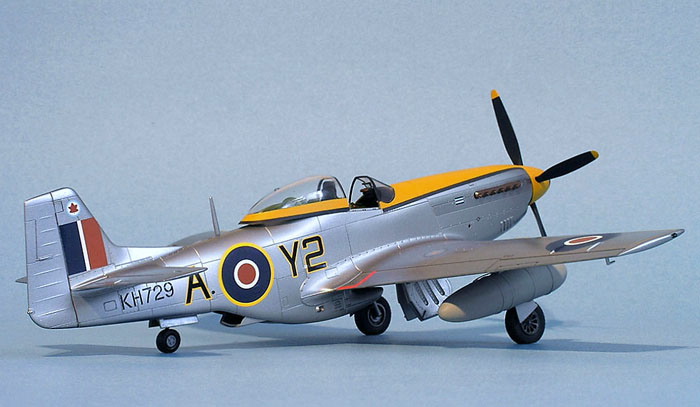 North American Mustang Mk.IV (P-51K)

Hasegawa's 1/48 scale P-51D Mustang is available online from Squadron
Here is my Hasegawa P-51D Mustang in 1/48 scale. Good references and a great decal sheet made this a fun project.

I bought this kit about four years ago and had gone so far as cutting and cleaning up the cockpit parts for pre-fitting last fall. The inspiration to continue this model came from an article in IPMS Canada's 'Random Thoughts' pub-lication, Vol.29 No.3- a fine article by Randy Lutz on his build of a natural metal P-51 Mk. IV from the Tamiya kit.

Also by this time I had acquired the IPMS Canada decal sheet on 442 Sqn. Mustang IVs- a beautiful set of markings with the codes and roundels to be applied in layers.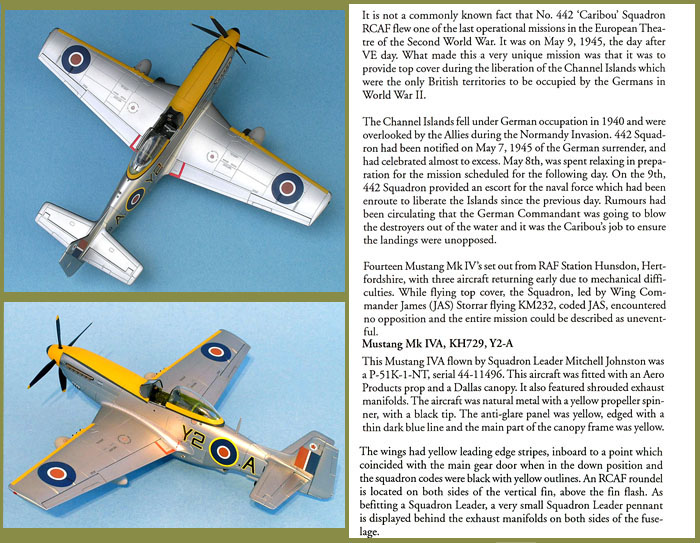 What also lent some anticipation to this project was that this was my first build of Hasegawa's 1/48 Mustang.
I had done the old Fujimi, the Otaki/Arii, the Monogram, plus several 'Bs' (Acc. Min., Tamiya). The kit looked beautiful in the box [IDF packaging]. Knowing I had some older bottles of Alclad Duraluminum and Dark Aluminum, there wasn't much to stop me now.
The model was built straight from the parts supplied in the kit. The yellow is a Tamiya mixture.

This is one very fine model kit-fine surface detailing, an adequate cockpit, the main wheels finely done-even the tail wheel is seperately molded with petite detail. The tiny clear pieces that fit into the lighting openings all fit lovingly. Of only slight bother was the nose scoop area that was molded as a seperate piece- I still can't figure out the need for [the engineering] doing it this way.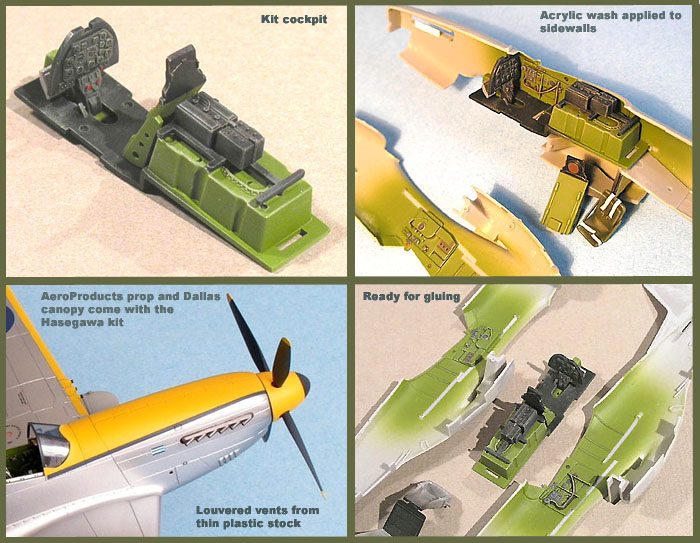 I had intended to glue the wing tops to the fuselage sides first, but upon pre-fitting and testing the plastic in the area seemed quite thin and I foresaw liquid glue seeping through over everything. So I went the old route and ended up with merely adequate fit. If I had to do it again, I think I'd try to figure something out...The shrouded exhausts are designed to be inserted prior to the fuselage join-this seemed cumbersome, so I blanked the openings off from the inside, nipped off the backs of the exhausts so they could be retro-fitted (another Hasegawa head-scratcher ?)
When it came time to getting down an undercoat for the alclad, and knowing I needed a dark enamel, I used some XtraColor Basaltgrau [dark bluish-grey RAL color]. Thinned with a bit of lacquer thinner this produced a coat of bluish sheen-which however needs at least 24 hrs. of drying time.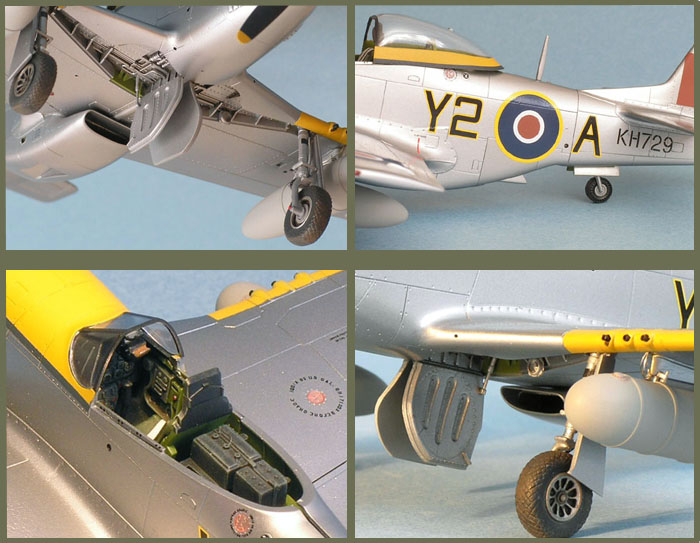 And as I watched this beautiful blue paint dry, it dawned on me that I might reproduce the thin blue stripe along the bottom of the yellow anti-glare by applying thin strips of Tamiya masking tape directly over the gloss blue before I proceeded with the yellow (which came next) and then the Alclad. It worked-sort of; it wasn't 'til after I began removing the masks that I realised that my blue striping could have been much thinner than I had cut it.
I thought for a while about trying to make them thinner, but opted against it as everything else looked fairly good.

The IPMS Canada decal sheet was superb-it's layered format settled down beautifully over the set-solution -proof Alclad surface.
As with most modeling projects I made some mistakes on things that I'll probably do differently next time. But all in all, I had a lot of fun at this. All the Mustang Mk.IVs on this 442 Sqn. sheet feature yellow anti-glare panels- 3 in natural metal and 1 in green/grey/grey.
---

Images
The pictures were taken with an Olympus C-5500 5mp. They have been adjusted for brightness/contrast and for color balance.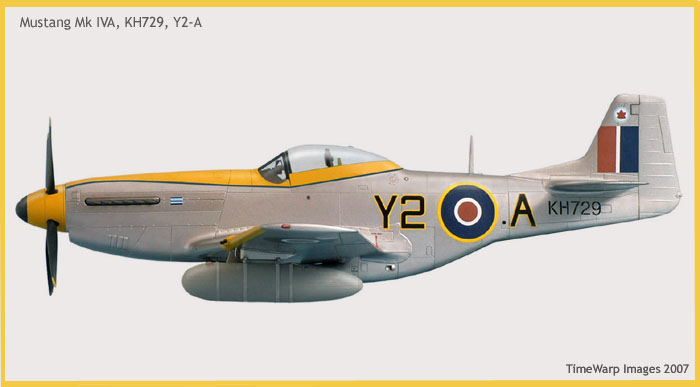 The only pics that have been augmented with Photoshop are the b/w one which has been given a bit of 'photo-grain' filter and something else which should appear evident on closer inspection; and the profile shot-extensively re-worked in Photoshop.
Click the thumbnails below to view larger images:
[../../photogallery/photo00022067/real.htm]
---
Model, Images and Text Copyright © 2007 by Bob Aikens
Page Created 29 August, 2007
Last Updated 24 December, 2007
Back to HyperScale Main Page