Hasegawa's 1/48 scale
Curtiss P-40N (Kittyhawk IV)
by Greg Goheen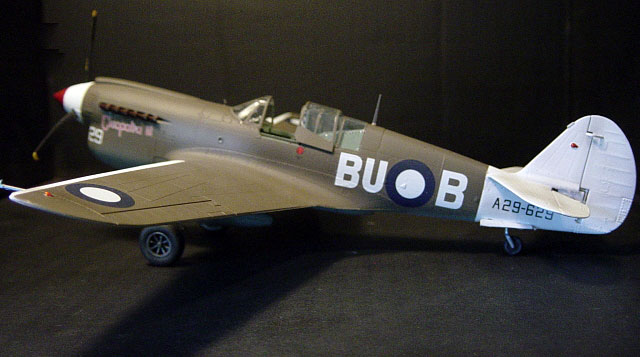 Curtiss P-40N (Kittyhawk IV)

Hasegawa's 1/48 scale Kittyhawk Mk.IV is available online from
Squadron.com
Most recently completed for a retired friend of mine is Hasegawa's 1'/48 scale Kittyhawk Mk. IV of the Royal Australian Air Force. My friend actually chose the kit, being an avid collector of 1/48 scale aircraft and keeping me more than busy with various builds over the past six (6) months.

As usual, the Hasegawa kit is a fantastic example of exemplary machining along with cleaver engineering to allow one basic mold for the main fuselage to be used on various Kittyhawk/P-40 versions whilst offering differing tailpiece sections appropriate to the version one is building. This kit, #09732, is superbly produced with some of the most elegant and accurate engravings I've seen in some time. (remembering that Hasegawa recently re-did their molds on the P-40 kits). Therefore, there was no need for aftermarket resin or photo-etched parts with the exception of the seatbelts I robbed from my spares box.
Construction was very straight forward and without any problems. The interior pieces were painted RAF Interior Green and given a light wash, while the exquisitely molded instrument panel was given a few light coats of Gunze flat black before being drybrushed, after which various dials and details were picked out in white and red.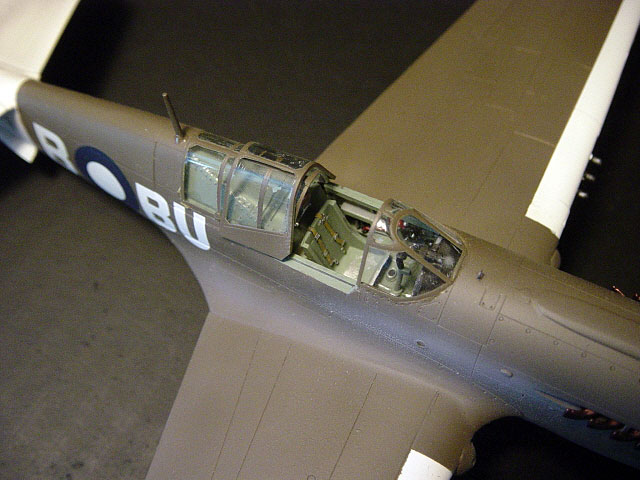 The dials were then treated to several tiny drops of Future to give them a nice glass-like appearance. Assembly was problem free and virtually free of any seam lines. I merely applied a light coat of Gunze Mr. Surfacer, wet sanded after curing and the result was pristinely clean and free of blemishes.
Paint
Painting, although a straightforward Olive Drab over Medium Gray, was going to prove somewhat intricate with the wingtips (top and bottom) having a very distinct Satin White paint, as well as the entire tail section. After priming to check one last time for any surface imperfections it was time to begin. Model Master Gloss White was selected as the correct color, knowing I could tone it down with dullcoat after decals and weathering had been applied. After the White had fully dried and cured (approx. 2 days) I felt it was safe enough to mask the leading edges to being with the Medium Gray underside. Painting was then straightforward and both the Medium Gray and Olive Drab were finished in one evening. However, for some tonal variations I went to task the following day by lightening various panels with a scaled blend of Olive Drab ligh tened with White, concentrating towards the middle of some panels.
---

Markings
Kit decals were provided for the RAAF No. 78 Wing, "Cleopatra III" and were simplistic yet strikingly elegant with the white/blue roundels.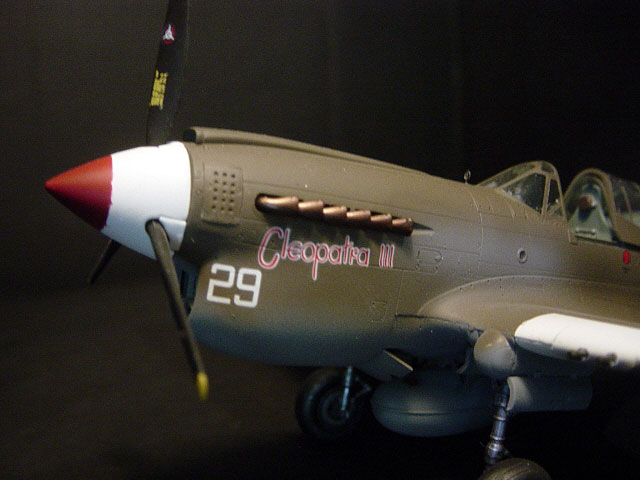 Several coats of Future were applied to give me a nice smooth finish to work with and the decals were set with (drum roll please) Solvaset! Yes, I like being a bit different than everyone else who uses those other Micro products (which are perfectly fine) as I've found Solvaset, while more aggressive with some extremely delicate decals, works just as well.
---

Weathering and Top Coat
I offered very little exhaust staining for this particular build, starting with my own mix of Gunze flat black and mahogany (Yes, I did say I like being a bit different) heavy watered down with alcohol. I then added a thinned down mix of some various gray tones from Gunze and settled with the very subtle effect I had concluded with. Exhaust nozzles in this kit are fantastic and no need to throw them away. I merely hallowed the ends out, primed with Model Master Gloss Black and then oversprayed with various shades of Alclad II copper, brass and burnt iron (all custom mixed down after the various base shades had been applied.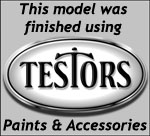 Finally, before sealing with Testor's Dullcoat, I worked up another mix of Gunze Flat Black and Mahogany (heavily thinned down again) and began to post-shade the model. While I know the masses out there are hooked on pre-shading I've found that post-shading panel lines is far more realistic. Topside there was very little to do over the Olive Drab so my concentration was on various bits of the white leading edges and tail section for added emphasis. The underside was sprayed with a slightly darker concentration to desired effect. She was then given several coats of dull flat before affixing her Future dipped glasswork and various fiddly items. Lastly, location lights were picked off with chrome silver as a base and then Tamiya clear red/clear green was used over the top.

Click the thumbnails below to view larger images:
[../../photogallery/photo00014966/real.htm]
---
Text, Model Images Copyright 2007 by Greg Goheen
Page Created 03 September, 2007
Last Updated 24 December, 2007
Back to HyperScale Main Page