Pavla's 1/72 scale
Douglas O-46
by Mark Davies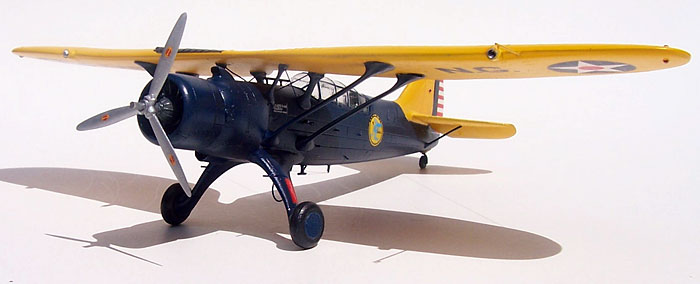 Douglas O-46

Pavla's 1/72 scale O-46A is available online from Squadron.com
The O-46 was the last in a line of successful Douglas observation monoplanes. Prior to the its involvement in WW2 USAAC had begun to consider the O-46 to be two heavy for soft field operations, too large for concealment near front lines and too underpowered and un-manoeuvrable to survive when threatened by fighters. This assessment was to prove all too true, and about a dozen saw very limited service in WW2 before being declared obsolete in their intended role in 1942. It was then relegated to training duties and redesignated the L-46A.

Over the years I have accrued a few Pavla kits, and a check of my database shows they account for 32 of my unbuilt 1,100 kits. I have always appreciated Pavla's choice of subjects, but have also been struck by their distinctly limited run nature. I'm not too put off by this, having built numerous limited run kits by Azur, Special Hobby, MPM, Condor, CMR, Planet, Avia, Elf, ICM to mention a few, but for some reason I've haven't got around to a Pavla kit until now.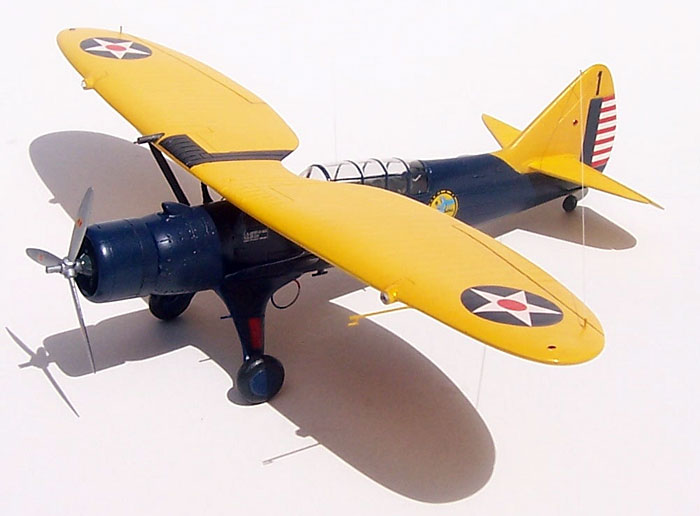 Their O-46 kit on has quite nicely moulded fuselage, wings and empennage, but critical items such as the wing struts and finer details like venturi-style pitots and tail wheel start to show the limitations of Pavla's limited run tooling; being either rather rough in places, slightly misaligned, vaguely defined etc. Also, a few panel lines are a bit lacking in definition. The resin parts are nicely executed, accounting for the engine, air intake, and little antenna masts for under the fuselage, and propeller hub. I'm pleased to report that the main undercarriage is in resin too, and shows what could have been achieved if the wing struts were provided in this medium rather than Pavla's styrene. Two vac-form acetate canopies enabling the quite adequate cockpit detail to be seen. The package is rounded out by very nicely presented instructions, colours & markings plans and decals. For an informative and thorough in-box review please follow this link to Internet Modeller (Pavla 1/72nd Douglas O-46A).
I was soon struck by the kit's plastic somehow managing to be both typically soft like most limited run kits, but also rather brittle and "biscuity". This meant re-scribing and working with small parts needed particular care. I chose to complete the fuselage, empennage and wing support struts as one assembly, and the wing and engine plus cowling as the other two. This simplified painting, but made attaching the wing cleanly later on a bit of challenge

The vac-from canopy is about par for those found in many Czech manufactured kits, being some way from the quality of NZ's Falcon products (who also make Squadron Crystal Clear), but still quite useable. The main challenge is clearly identifying where the canopy begins and surplus acetate ends, so I removed the canopy with some excess to allow for gradual adjustment. Suffice to say quite a bit of adjustment was needed to get a good fit. The entire canopy was masked off for the fuselage to be painted, as all framing was to be applied using painted decal film later (the method I use for all acetate canopies).

The fuselage needed a bit of re-scribing and filler here and there, but nothing excessive. The horizontal stabilisers have to be cut at a slight angle in order for the elevator hinge line to be 90º to the fuselage datum. There are also two small windows on the underside that must be cut out and glazed by the builder. The resin undercarriage legs were a good fit, being blended in with a swipe of Mr Surfacer.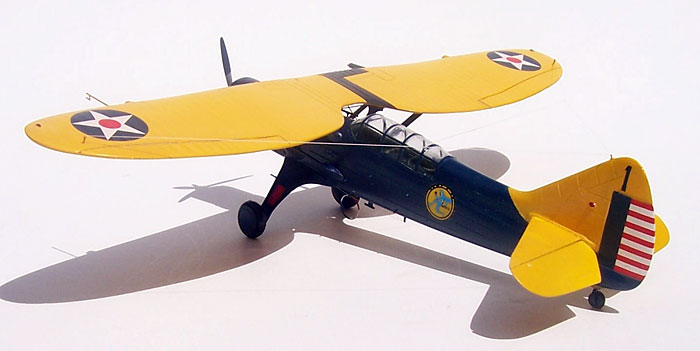 The real weakness of the kit is the wing struts. They are not 100% consistent in appearance, both in section and the faired attachment points. This observation applies more forcefully to the cabane struts, and I could see I was going to be in for some difficulties later. I decided not fuss too much as I realised this model was going to have some rough points (by that I mean things that would affect IPMS-type judging, rather than things I could live with!), so I ran with kit struts and added the cabane strut rigging. The tail wheel was a bit out of round, so I used the Pavla leg and a replacement wheel from the spares box. I decided to add the tail struts, crew mounting steps, pitots and under-fuselage antenna supports after the main painting and decaling had been completed.

The wing halves had their trailing edges thinned, and I replaced the landing light structures in the wing leading edge with plastic tube and clear plastic lenses as this was the easiest way to get well rounded protuberances coming out of the wing's leading edge.

I was aware that the O-46 had two machine guns, one pivoting in the rear cockpit and one fixed to fire forward. From what I could tell this was located in the wing. I found it hard to find good references relating to this latter gun. Pavla provide a rounded sausage shaped item to go where I thought the gun should go, with a little pip on the front. I think I misinterpreted this when I scratch-built the wing gun you see in the photos. I have since found one photo of a restored plane showing a "blob" like that which Pavla supplies painted the wing colour, so I think I got it wrong, and Pavla's "shape" was accurate! Most photos I have seen show no protuberance in this area, so maybe it's a gun camera housing, but I would appreciate some advice on this aspect of the O-46 from any one who can help so I can correct my model (please email me if you know).
Painting was straightforward, and the decals proved to be excellent, needing no setting or solvent solutions over the gloss Humbrol paints I used. I then sprayed a semi-gloss clear to tone down the gloss for the sake of scale appearance.

Now for fitting the wing! With hindsight I could have spent more time optimising the fit of the struts by adjusting their length. This would need to have been done away from either end of the effected struts as they incorporate streamlined fairings where they mate with the fuselage and wings. I didn't bother because I went through a phase of diminished optimism as to how the finished model would turn out. This was a mistake on my part. In the end, and after several failed attempts, I anchored two cabane and one wing strut with superglue, and then worked away at the remaining ones.

I found I had the odd small gap where streamlined strut attachment fairings met the wing, and I ran white glue into these, and painted them blue when dry. The combination of dark colour and underwing location meant I basically got away with this patch-up. I feel Pavla should have produced the wing struts in resin to the same high standard as the main undercarriage legs. This would result in an easier to build and better looking model.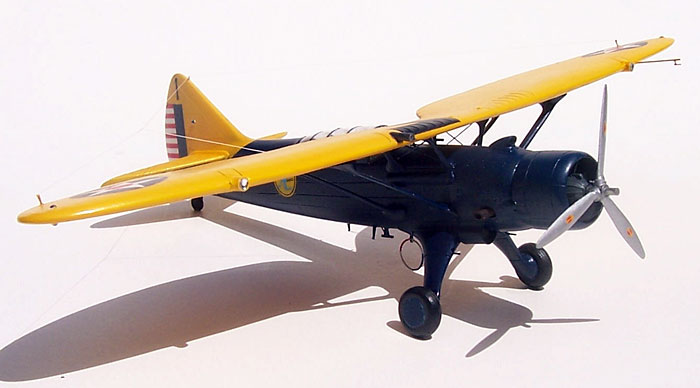 By this stage I was feeling more optimistic about my model. The engine and cowling presented no problems, leaving only the prop blades to be thinned down. These were fitted easily enough to the resin hub as I left some stubs on the blades and drilled the resin hub to receive these. This approach gave a better result than butt-jointing them, and made pitch adjustment in particular easier to do. The resin engine exhaust was mounted on the plasticard blanking plate I added before fixing the fuselage halves, and I added the various crew steps and venturis to the fuselage. The wing pitot was made from piano wire and sprue rather than use the kit example.

The underside of the O-46 is a characterised by a large DF loop and a "cat's cradle" style antenna strung between four points. The DF loop was made from thin wire and had its quadrants painted in different colours as per the instructions. The fuselage and wing-to-tail antenna wire were added from stretched-sprue to finish. I should explain at this point that Pavla's instructions point out that the colour scheme I chose was unarmed, meaning no rear cockpit gun, no telescope sight and no aforementioned "sausage-shaped blob:" in the starboard wing. However I decided that the Connecticut National Guard must have exercised with guns at some stage, so I added the gun(s) and sight to my model. If I'd followed the instructions I could have avoided my gun quandry!


So, all in all, a bit of mixed bag from a build point of view, but I'm quite pleased with the result as a cabinet display model.
I have since looked at my other Pavla kits, and look forward to building them with a new found optimism about the results I can expect. I've already started a Curtis AT-9 Jeep which seems to have much nicer plastic and a more polished finished than the O-46, so just I suggest you accept a Pavla kit at face value and quite possibly you will be pleasantly surprised with the results as I was with my O-46.


Click the thumbnails below to view larger images:
[../../photogallery/photo00009261/real.htm]
---
Model, Images and Text Copyright © 2007 by Mark Davies
Page Created 09 March, 2007
Last Updated 24 December, 2007
Back to HyperScale Main Page