A few weeks ago, a couple friends stopped by on a Saturday morning to visit. We talked about the normal modeling topics -- how many rivets we used to sand off old Airfix kits and how many rivets we now rescribed onto the new Hasegawa kits. When I mentioned I was having some motivation issues on my current projects, they suggested I build something quick, just to "clean the pipes" and get my motivational juices flowing again.
They looked into one of my model closets and found a 1/48th scale Tamiya Mustang III kit sitting there. With this kit heralded as one of the finest engineered kits in the world, they decided it was the right one for me to do a quick build. Indeed, fifteen minutes of clipping and dry-fitting produced a complete airframe that could be inverted and not fall apart.
This kit engineering definitely impressed me, and I thought maybe my friends were right about the motivational aspects, too. So, I was off -- before my friends left that afternoon I had a completed airframe, mostly ready for camouflage paint.
As mentioned above, this is the 1/48th scale Tamiya RAF Mustang III kit. It is one of a family of P-51B/C kits released from Tamiya. They all are basically the same kit with minor variations in detail parts. I will not go into great detail about the kit in this posting. There have been plenty of reviews on this family of kits. Suffice to say that after working on this kit, I am a true believer in it possibly being one of the finest kits ever produced (in terms of engineering and build-ability).
With my fiends sitting there, I broke out my air brush and painted the interior. The overall cockpit color is Dull Dark Green. Since I do not own any Dull Dark Green paint (by name), I used European Green (F.S.34092). For variety, the control stick and pilot's seat are Interior Green (F.S.34151). I painted the instruments and assorted items in Interior Black with a little red for specific details and some silver dry-brushing to highlight detailing.
Five hours into the project, I had a fully painted cockpit wrapped inside a completed airframe. I finished up some minor details and masked the cockpit so I could move on to the camouflage.

5 Hours Work


10 Hours Work


14 Hours Work
I have always liked the look of full invasion stripes on the early Mustangs. I think it is the tall rear fuselage sides and the contrast between the dark camouflage and the white stripes. For simplicity sake (since I had no after-market P-51B/C decals), I stuck with the kit markings, but I modified the markings by applying a full set of invasion stripes. I found pictures in various books to support that the units represented in the kit markings were eventually striped for D-Day. The model I built represents one of the aircraft after it got its stripes.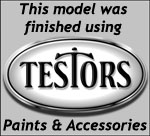 The model is finished almost entirely in Testors Model Master enamel paints.
I started by painting the stripe areas in white (Header Flat White). Then, I masked the white stripes and painted the black ones (Interior Black). I also had painted the wing leading edges in white and followed this with a coating of yellow for the identification markings.
Masking off all the stripes and the yellow wing leading edges, it was time to paint camouflage. I do not own any RAF colors in my paint stash because I simply have never needed them. My friends told me that there were acceptable substitutions in the current US colors line that I could use, so I did that. The real colors are Dark Green, Medium Sea Gray, Ocean Gray. Respectively, I replaced these by using Medium Green (F.S.34102), Gunship Gray (F.S.36118), and Aircraft Gray (F.S.16473). I was pleased I did not have to buy new paints that I would likely never use again. The colors seemed close enough matches to the colors I was seeing in pictures.
Following the completion of the camouflage, I unmasked the invasion stripes and was very pleased with the look of the stripes against the camouflage. Then, I masked the wheel wells and painted Zinc Chromate Yellow (Humbrol color).
Decals proved to be a more challenging thing than I would have thought. The specific release from Tamiya that I was building had decals printed by ScaleMaster. This was a name I remembered from many years ago that had excellant quality decals, so I expected these to go on with no issues. I was wrong.
The decals had several issues. The first was that they were reluctant to soak free of their paper backings, even using hot water. Trying to help them to get free allowed me to find the second issue -- the ink was very brittle and easily broke up. I chipped pieces off several of the markings that were nearly impossible to fix as the chips quickly broke up into even smaller pieces. The third issue was that these decal responded only minimally to Solv-a-Set. Solv-a-Set was the solvent of choice on old ScaleMaster decals, so this was a real a surprise. In the end, I did get the major decals on the model, but I chose to ignore most all the data markings -- they just were not worth the hassle.
For weathering, I used my typical style of thinned down enamel paint washes and air brush shading. I finished the weathering with some dry brushing to pop out the surface details. For a more complete discussion of what I do to weather my models, see my posting on "Weathering Aircraft".
I had painted all the detail items as I was painting the rest of the model, so all that remained by this point was to attach them -- the landing gear, wheel well doors, landing light cover, and pitot. I am used to modern jets where the "finishing touches" take alomst as long as the initial construction and painting.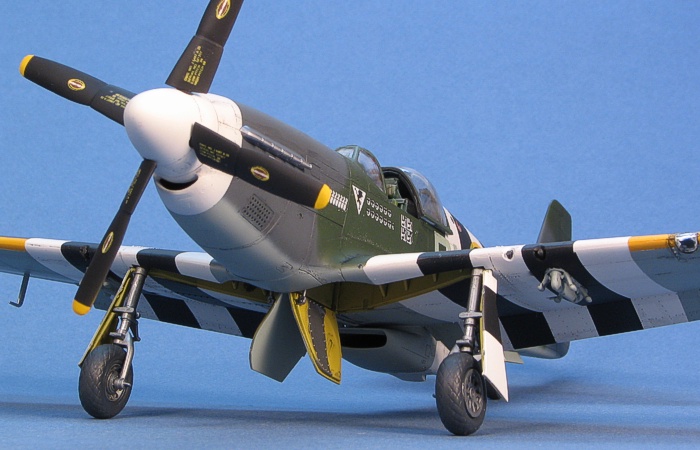 So, it was quite refreshing to have the model done only one day after I did the flat coat and weathering.
"Clean the pipes" -- yep, it sure did. I am now finding myself motivated to get back to my "real" projects. That is a good thing.
I would recommend anyone feeling glum over long term projects try building one of the "quickies". It feels very gratifying to actually finish something.
And, the project was very quick -- 18.9 hours of work spread over ten sittings sprinkled over two weeks. This holds the record for the quickest model I have built (total hours) in the last thirty years. I can now see how some modelers complete twelve or more kits in a year if this is the type of kit they build most often.