MPM's 1/72 scale
Boulton Paul Defiant Mk.I
by Mark Davies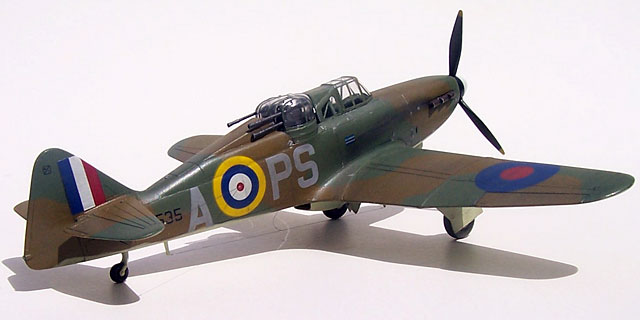 Bolton Paul Defiant Mk.I

MPM's 1/72 scale Defiant Mk.I is available online from Squadron.com
I wonít dwell on the fairly well known history and background to the Boulton Paul Defiant. Suffice to say it was for its time a well designed solution to an ill-considered air-fighting concept and technically demanding specification. Given its vulnerability to single-seat fighters I should think that the gunnerís chances of bailing out with his combined parachute and life-jacket known as a ďRhino SuitĒ must have been marginal at best. At least the Defiant did find some utility as a night-fighter, gunnery trainer and target tug.

I first became aware of the Defiant as a boy in the mid-1960ís from the Airfix kit, and assumed from the bag-art that, like Forís Model T, you could have them in any colour as long as it was black. That was until a few years later I realised that Defiants were used initially as day fighters, and wore far more attractive camouflage and markings. It was from that time that I had a hankering to model one of these early Defiants, but I moved onto far more curvaceous distractions than model aeroplanes.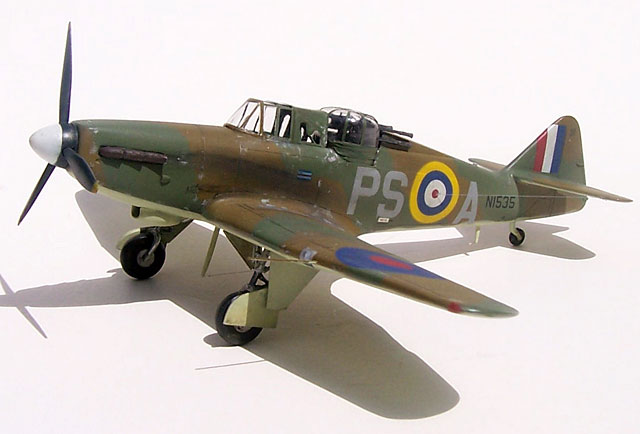 My middle-age modelling renaissance, which maybe came about because the aforesaid curvaceous distractions had become too rounded (She-Who-Must-Be-Obeyed is not looking over my shoulder as I type this!), gave me more time to reconsider my day-fighter Defiant hankering. Fortunately I was rescued a few years ago from trying to correct the old Airfix Defiant when it was superseded in injected styrene form by offerings from Pavla and MPM.

The MPM kit is one of their longer-run offerings described as being from metal moulds (I suspect these are metal-spray tools rather than machined or spark-eroded from solid metal). Suffice top say the kit is nicely moulded and with delicate engraved panel line detail, and generally most parts fit well. I would describe the kitís quality as being beyond the realms of many short-run kits, but not being directly comparable to recent offerings from mainstream, German, Japanese or Korean manufacturers). This is not a criticism, just an observation.

It looks as though some thought was given to offering the rear decking and canopy panels in the retracted configuration that enabled the turret to rotate, but this is not the case. (Both configurations are illustrated in MPMís painting & markings guide.) In my view this is an unfortunate omission.
I felt that the turret is a little over-size, particularly in height. I chose to use the kit turretís trunnions, guns, seat and other details, but only the base of the turret. To this I attached a Falcon vac-form turret canopy intended for the Airfix Halifax Mk III (which used the same Boulton Paul 4-gun turret). As an aside, Falconís replacement turret intended for the Airfix Defiant is too small, and the pilotís canopy curvature where it meets the fuselage will not suit the MPM kit either.
I felt that MPMís fuselage did not look quite right where the turret sat. Reference to several photos shows the real aircraft has a gentle swelling around the base of the turret, I simulated this using 5 thou plasticard. The Pilotí canopy seems ok other than a rounded plan form at the top of the windscreen when viewed from above. I wish I had sanded this flat before completing my model (and may still do so).

MPM offers two clear styrene wing leading-edge landing lights, and indicated that the modeller should remove the corresponding section of wing to fit them. However the clear parts are too shallow for this to work well. My lights were made from solid clear sprue sanded to shape. My only other modifications to the kit were to use an Eduard seat harness, simulate two hydraulic rams behind the pilotís seat armour, thin the wing trailing edges a bit, drill out the exhaust and gun flash-hiders, and add RT aerial and IFF wires.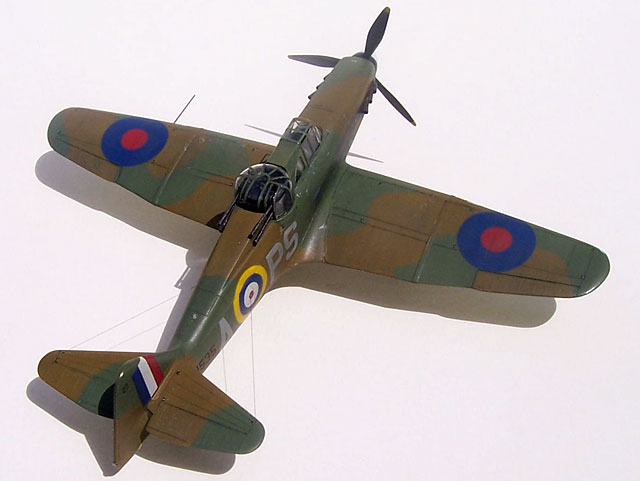 So far my account reads as being rather critical. To balance this I must commend the surface detail, the outline shape, more than adequate cockpit detail for a closed canopy model and good decal options with quite a bit of stencilling. In fact the decals proved to be excellent, with good registration and opacity, and needed no setting or solvent solutions. If you didnít nit-pick over some of the aspects Iíve mentioned then I suspect there would be no build issues other than the landing lights and a bit of filler here and there.

One mistake I made and then corrected was to have the main undercarriage legs too vertical which affected the modelís stance. This also resulted in the undercarriage doors having the wrong positional relationship to each other. I fixed these problems by inclining the legs forward. The instructions donít mention this need, but the painting & marking diagrams do correctly illustrate the undercarriage doors in the extended position. Finally, and after looking at photos, I suspect that the turret framing on the day fighters was black on the outside as well as the inside, unlike my model and MPMís box-top artwork. Iím not quite 100% sure, but will live with green framing anyway.
On balance I can say that I thoroughly enjoyed building this kit, and donít hesitate to recommend it. I assume that MPMís Mk II kit would obviously be very similar if not all but identical. They say free advice is worth nothing, but of the other 1:72 Defiants I know of I make these comments:
Airfix: Keep the kit to reminisce over, but donít bother building it!

Pegasus: Iíve not seen the kit, but with three Czech kit options Iíd need some serious persuasion to buy British based on the Pegasus kits I have seen!

Pavla: I saw the kit a few years ago, with vac-from canopies and I think it has the retracted decking option. Iím sure that Pavla offered Mk II and TT Mk I boxings too. I canít comment on accuracy, however based on my familiarity with Pavla kits I think that the MPM kit will be far easier to assemble, as Pavla kits remain very much ďlimited runĒ in nature (although very nice results can still be obtained from them!).

Czech Master Resin: CMR offer a resin Defiant I have yet to see. I understand from one review that it just outshines the MPM for accuracy, and offers the retracted decking option. I plan to get one and build it with decking down, and as a Mk II in black!


Click the thumbnails below to view larger images:
[../../photogallery/photo00019721/real.htm]
---
Model, Images and Text Copyright © 2007 by Mark Davies
Page Created 26 February, 2007
Last Updated 24 December, 2007
Back to HyperScale Main Page