Press Release
Haunebu II Limited Premium Version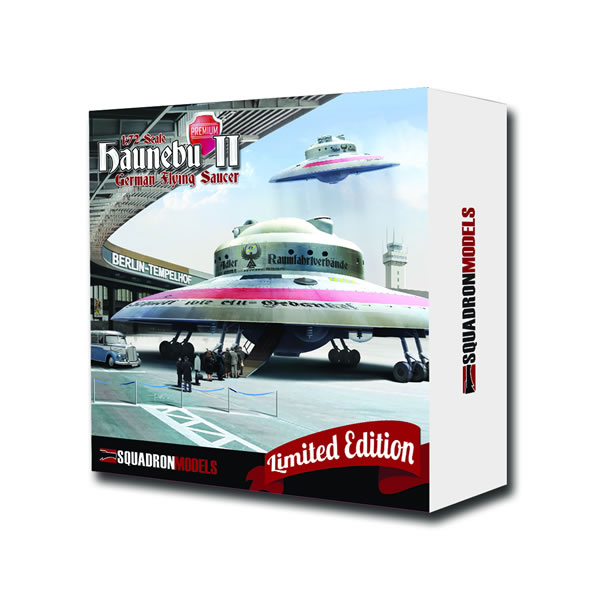 Squadron Models, 1:72 scale
October 19, 2017 – For Immediate Release
SQM0002 HAUNEBU II LIMITED PREMIUM VERSION Retail $99.99 - Available now!
MMD-Squadron is proud to announce the launch of the latest addition in our exclusive plastic model kits from Squadron Models. Featuring hand sculpted resin accessories produced at the MMD facility in Carrollton, TX, this premium product continues to set a new standard in plastic modeling. Introducing the 1:72 scale Haunebu II Premium Limited Edition, Squadron Models has left nothing out; highly articulated parts, four color instruction manual, and high-end packaging. The deluxe box features newly commissioned art by world renowned illustrator, Vincenzo Auletta.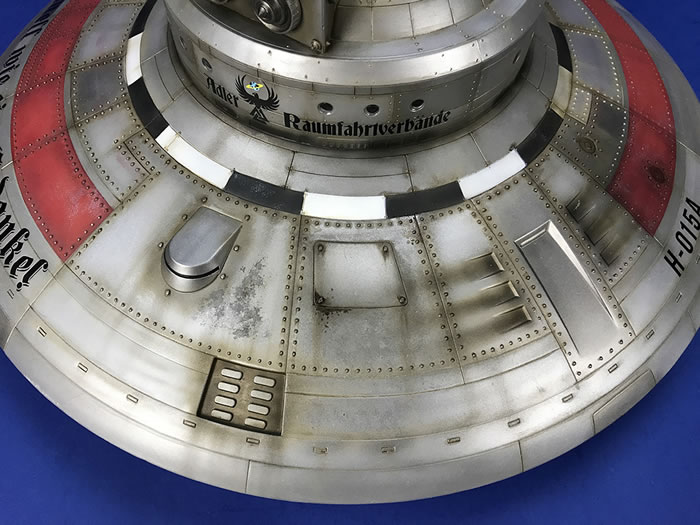 Squadron Models mission is to elevate the art of modeling and grow the hobby through unique subjects, new technologies, and superlative experiences across generations. The introduction of the Haunebu II Premium Limited Edition accomplishes this mission not only through its impressive execution, but also through its incredible story. Imagine if WWII ended a bit differently…. It's Berlin 1946, and a triumphant Germany has risen from the ashes of war and negotiated a truce with all Western Allies. The war was over and the empire still needs resources and new frontiers to master in their quest to find the origins of Aryan life and with it, extraterrestrial being. Was Germany able to develop manned space flight decades before the US/Soviet space race? Had science advanced further than anyone in the western world even dreamed of back in the early 1940's? Could the Haunebu project have expanded into every day travel?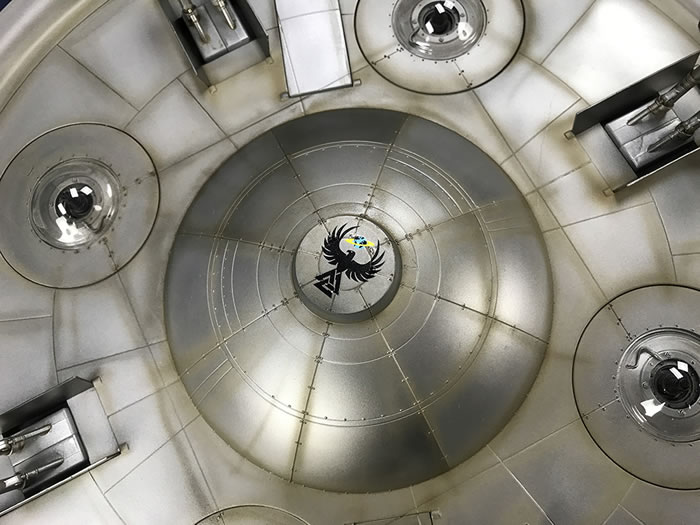 Years of research has gone into the development of this state-of-the-art tooling created to produce this precision model kit. The kit has been crafted in 1:72 scale purposefully to encourage creation of dioramas with other 1:72 scale WW II models to complement a Haunebu II scenario. For a complete "Out of the Box" review to see all the detail included with the kit, visit https://www.youtube.com/watch?time_continue=74&v=gW_NWHMD-IA.
Strictly limited to only 2000 kits worldwide, for more information on the launch of the Premium Haunebu II and other new projects developed by Squadron Models, check out Squadron.com or call 1-877-414-0434 today.
Also included are exquisite Falcon clear vacu-canopies and beautiful decal markings by Cartograph to represent a civilian space-expeditionary livery.
The state of the art instruction manual booklet includes a full color profile and painting guide as well as a brief history of the Haunebu II.
This Limited Edition kit is available now from Squadron.
For more information on the launch of the Haunebu II and other new projects developed by Squadron Models, check out Squadronmodels.com or call 1-877-414-0434 today.
---
MMD-Squadron is based in Carrollton, Texas and has been serving the modelling community since 1968. In addition to a vast array of model kits and accessories, the company also publishes a line of historical military books with over 500 published titles that have been sold in countries all over the world.
To learn more, visit www.squadron.com.
---