XF8U-3 Super Crusader
by Fotios Rouch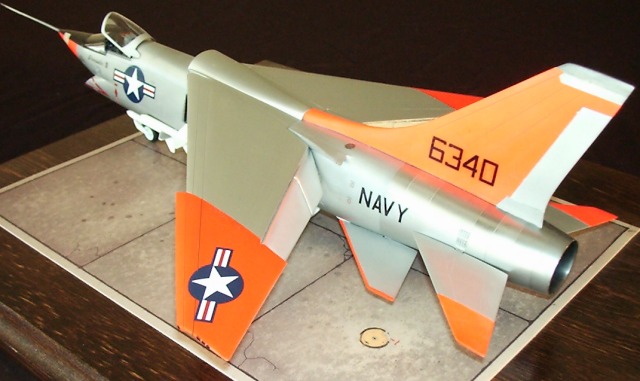 XF8U-3 Super Crusader
The XF8U-3 first flew in June 2nd 1958.

The Super Crusader had very few interchangeable parts with the standard Crusader. It was larger, heavier, had a different engine, was faster, more manoeuvrable, and so on.

Its speed was recorded at Mach 2.39. The Suer Crusader was capable of sustained cruising at Mach 2.2 at 68,000 feet! Many felt that Mach 3 was possible for this plane. It was the only plane of its time capable of Mach 2.4.


This beautiful plane fell victim of politics and the philosophy of 2-engine 2 seater fighters for the navy.

This plane was faster than the Phantom, could turn better, could go farther on its internal fuel than the Phantom could with a 600 gallon external tank and it was 25% cheaper than the Phantom.
Go figure.
This kit again originates from my favorite Russian maker who has created some of the best Collect-Aire kits.

Collect-Aire's 1/48 scale XF8U-3 Super Corsair is molded in the United States and is of very high quality. My sample had very few pinholes and the resin was essentially free of warpage.
Click the thumbnails below to view larger images:
The construction is pretty easy and similar to the regular Crusader. No problems were encountered during construction. The model went together better than its Monogram counterpart.

I decided to pose the wing in the raised position so I used a resin copy I made from the KMC detail kit. One difference is that the regular Crusader has one support/jack for lifting and lowering the wing while the Super Crusader has two.

The slats and flaps work in a similar fashion between the two variants.
The Super Crusader prototype was painted with aluminum paint overall except the engine area in the back and the Day-Glo orange areas.
I used Testors Day-Glo Orange over very light color gray prepped areas.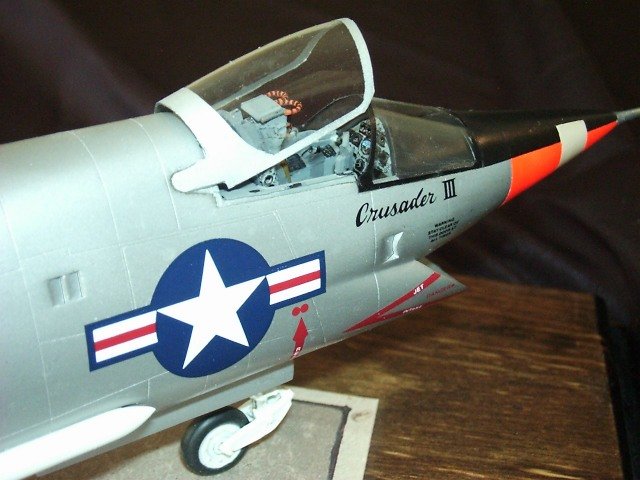 For the painted aluminum areas I used X-tracolor silver; and for the natural metal areas I used different shades of Testors Metalizer.
I bought a second Super Crusader to build as the shorter nosed version with NASA insignia.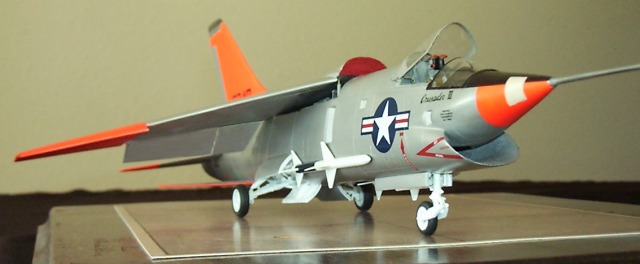 Very highly recommended, especially to those that love the Crusader. If you have already built a Monogram Crusader you will love to put this one next to it.

Click on the thumbnails below to view larger images:
---
Model, Images and Text Copyright © 2002 by Fotios Rouch
Page Created 07 May, 2002
Last Updated 04 June, 2007
Back to HyperScale Main Page
Back to Features Index