Focke-Wulf Ta 183T-1
by John Lester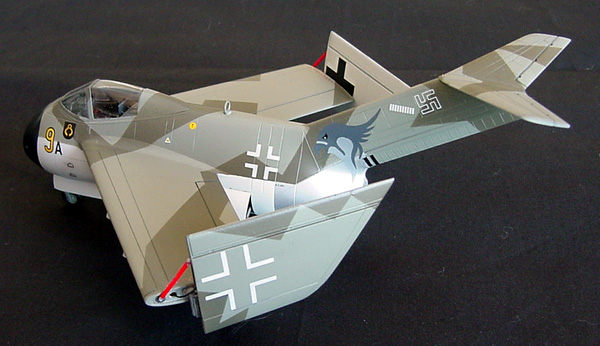 Focke-Wulf Ta 183T-1


AMtech's 1/48 scale Ta 183 is available online from Squadron.com
"In 1946, the Kriegsmarine prepared an urgent requirement for a new fighter for use in carrier operations. Only one design, a conversion of the Luftwaffe's Ta-183 just entering service, could be placed into production within the specified timeframe.

After expedited trials, the resulting Ta-183T-1 entered service aboard Germany's three carriers in January, 1947. It was not well loved by pilots, maintenance personnel or operations planners. Despite the addition of automatic leading edge slats and refinements to the other control surfaces, low speed handling was still barely satisfactory. The undercarriage had not been sufficiently strengthened for the rigors of shipboard operations, and it was soon found the tail hook grafted behind the main gear was prone to shearing off during arrested landings.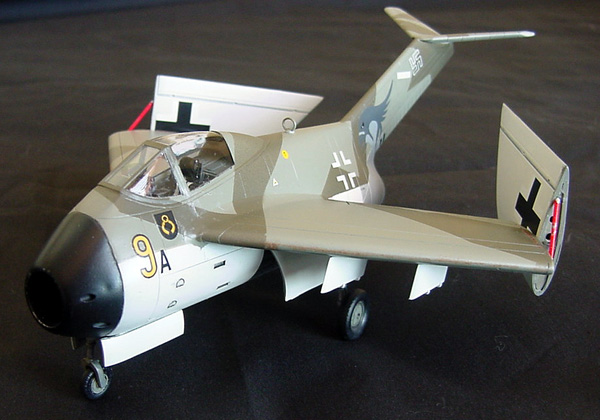 Relatively short range, added to an alarming rate of mishaps, led to the type's removal by November, 1947. Remaining airframes were transferred to coastal defense duties in Occupied Norway, where their folding wings (at least) were prized for enabling storage in caves and underground bunkers, and their range was less of an issue against the streams of Allied B-36 and B-47 bombers heading for Germany".
I'm not sure where the idea for a navalized Ta-183 came from since the type seems rather poorly suited for carrier ops. But once it became firmly rooted in my brain there was no choice but to build one.

The AMTech kit is a breeze to build, as has already been discussed here. I added Eduard PE seatbelts to the cockpit and grafted on a tailhook robbed from some old Monogram airplane. It was a toss-up whether to add wing fences (a la the MiG-15) or scribe in leading edge slats ... but since slats were easier, the decision turned out to be surprisingly easy.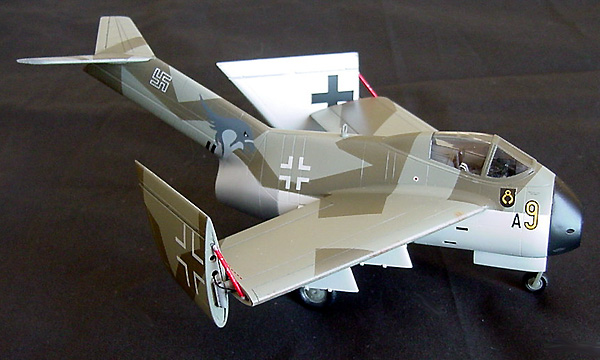 Deciding how the wings would fold was the tough part. After much heming and hawing, I decided the only may this model would ever get off my work bench was if I did the simplest modification. The wing halves were assembled and cut on a line perpendicular to the leading edge, between the flaps and ailerons. Thin sheet plastic was cut to fill the gap between the tops and bottoms, with a series of lightening holes drilled in. A simple folding mechanism was made from aluminum and brass tubing, with more brass rod anchired inside the main wings to support the structure. hydraulic hoses and stiffening bars were made from wire and stretched sprue, and some surface details added from scrap PE pieces.
The model was finished in a notional North Atlantic scheme. Testors Model Master RLM 02 and 82 (I think - it was one of the RLM colors!) form the splinter pattern on the topside; Humbrol Flat white with a few drops of Model Master Flint Grey mixed in coats the undersurfaces.
The finished model is no contest winner, but I had fun building it and it looks sharp on the shelf next to the other AmTech Ta-183 I finished (marked as a captured Japanese Ki-192 prototype).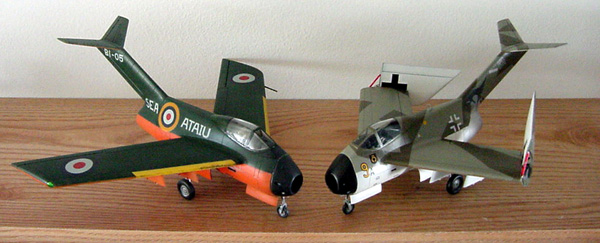 Now, for that Do-335 Zwilling project...

Click on the thumbnails below to view larger images:
---
Model, Images and Text Copyright © 2002 by John Lester
Page Created 13 May, 2002
Last Updated 04 June, 2007
Back to HyperScale Main Page
Back to Features Index