Spitfire Mk. VIII
by Darren Howie
Spitfire Mk. VIII


Hasegawa's 1/48 Spitfire Mk. VIII RAAF is available online from Squadron.com
During my visit to the last airshow at Avalon in Victoria, Australia I had the pleasure to meet and talk with Bobby Gibbes, one of the top RAAF aces from World War II. A very entertaining conversation ensued for over 50 minutes while F-15's and other modern aircraft performed overhead.

What a fantastic day!

Bobby was a true gentlemen, extremely humble and a true character in every respect. Truly inspired by meeting him I just had to go and build one of his aircraft.

Both Hasegawa and ICM had recently released Spitfire MKVIII's and I decided to build Hasegawa's Spitfire.



Hasegawa's Spitfire VIII in 1/48 Scale

Construction
Debate has raged over all the discussion boards on the relative merits of the various late model Merlin Spitfire's and I do not intend to add to that debate here. People can make their own mind up on the various different kits.

Hasegawa's Spitfire goes together like a dream! What more can I say.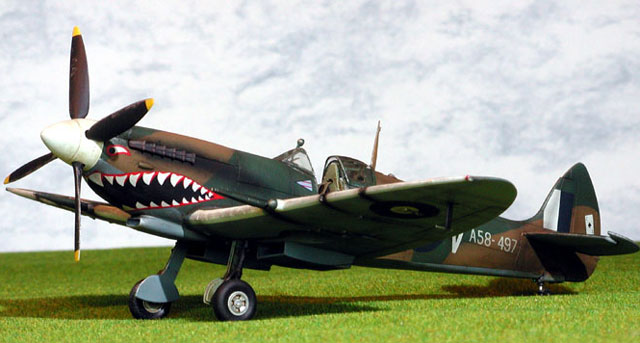 The only modifications I did make was to cut out the crew access door, to give a better view into one of the better cockpit's I have ever seen in plastic. I also added a set of seatbelts. With the crew door open it would look quite barren inside without the addition of the belts.
With the crew door cut out, I replaced it with a spare door from a Tamiya Spitfire MkV kit I happened to have and the fit was excellent. In summary, the kit went together superbly a true representation of the modern kit engineering.
Bobby Gibbes' Spitfire Mk VIII
What a nightmare! Trying to find information on Bobby Gibbes first Spitfire MK VIII was almost impossible.
From what I can find Bobby flew two Spitfire MKVIII's. The first is the one I have modeled and a second in the later scheme when 80 wing arrived at Morotai again with shark teeth and RG-V codes. There is almost no information available on the internet or in any of my relatively large library on Bobby Gibbes' first Spitfire Mk VIII. Osprey's late mark Spitfire aces book has a side profile and from my searching is the only profile I have managed to find of his first Spitfire. There is one photo at the Australian War Memorial webpage of the cockpit of his second aircraft but no good wide views to help with markings.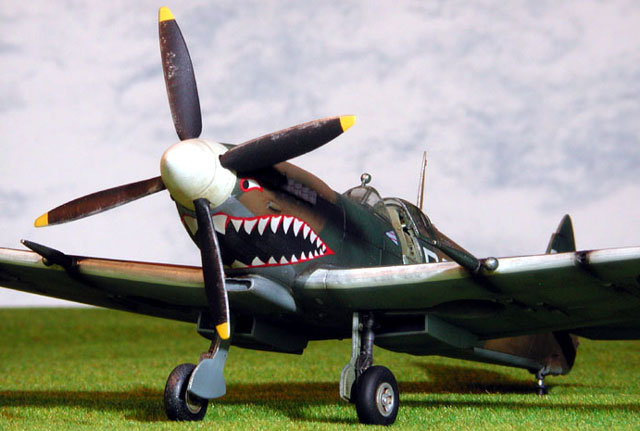 There is also apparently a photo floating around of this aircraft burning after its' crash following an engine failure after take off. It is of quite poor quality though not showing too much detail taken from quite some distance. Hopefully there are some more pictures of this aircraft somewhere, if so please let me know if you know of any.
Anyway with pretty limited references I decided to build it using the Carpena decals which are based on the profile in the Osprey book.
The story of the colors used by Australian Spitfire Mk VIII's is long and complicated. In fact even after all the reading I've done it still is very confusing and much doubt exists over individual aircraft today. I settled on the advertised scheme of Foliage green and dark earth over azure blue with white ID stripes on the leading edges of the wings. Just as it would of looked prior to its destruction in a take off accident at Sattler field outside Darwin in December 1944. Of great help was the Australian Spitfire marking webpage, which has an excellent forum and is very informative on colors and markings.



---
Painting and Weathering
I received many emails from people about how I went about weathering my F-104G (in an earlier HyperScale Feature Article). The techniques I use are basically the same on all of my kits. The only difference being how subtle I wish the weathering effect to be based on the subject, where and when it flew and what type of conditions it may have experienced in service.
---
Cockpit
Having painted the cockpit in Aeromaster British interior green and matt black for the panel the weathering process begins.
Gloss varnish the entire cockpit! This is most important to ensure nice smooth running of the washes to come in the following steps. I use coloured chinograph pencils now for all my instrument panel work. Lightly rubbing them over the raised details to get a nice subtle effect. Do not push too hard or the chinograph comes off too thick. Easy does it!
Click the thumbnails below to view larger images:
I then run a heavy wash of raw umber, which should be very thin in all nooks and crannies of the entire cockpit. The raw umber is a very cheap acrylic tube paint thinned with water and dishwashing detergent to reduce surface tension and help it to run nicely. Let it dry and then drybrush the base colours to create some highlights. Time for a shadow wash of more raw umber for all the corners and deep shadows that would occur within the cockpit. Now matt varnish the entire cockpit and then pick out the faces of all the gauges in gloss varnish to simulate glass.
Done!!
By all means experiment as that is how all good discoveries are made and no technique is set in stone!



---
Airframe
I used Gunze Sangyo for all my exterior painting on this particular kit.

Preshading was used on this kit. I used RLM 66 as my colour of choice, as I did not want anything too stark to show through the Azure blue underneath. The basic scheme was painted as detailed above. With basic scheme finished it's time for a solid coat of gloss varnish. My weathering method takes a bit of work once the basic colors are finished but I think the end result is worth it.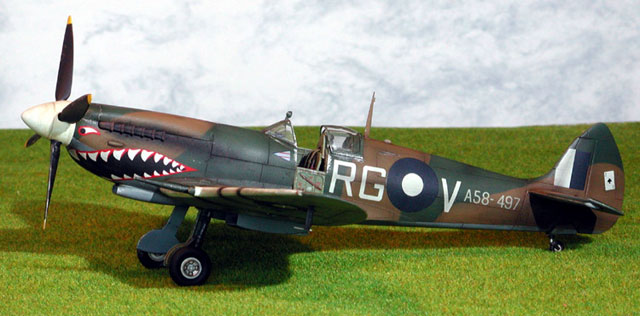 Depending how old I wish the airframe to look I spray Gunze Smoke down various panels and also into any shadow areas. The more weathered I want the aircraft the denser the coating of smoke on the aircrafts panels! Don't get to carried away as it is very effective and the Gunze smoke is quite a bit darker than Tamiya smoke.
I now run a wash of Raw umber through all panel lines and again any shadow areas. Give it about 20 minutes to dry then I use an old T-shirt made damp to gradually wipe off quite a bit of the wash. ALWAYS go in the direction of the airflow as it will create a nice layer of grime in the correct direction. I also use damp pipe cleaners to get into those hard to get to spots. With the wash finished, let it dry for 24hrs or so and finish with a coat of flat varnish.

Now out with the artist pastels. I rub mine against a sheet of 1200 grade sandpaper to get it nice and fine. Apply liberally as a bit will disappear when clear coated. I use pastels for gunpowder smoke, exhausts, red browns for panel corrosion streaks etc. Let your imagination run wild!!
With the pastels on, time for another matt coat. Be careful handling the kit after the application of the pastels.It is very easy to lay down a very impressive finger print on the surface of your lovely plastic production! With the pastelling finished it's now time for some chipped metal. I use model master chrome silver toned down with some medium brown or tan, drybrushed onto all the area's of wear and places where chipping would be expected.
Again another matt coat and some more freshly chipped paint. I also use a silver pastel for panel scratches and light marks after the final matt coat.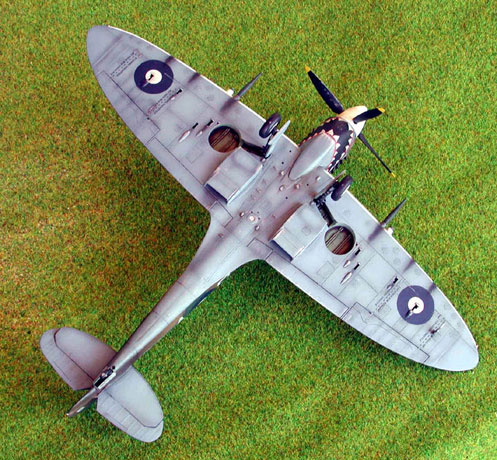 Weathering complete!!

My only tip when weathering is most people underestimate the amount of weathering on REAL aircraft.
If you have ever walked around any radial engine aircraft which still flies you will know what I mean.
There is oil everywhere!!
Remember most of the aircraft we base our models on are hardly ever washed and many operated from extremely primitive airfields and terrible conditions.This all leads to extremely dirty and old looking aeroplanes.
As a rule I have a mental picture of exactly how I want the finished kit to look before I start the weathering process and then gradually work the kit towards the final finished product.
Use your imagination!
---
Sattler Field
Having recently gone on holiday to the Northern Territory in Australia an unexpected opportunity arose.
Driving down the Stuart highway just outside Darwin we drove right past the old Sattler Field where 457 Squadron part of 80 Wing where based.
Out came the camera for a few snaps of the original strip where this very aircraft both flew and met its end.
This is quite an interesting drive as almost all Darwins dispersal strips are placed at about 7-10 km apart right beside the Stuart highway.7-Mile,Sattler and many others on the drive out of Darwin on the way Kakadu National park.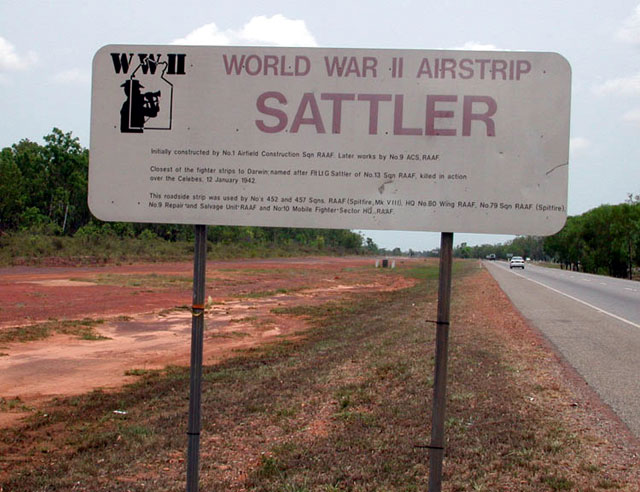 ---
Photography
All of my pictures are taken with my Nikon Coolpix 990. I can only recommend this camera to anyone after a digital camera for model photography.
Most of the close ups where taken using my new Nikon Cool-Light.
It is a ring light which mounts around the lens to illuminate your object in beautiful soft light while taking macro photographs. If you have a Coolpix rush to get one of these, you can see from the results it is brilliant for macro model photography.

I enjoyed this project enormously. Having more of an attachment than normal made quite a bit of difference in my attitude to this kit.
The kit goes together beautifully and forms to me a great base on which to build a late model Australian Spitfire and I am happy with how it turned out. At the end of the day that is all that really matters.
Have fun.
Click the thumbnails below to view larger images:
---
Model, Images and Article Copyright © 2002 by Darren Howie
Page Created 29 November 2002
Last updated 04 June 2007
Back to HyperScale Main Page
Back to Features Page