Reggiane Re 2001 OR

By Nicola Morgantini
Photographs by Mario Bartoli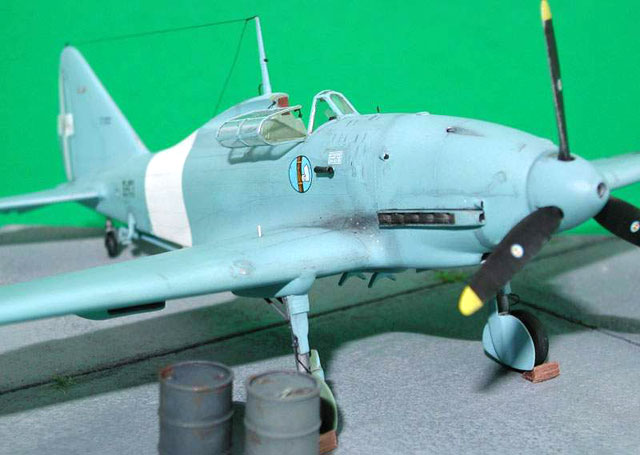 Reggiane Re 2001 OR


Classic Airframes' 1/48 scale Re 2001 is available online from Squadron.com
When Classic Airframes released their new Re 2001 kit, I immediately thought of building it as a carrier based fighter.
When I was 8, I read a book that said that the Regia Marina actually had an aircraft carrier, obtained by converting a transatlantic ship called the Roma. The carrier's name was Aquila (Eagle), and the program for the conversion was called Operazione Roma, hence the acronym OR following the aircraft name.
Officine Reggiane produced about 15 modified Re 2001, just 3 being fully equipped for carrier operations and called "Ultralleggeriti" (probably M.M.7260, M.M.7271 and M.M.7272), while the others were just fitted with an arresting hook. However these fighters never touched the carrier deck, being instead used to perform operational tests at Perugia S.Egidio airport, in the center of Italy, when the armistice interrupted the program.
Like the previous Re 2000 cat, Re 2001 OR "Ultralleggeriti" (ultralightened) were painted overall light blue, retaining just the wide fuselage white band and standard insignia.
Classic Airframes' 1/48 Scale Re 2001
Much has been written about this kit recently, so I won't bother you with my comments. I built it almost straight from the box, adding some small details and scratchbuilding the gunsight and, of course, the special devices fitted to this version.
I fabricated the arresting hook "A" structure from plastic rod (0.9 mm diameter), while I worked out the hook with a file from a thick piece of plasticard.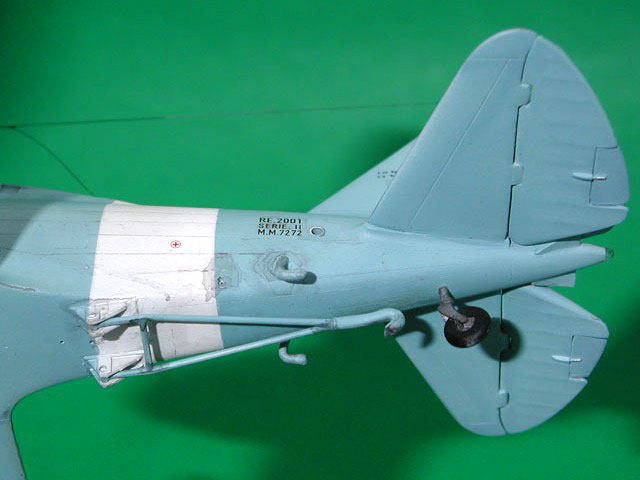 I scratchbuilt catapult hardpoints on the tail section by bending a mediaeval figure's launch(!). Wing gun ports were faired with self-adhesive aluminium patches and all the control surfaces were repositioned slightly. I added brake lines from copper wire and some details on the landing gear, and completely scratchbuilt the tail gear.
The canopy and windshield received new frames from self-adhesive aluminium.
I first painted the whole plane white, then I pre-shaded all the panels, then sprayed another light coat of white in the tail zone. I then masked the white band on the fuselage and the cockpit, and sprayed several misting coats of light blue, obtained by mixing Lifecolor acrylics.
The correct shade of this particular color was something between RLM 65 and RAF azure blue (Many thanks to Ing. Tullio Marcon via Fabio Rinaldi for his first hand experience on real Re 2000 cat.), so I used as a base matt white (LC 01), adding israeli blue (UA 126), then corrected with some drops of RLM 76 (UA 074) and matt pale blue (LC 08). I don't remember the mixing ratio, but you can refer to the "digital paint chip" (24 bit, 16.7 million colours) on the bottom (OR light blue.jpg) to match the correct shade.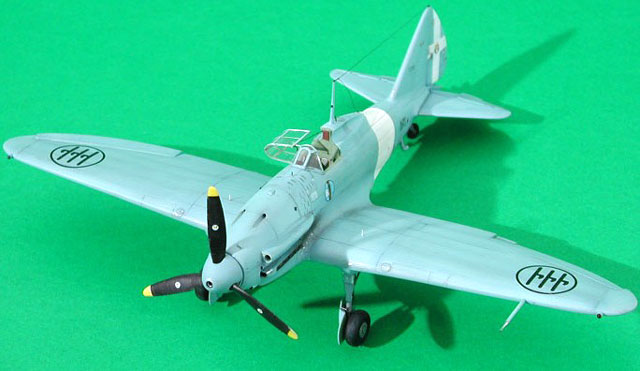 The pilot figure comes from Reheat set RH140, which includes a pilot with "Atlantic" flight suit and inflatable life jacket (the one I used for this model), another with summer flight suit (white) and sausages-like jacket (they were actually made with cork cylinders, packed in a canvas jacket...) and finally a very realistic reproduction of Italo Balbo, the famous pilot who leaded the well known transatlantic flight from Italy to Brazil, in summer shorts and a officer's cap.

For more informations and pictures of this model please visit www.irbastione.it/air.htm or write to Nicola Morgantini (mailto: n.morgantini@tin.it )

Click the thumbnails below to view larger images:
---
Model and Article Copyright © 2002 by Nicola Morgantini
Images Copyright © 2002 by Mario Bartoli
Page Created 21 March 2002
Last updated 04 June 2007
Back to HyperScale Main Page
Back to Features Page