Boeing RB-47H
A Conversion
by "Bondo" Phil Brandt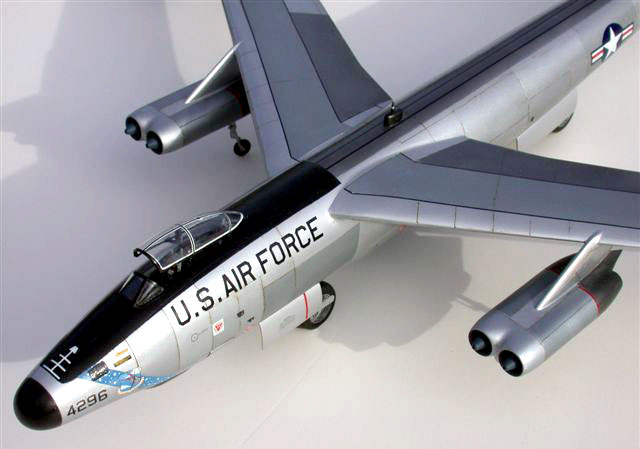 Boeing RB-47H


HyperScale is proudly supported by Squadron.com
Even though TAC-puke Bondo has never been "SAC-umcized", he has always loved the exceedingly graceful lines of Boeing's medium bomber mainstay of the Fifties and Sixties, especially the exotic, "bumpy" versions flown by Strategic Air Command's legendary 55th Strategic Reconnaissance Wing.
Recent books detailing the massive LeMay-encouraged B-47 overflights of the Soviet Union - and we're talking hundreds and hundreds here - further whetted my appetite to build an RB with the blunt nose, like the one I got to crawl into when our Shakey Bird made a short stop at Florida's McCoy AFB in the Sixties. The "Black Hole" where the navigator hung out was something else!
There must not be a modeler over thirty who doesn't know of the old, reliable Hasegawa B-47E in its many iterations. Raised detail, Coke bottle-thick canopy and all, it has been the only 1/72 game in town for three decades.
---

Aftermarket
Luckily, Bondo was able to score a beautifully molded DB Productions RB-47H conversion set before their departure from the aftermarket business. I am not sure if Flightpath has re-released this set.
To further embellish the bird, Eagles Talon produced a resin cockpit/wheel well/bombay/weapons set which, although certainly not Black Box quality, was buildable (now out of production). It also greatly improved the totally inadequate Hasegawa cockpit.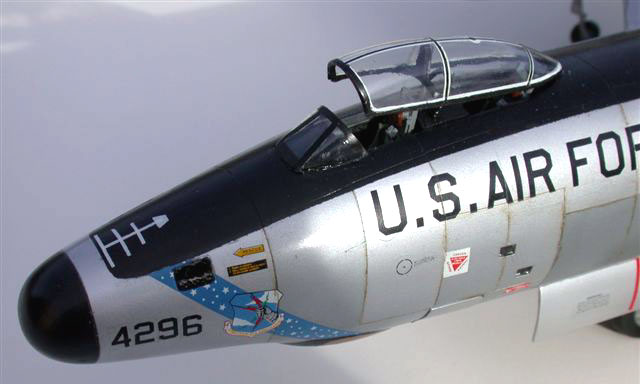 I used True Details 1/72 T-33 seats because they're fairly close to the real thing (there's a cutaway, fullsize B-47 cockpit at the March AFB Museum in Riverside, CA) and they have harnesses cast-in.
---

Assembly
The entire airframe was rescribed, and Blue Acryl was liberally added to the wing/fuselage join, engine pods and especially around the periphery of the "big belly" mod wherein the "Ravens" lived. The Eagles Talon cockpit components needed lots of fitting iterations, but that seems to come with the territory. The truly gross kit canopy was epoxied to a dowel, placed in a vise, and used as a male mold over which Squadron Thermoform was stretched to make a decently thin representation. The canopy has been posed partly open, as was the SAC custom, to prevent heat buildup.
---
"Silverking" Pod
I saw pix of this huge ELINT pod and couldn't resist scratching one out of various portions of parts heap external tanks. The pylon is also scratchbuilt.

Bondo's Natural Metal Finish of choice ever since it hit the market, Alclad II, was applied in at least four shades. I'll say it again: for toughness, appearance and ease of application, this stuff's slicker'n snot!


Decals
Various aftermarket decals were used as required. The radar navigator's "Black Hole" windows are simulated with decal sheet.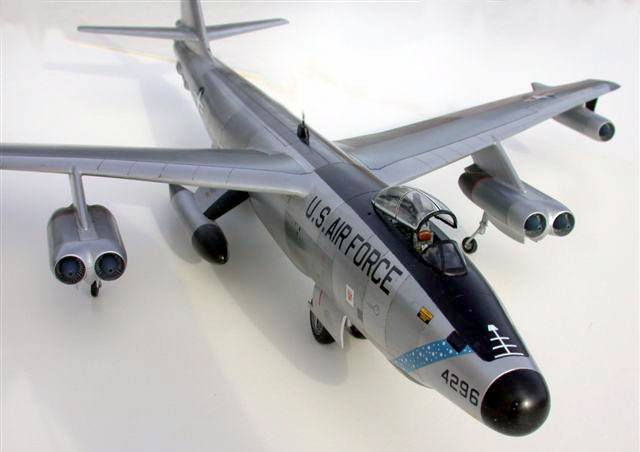 The more than a thousand Boeing B-47s that rolled off assembly lines in the Fifties were, simply put, the very embodiment of a half-century of Cold War.
Click the thumbnails below to view larger images:
---
Review and Images Copyright © 2002 by Phil Brandt
Page Created 12 April, 2002
Last updated 04 June, 2007
Back to HyperScale Main Page
Back to Reviews Page