SH-60F Oceanhawk
by Jim Clark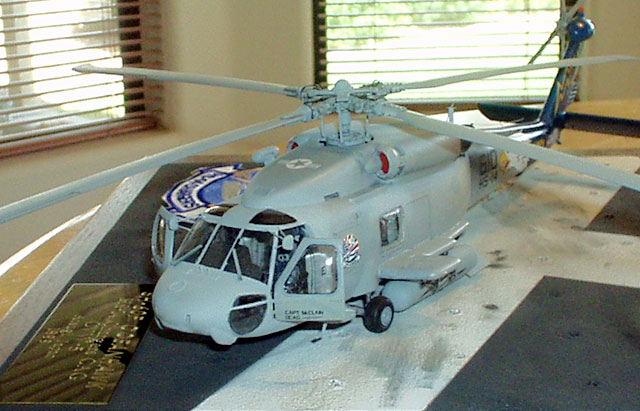 SH-60F Oceanhawk
Here are a few photos of my recently completed Cobra Company 1/48 SH-60F Oceanhawk

The biggest concern with this resin kit is the alignment of the two fuselage halves. FOLLOW THE DIRECTIONS!
I did and I still had one small problem. One half of the fuselage was slightly longer than the other. If you build this kit and this happens, do not sand the larger half down. Glue the nose on and fill the gap, otherwise the windscreen will not fit properly. That is the biggest concern of this kit. I still had problems setting the bottem half of the windscreen to fair into the nose section and I am still not entirely happy with the results. Simply put, after 8 months its time to move on.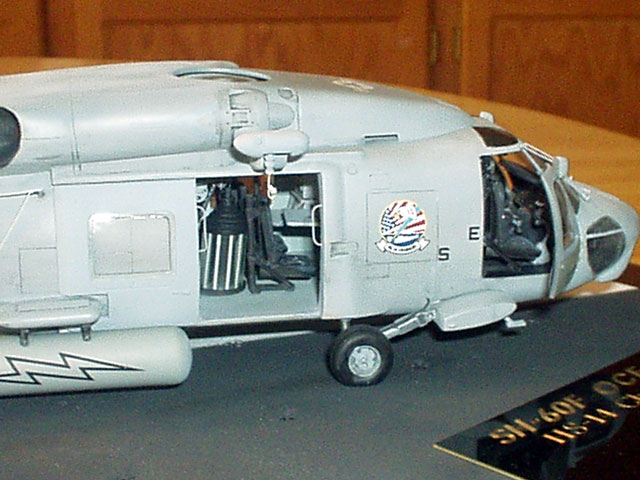 Some of the details I added were scratch built mirror supports, replaced hinge on the radome (lost while sanding), antenna on the aft section of the roof, Landing gear brake lines, Winch hook, light on tail, scratched/rebuilt top hal of winch mechanism for dipping sonar, engine cowl screens, dipping sonar tubes, anti sway bars on pylons, wire antenna on starboard fuselage side, hydraulic lines on rotors and static dischargers on the tail.
I would like to thank Mike Grant of Mike Grant decals for the markings. Many of you know of Mike's work but he went above and beyond for me with these markings. I supplied him with ONE picture and he did the rest.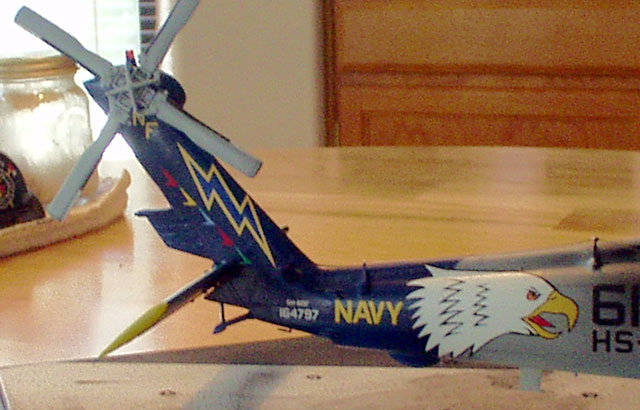 When I got the first sheet from him the Eagle head was too large. Mike gladly downsized the image to my specifications and sent me a new sheet. He was also more than kind by sending me additional decals when I screwed them up as well as making the lightning bolts on the wing tanks after seeing a photo with these applied.
I highly recommend this kit to anyone who is not a beginner and who is familiar with working with resin. If I recall there were only 65 each of the SH-60F and the SH-60B by Cobra Company so please contact them for availability.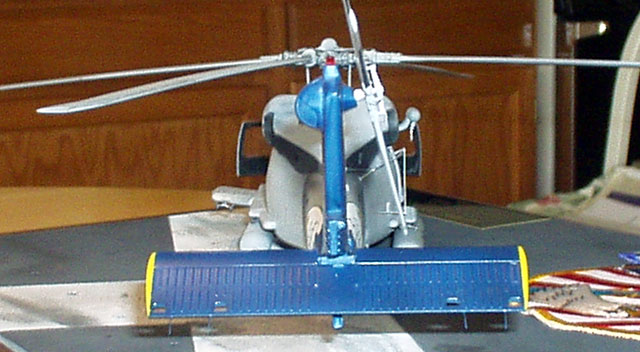 Also, for any of you who want one-of-a-kind custom decals, contact Mike Grant. You wont be disappointed.


Click the thumbnails below to view larger images:
---
Model, Images and Text Copyright © 2002 by Jim Clark
Article and images forwarded by Mike Reeves from JetSet Models
Page Created 19 August, 2002
Last Updated 04 June, 2007
Back to HyperScale Main Page
Back to Features Index