Meteor F.8
by Ryan Hamilton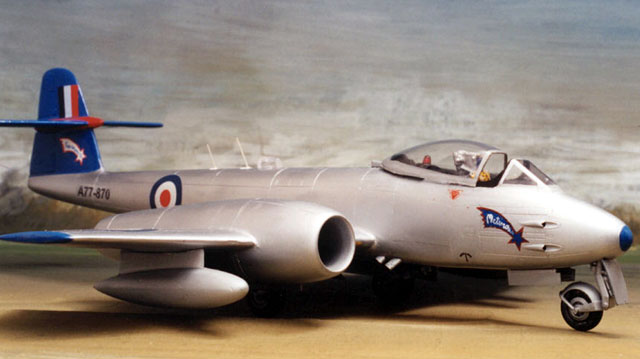 Gloster Meteor F.8
Here is my1/48 scale RAAF Meteor Mk. 8 converted from Tamiya's Meteor F.1

I have been scratch building for a number of years now, and find it hard to build a kit straight from the box. I find that with scratch building, 80% is inspiration, and the rest is effort and skill, so once the idea and vision of the finished kit is in my head, there no stopping it.
I came across an article in IPMS – Sydney Magazine, which showed a conversion of the 1/72 Frog Meteor Mk4 into a Mk8, (the article was written before a 1/72 scale Meteor Mk. 8 was available). I had just finished the Aeroclub Meteor T.7. I found that kit to be quite enjoyable to build, but felt that a single seat Mk. 8 with a little more detail would be more fitting for the collection. The only 1/48 scale Meteor with that sort of detail is the Tamiya F1, which I had one in the cupboard, and just so happened to have the "airbrakes" edition. The inspiration had just been found! By retaining much of the original Tamiya kit, the undercarriage, panel lines, etc the end results would have the detail which I had been seeking.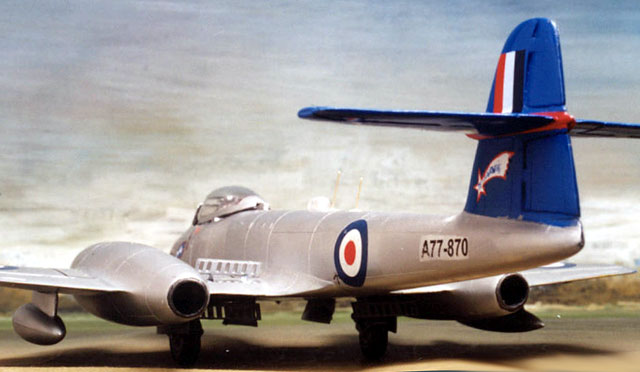 Before starting I obtained some after-market parts and pieces to help with improving the kit, they included:
A decent set of 1/48 Meteor drawing in 1/48 (SAMI magazine)

Aeroclub Mk8 Canopy

Aeroclub seat - MB Mk1

Aeroclub Meteor intakes 'large'

I was originally going to do a detailed Construction Feature on this model, but with the pending release of the Classic Airframes kit later this year, I'll keep it brief.

The conversion included:
Modified cockpit, especially to accommodate the larger MB Mk1 ejector seat.

New Tail – Scratch built, This was easier then I thought it would as I try to encompass much of the original kit

A fuselage plug just rear of the cockpit

New engines – This included the Aeroclub intakes, and exhausts then filling and shaping the area between the two with lots of resin. This part would had to have been the hardest part of the conversion

Modified wing tips to the correct shape – including new ailerons.

Scratch building in and around the canopy;

New aerials, gun chutes and other bits and pieces.
Nearly all the1/48 scale Meteors I've seen have been in Korean War schemes of one type or another. This is a popular scheme to build as many have nose art, and have plenty of history to go with it.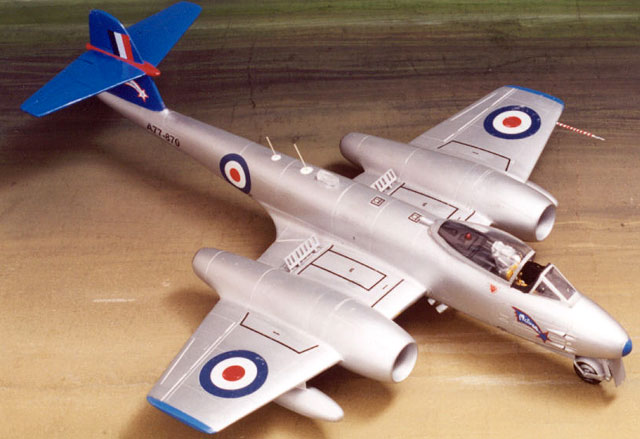 Post-Korean War Meteors in RAAF service were more colourful.
My subject aircraft is typical of the "Meteorites" aerobatics team, with their French Blue tails and "Meteorites" nose art. The overall airframe on the real airframe was painted Aluminium therefore 'panelling' would be inappropriate. I sprayed the model with Testor Metalizer – Non Buffing Aluminium, then masked the tail and sprayed the blue and red.
There are no decals available for RAAF Meteors in the "Meteorites" colour scheme, so I had to resort to the spares box and hand paint much of them.
Taking advantage of the quality of the Tamiya Meteor F.1 kit results in a highly impressive Meteor Mk. 8 – though not for your average modeller. The finish of this kit looks superb, especially on the shelf with a RAAF Sabre and Mirage.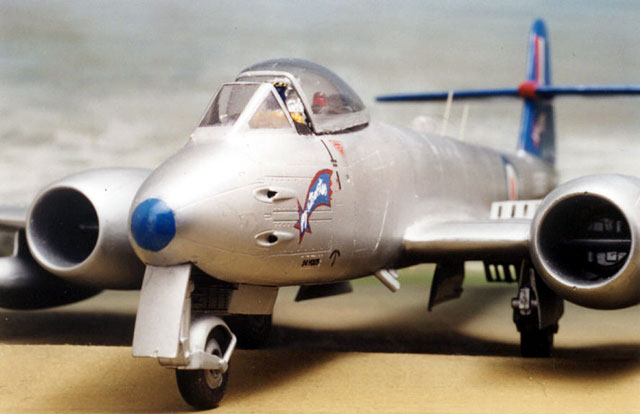 Even so, I have to admit if I had known earlier about the Classic Airframes release I would not have started this project!


---
Model and Text Copyright © 2002 by Ryan Hamilton
Images Copyright © 2002 by Pieter Stroethoff
Page Created 31 May, 2002
Last Updated 04 June, 2007
Back to HyperScale Main Page
Back to Features Index