LAV-25 Mortar Carrier
by Mike Grant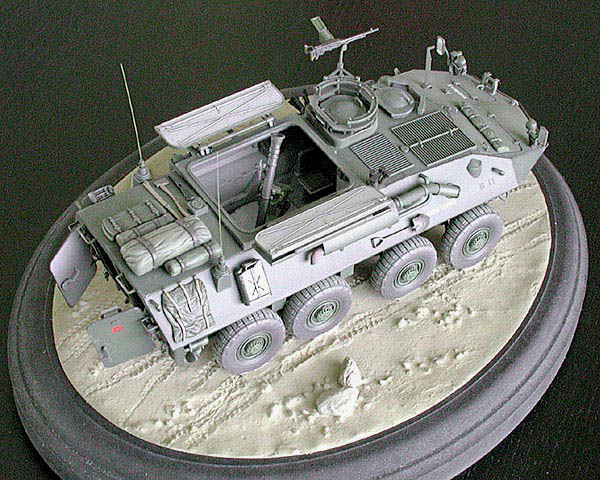 LAV-25 Mortar Carrier
Here is my Italeri 1/35 LAV-25 Mortar Carrier

This is the first armour kit I've built in 30 years as I'm predominantly an aircraft modeller, so please be gentle. Judging from the reaction of some of my aircraft-model building friends I should perhaps start the article with "Hi, my name is Mike, and I built an armour model".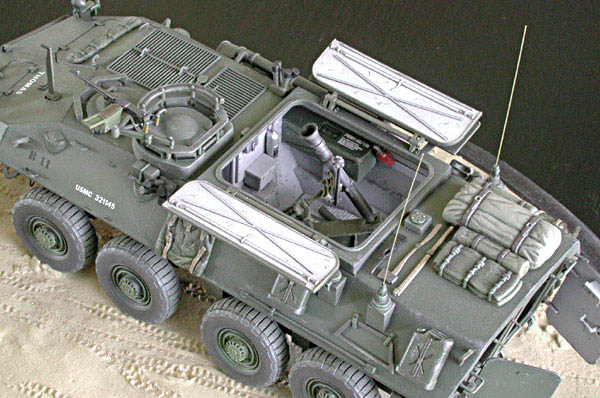 I bought this kit when I stopped by at a local hobby store to pick up the Monogram F-86D. They didn't have it in stock, and being unable to leave the store empty-handed I emerged with this Italeri LAV-25 kit instead.

When I opened the box that evening I was amazed at the number of pieces, virtually none of them recognisable to my aviation-skewed eyes. For some reason though its chunky lines really captured my imagination and I started building it almost immediately (ignoring the feelings of guilt on behalf of the stack of kits sitting patiently waiting to be started).
I was impressed with the level of detail and the overall fit of parts.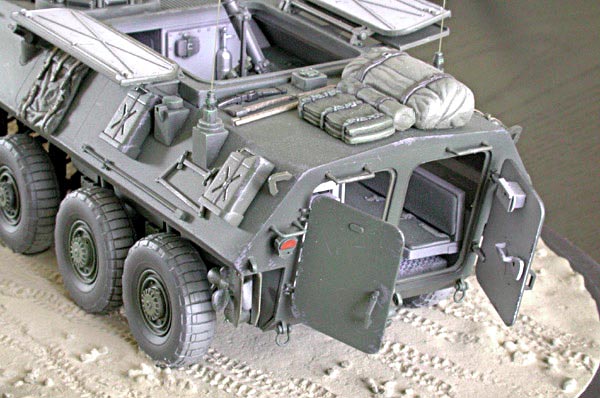 Cleaning up the ejector pin marks and seams on the tiny parts was a chore, but the only slight problem I ran into was the fit of the upper and lower main hull parts. A dab of filler cured that easily enough.
The drab colour scheme needed livening up a bit, so I undercoated the entire model in black then airbrushed into it with gradually lighter shades of Olive Drab.
I selectively applied burnt-umber and black washes around the raised detail followed by a light drybrushing of pale greens and yellows.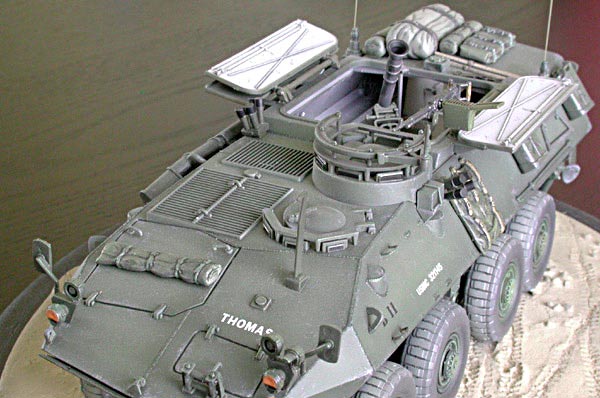 After the minimal decalling I painted scratches and scuffs with dark grey paint, enhanced with pencil-graphite and the occasional use of a silver 'Prismacolour' pencil.
After I'd completed the model I read somewhere that Italeri's interior is totally fictional! Whatever :-) Looks OK to me.
My first attempt at the base wasn't too successful. I'd got this elliptical base from a craft-store which I sprayed black. Deciding it needed some kind of groundwork I went down to the model-railway shop and bought a sheet of grass-textured paper. The grass was brilliant green so I toned it down with a bit of buff paint until it looked more realistic.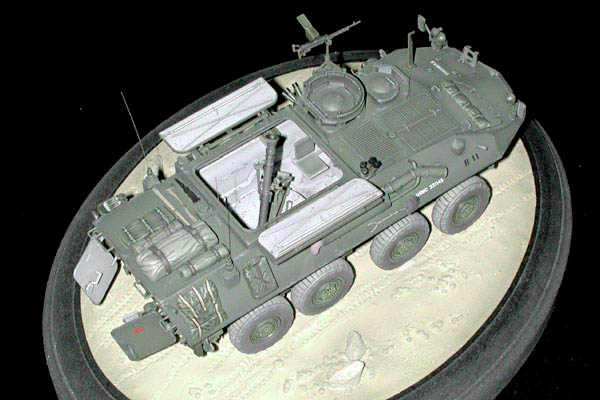 I then cut a random 'kidney' shape out of the paper and glued it to the base. I was quite pleased with it until my girlfriend asked why I'd modelled a tank sitting on a putting green (I should say she's normally very supportive of my hobby), so I stripped it off and built a more earthy texture using household spackle mixed with PVA glue. A few bits of gravel and some rocks donated from my girlfriend's potted-plant collection finished it off.
---
Model, Images and Text Copyright © 2002 by Mike Grant
Page Created 16 April, 2002
Last Updated 04 June, 2007
Back to HyperScale Main Page
Back to Features Index