Focke-Wulf Fw 190A-6
by Dave Miller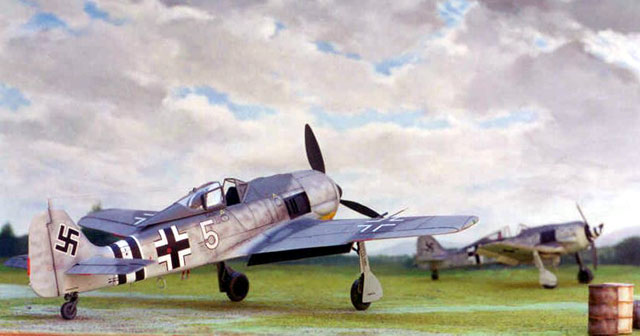 Focke-Wulf Fw 190A-6
'White 5" Sturmstaffel 1, Dortmund early 1944.


Hasegawa's 1/32 scale Fw 190A is available online from Squadron.com
Here are four images of the old Hasegawa 1/32 scale Focke-Wulf Fw 190A-8 kit modified slightly to represent an Fw 190A-6

I took my inspiration from the popular Air War Classics book by Eric Mombeek, et al. entitled "Sturmstaffel 1, Reich Defence 1943-44, The War Diary."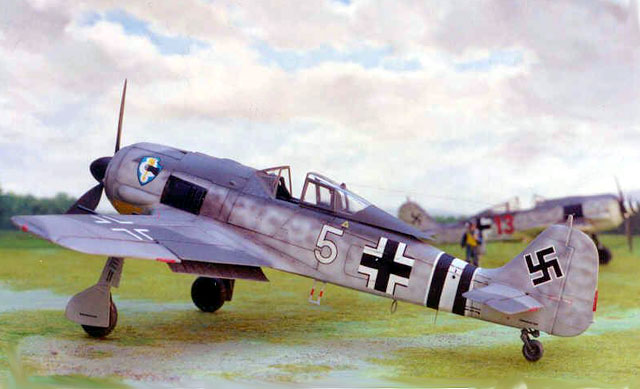 In summary, this unit was made up of volunteers whose mission was to stem the tide of Allied daylight bombing by using unusual tactics. Their aircraft carried additional armour to help protect the pilot during the massed attacks against the bomber formations, often from the rear at close range. Part of the oath taken upon joining the unit pledges the added measure of ramming the enemy should all other efforts have failed. In practice this was seldom done.
Construction and Modifications
I found more options for 190 A-8's but considered the kit cowling gun covers too oddly shaped to try and change with my limited scratch-building skills..

My additions to this kit were as follows:
5mm steel plates surround the cockpit on the fuselage were simulated by plastic stock; the rivets were simulated using a filed -down hypodermic needle tube as a stamp.

30mm Thorax armoured glass on the sides of the canopy was simulated by shaped and sanded round Evergreen stock and copper wire.

The leather head rest behind the pilots head armour was made from blue tack substance solidified by super glue.

Hand-holds were carved out below the windscreen and the leather combing added using round stock.

Eduard photo etched parts were used for head armour and the storage compartment aft of the cockpit.

True Details supplied the excellent resin cockpit complete with Revi gunsight.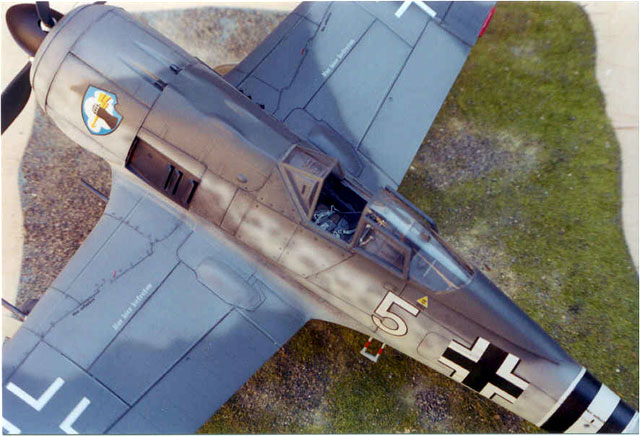 The odd-looking bulges covering the cannons near the wing roots were sanded down and re-sculpted using Squadron Putty.

Panel lines were sanded and scribed. Some rivet-ghosts remain.

Copper tubing became the cannon barrels.

The landing gear struts were reworked, adding brake lines, details and the rear elbow joint from plastic stock and graphic tape.
The armoured fist Sturmstaffel emblem decal was made by Mike Franklin using his considerable graphic skill and an ALPS printer. He also supplied the white 5. The rest of the decals were Aeromaster and kit-supplied stencils.
If you build this one, watch out for the joint at the wing root/fuselage. I had to really spread out the latter to form anything like a close fit and maintain a dihedral.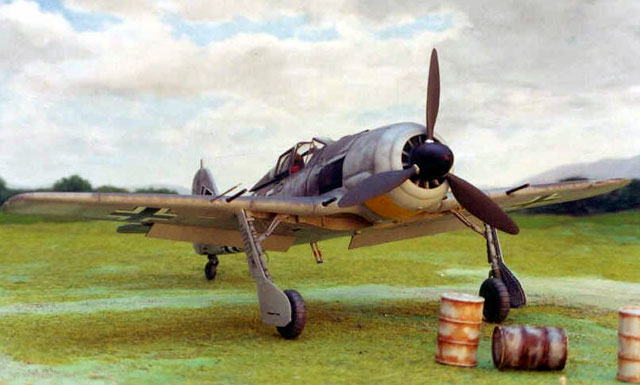 The wheel wells are a disaster are as befits a kit of this generation, but J. Rutman may make that correction an easy task. I chose to leave this question for another fight.
In the end, this model seems to resemble a Focke-Wulf Fw 190 from the top and sides!

---
Review and Images Copyright © 2002 by Dave Miller
Page Created 12 April, 2002
Last updated 04 June, 2007
Back to HyperScale Main Page
Back to Reviews Page