Fiesler Fi 103 A-3 (V1)
by Frank Pipek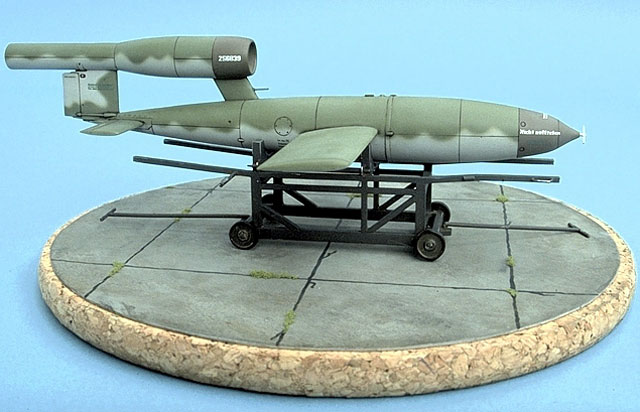 Fiesler Fi 103 A-3 (V 1)


Tamiya's 1/48 scale Fiesler Fi 103 is available online from Squadron.com
Here is Tamiya`s 1/48 scale Fieseler Fi 103 A-3 (V 1).
The V 1 could be described as the first "cruise missile" in history. It was first launched in combat on 13 June 1944 against London. The aircraft crashed down into Grove Road and killed 6 people. Over the next 24 hours another 393 "Flying Bombs" were launched from France against London. The campaign ended on 29 March1945. A total of approximately 10,500 missiles were launched.
---


Technical data
Dimensions - Length: 7,90 m ; Wingspan: 5,30 m ; Weight: 2180 kg

Performance - Speed: max. 650 km/h / march 580 km/h in 900m altitude

Payload - Warhead: 850 kg Amatol powderload

Powerplant - Argus AS 014 Pulso-Schubrohr with max. 335 kp
The first tests with the Argus AS 014 pulse-jet engine started on 30 April 1941. Following initial tests, the V 1 was developed and manufactured in the secret rocket base at Peenemünde.
The kit comprises only a few parts for the Fi 103 and for the trolley. However, the small number of parts are excellent in quality. Because of the short time required for construction, I would call it a perfect "weekend model"!
I built the Fi 103 straight out of the box without any after-market additions. The trolley was slightly enhanced (handgrips / rods) with some Evergreen sheets using a photograph for reference.
I used Gunze acrylics, RLM 76/81/82 for the Fi 103 and RLM 66 for the trolley.
I sprayed a base of Gunze gloss after painting the Fi 103 and applied the decals. They had a fine thin carrier film and conformed well to the surface. After that the panel lines were coloured with a thinned wash of black oil paint.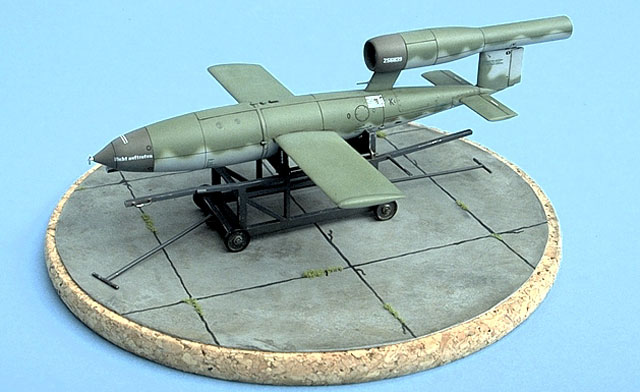 The trolley was first painted with a base coat of polished aluminium from Humbrol. After painting in RLM 66 I scratched off the top coat with a sharp blade to give it a used look. Some rust and dirt was added with watercolours.
Finally everything was sealed with Gunze flat.



---
Model, Images and Article Copyright © 2002 by Frank Pipek
Page Created 01 April, 2002
Last updated 04 June, 2007
Back to HyperScale Main Page
Back to Features Page