FGR.1 Phantom II
by Mike Kean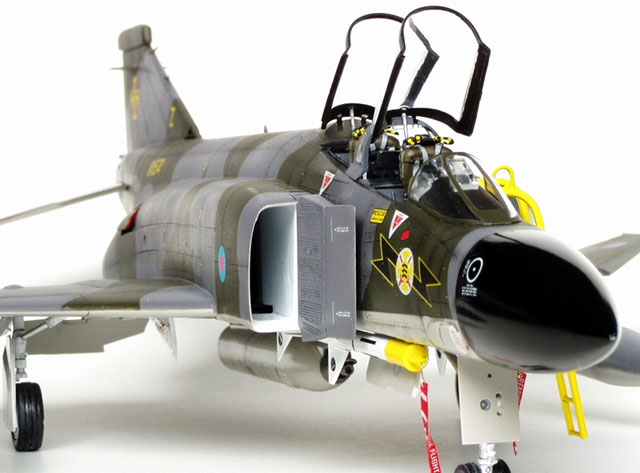 FGR.1 Phantom II
I am not going to get into a history lesson on the McDonnell-Douglas famous F-4 Phantom II. Anyone with even a slight interest in military aviation will probably have some knowledge of this aircraft. However, since I have never seen this aircraft in real life (yet - I live in hope), I can best sum it up like this:

"A machine comes on a practice diversion to our timid training command airfield. We all tumble to watch it go round the pattern. It cruises through the circuit in and our, trailing long plumes of smoke from its smoky engines.
The pilot bends it around the sky in a startling display of reverberating thunder. Our trainers are also in the air, but they are minute in comparison and they are silent compared to the muted thunder of this beast. Its great bulk is full of menace, threatening; indeed the trainers are forced to climb out of the way because it overhauls them rapidly in the pattern. To me, it looks evil and brutal , a bull shark entering a pool full of minnows and pilot fish, a dreadnought battle cruiser surrounded by trawlers.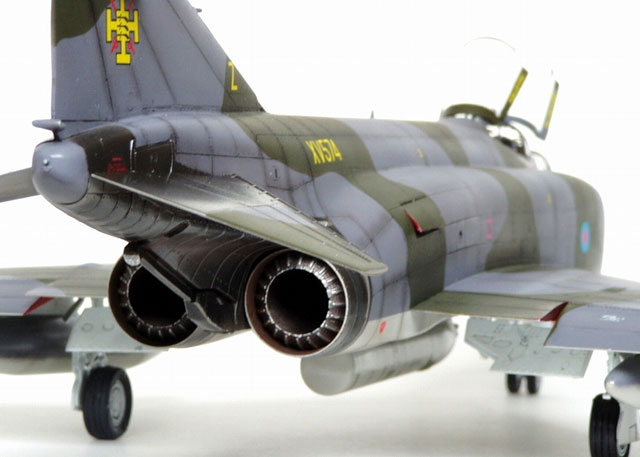 It departs suddenly, in an appropriately spectacular fashion , accelerating vividly around the finals turn , blasting past over our heads with its tail on fire and then pulling up to punch a hole through the clouds , its bulk belying its speed . When its gone , the trainers drop back into the pattern , fluttering down to buzz around the circuit , like clockwork motors in comparison to the war machine that has just departed . This makes the ultimate impression on me... "

I know what you are thinking , and yes , I copied this from a book called "F-4 Phantom , A Pilot's Story" by Robert Prest I did not have much knowledge of the British Phantoms , so I needed to obtain a large amount of information about this aircraft as it differed significantly from its American counterpart. The most notable difference is the engines as the British used the Rolls Royce Spey engine as opposed to the American J–79's . Thus the intakes were a little bigger on the British ones as well.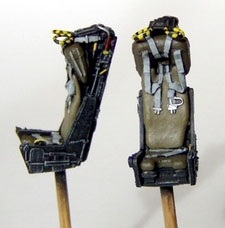 This is Hasegawa's 1/48 scale FGR.1 Phantom II kit in 1/48 scale

The kit is presented in Hasegawa's typical quality with engraved panel lines and very few fit problems. The kit comes with rubber tires and metal rims.
The model was built basically out of the box with the exception of the scratch built missile covers.
The cockpit has all raised details so a good paint job with the combination of dry brushing is certainly pleasing to the eye.
I wasn't too fond of the seats supplied with the kit so I used True Details seats for this project.