Macchi C.202 Folgore
by Werner Scheibling
Aer. Macchi C.202 serie 1, '71-8'
Regia Aeronautica, 1o Stormo C.T., 17o Gruppo, 71a Squadriglia,
November/December 1941, Martubah, Libya
This is one of Hasegawa's all time favourite kits, the 1/48th scale Macchi C.202, which will thankfully be available again in Europe by the time you read this feature article in HyperScale (late autumn 2002).

Hasegawa can certainly count on me buying a couple more.

Before I could get my hands on this kit, I had to do some serious international online shopping, which also shines a (dim) light onto the plastic modelling scene here in Southern Germany.

The ingredients were collected in the USA (Hasegawa and Jaguar kits), England (LIFECOLOR paints) and Italy (Sky Models decals). I managed to actually buy the chalk pastels in a proper German shop though.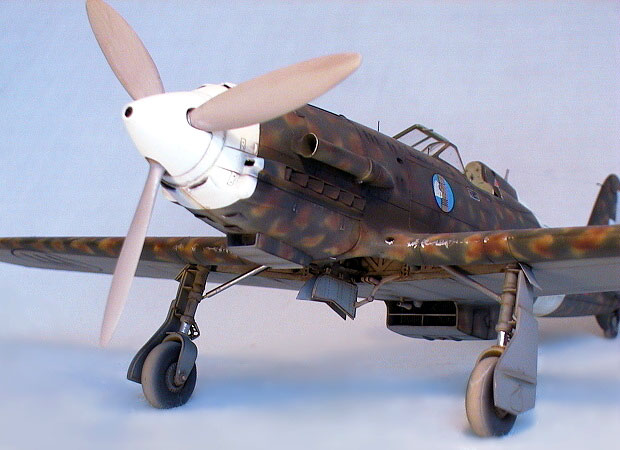 This is also the time to say 'thank you' to some fellow modellers who helped me bring this project to a successful end: Rob Hart from San Diego who provided the Jaguar resin set, Pete Chalmers who was able to solve the mystery of the Italian seat harness and my friend Ron van Donkelaar from Holland who found a rare colour photo of a Folgore in early style continental camouflage on the Internet.
I started this kit with some leisurely modelling fun in mind. It turned into a five-months-project which has to be blamed on
the Aero-Detail book with its unhealthy wealth of detail information and

me for trying to replicate all these details in my model.
My kit was moulded in Hasegawa's typical mid-grey polystyrene, which this time seemed to be a bit on the very hard side. A packet of scalpel blades was turned into blunt scrap in no time (does styrene harden over the years?).

Panel lines and fuselage details, like fasteners, louvres etc., would have profited from a slightly bolder approach by the tool maker. In particular the movable control surfaces and main cowling panel lines needed some rescribing.
Originally I wanted to do a late model Folgore with typical green-over-sand mottle but then I stumbled on an excellent war time photo of '71-8' on the Internet that gave my project its final spin. For this I had to convert my Macchi into a very early 'serie 1'.

The cleverest way would of course have been to use Hasegawa's (now) pretty unavailable 'Cavallino Rampante' kit no. JT 39, which represents an early C.202 with appropriate horizontal tail surfaces and unfiltered supercharger air intake. I didn't feel like spending obscene amounts of money on eBay again, so I decided to scratch-build the necessary modifications.
The straight, unfiltered supercharger air intake was cut from a section of 3mm aluminium tube (RC model accessory). The intake opening was carefully widened with the conical end of a paint brush and the tube was grafted into the cowling with Milliput white epoxy putty.

'Serie 1' Folgores were equipped with horizontal stabilizers (and wings) taken straight from its predecessor, the C.200 Saetta. This meant filling and re-scribing the stabilizer/elevator hinge line according to scale plans in Aero Detail and Ali D'Italia.
Another tricky part to fit was the upper cowling section that includes the gun troughs. This part follows an S- curved panel line and has to be carefully sanded and dry fitted to make it sit as it should. My sample needed even more sanding and rescribing after the glue had set over night.

Jaguar's resin update set is an old acquaintance of early Cooper Details fame, highly popular with modellers ever since it first appeared and luckily now on the market again. The set offers an extremely accurate cockpit interior, two rows of realistic exhaust stacks and a resin plug that depicts the visible chaos of engine plumbing in the middle of the wheel well in a very realistic way.

My sample was moulded in – these days - old-fashioned pale yellow, rather brittle resin that had to be handled with utmost care. The exhaust stacks are very nicely depicted with a weld seam along the middle and hollow outlets. Unfortunately Jaguar's resin casting process doesn't seem to be completely up to date, as three single exhaust stacks were missing their hollow outlets and reworking them was nearly impossible. In the meantime I have bought two more sets and both display this same annoying defect.

The set wisely offers two seat options. One with moulded-on harness and one without. The provided harness looks very convincing but is unfortunately pretty fictitious. Several well known photos of preserved Macchis hint at what the harness once looked like but not a single harness seems to be complete. I called for help on the 'Italian Air Force Discussion Group'-site and Pete Chalmers was friendly enough to share his set of sketches (from the RCR PE-set instruction sheet) with me. Thanks again, Pete!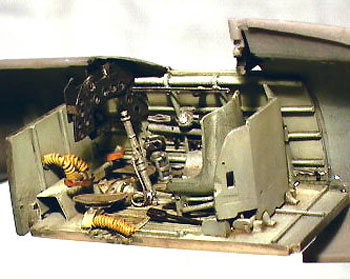 Oh what a complex construction of leather, buckles and even metal chains (!) the Italians used to prevent their pilots from falling out of the cockpit… the system reminded me a bit of these incredibly complicated devices that fill a whole room with cog-wheels and drive-belts and finally produce a nicely peeled apple. Anyway, I decided not to order the RCR PE-set, but to construct my own harness. I did this using Tamiya masking tape for the leather parts, refined with buckles from some surplus EDUARD PE-belts. The metal chains were replicated with intertwined strains of 0,1mm copper wire.

I added some missing features to the resin cockpit side walls, most noticeably the prominent rudder actuating rod that runs the whole length of the right hand cockpit side.

Various additional cockpit details like instrument panel and rudder kick plates were taken from the excellent EDUARD PE set.

Connoisseurs will now remark that early Folgores were not equipped with the angular pilot's back armour that you see in my pictures. True. I have to admit, that my decision to steer away from a 'serie VI' fell after the fuselage was irrevocably glued together. I decided to live with this little inaccuracy as it is hardly noticeable in the finished model.
Click the thumbnails below to view larger images:
---
From this point the build got trickier, as I now started to tamper with the kit's confusing panel lines.

Hasegawa designed the C.202/205 kit family to offer the whole range from early Folgore to late model Veltro with a minimum of extra parts involved.

If you build this kit out-of-the-box you'll end up with a C.202 that sports all panel lines, louvres and access hatches that you would normally find on a late model C.205 Veltro. To avoid causing the average modeller unnecessary confusion, Hasegawa decided not to mention this subject in the instructions and leave the slightly more investigative modeller alone with his references. This is how I spent many evenings during the last five months, comparing photos with various line drawings and vice versa.

In short: To build a halfway accurate 'serie 1' Folgore, a lot of panel lines, especially on the wings, have to be filled and some have to be rescribed. Access hatches and filler caps have to be relocated and cowling bulges have to be removed. Most of these moulded details apply only to C.205 Veltros, especially the armament access panels on the upper wing surfaces.
For clearer understanding I have taken the following pictures which illustrate the necessary modifications.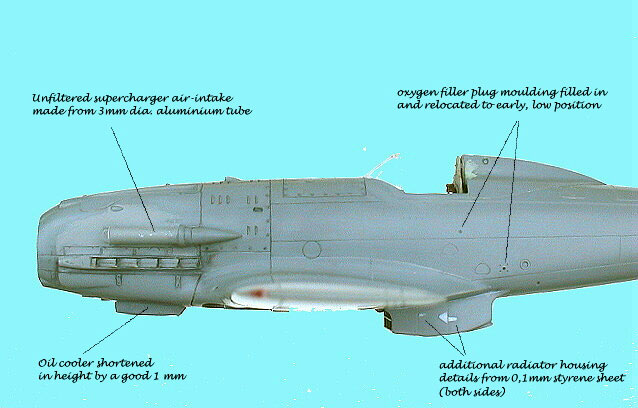 Click the thumbnails below to view larger images:
---

Unfortunately I managed to forget deleting the two storage hatches on both sides of the top fuselage. They suddenly jumped at me visually after I had airbrushed the whole camo scheme and the white fuselage band. Please ignore them when you look at my pictures.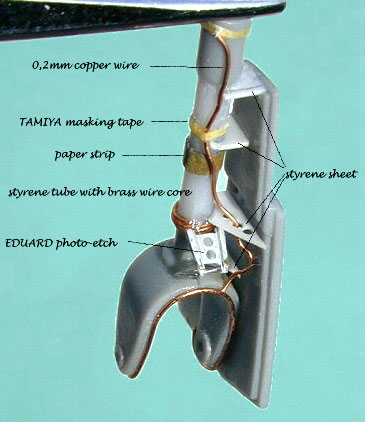 My last venture into scratch-building was involuntarily triggered when I thought I had nearly finished this model. I tried to remove some ungainly seam lines and ejector pin marks from the undercarriage legs in a way that involved a power tool and insufficient thinking on my side (why does Hasegawa always have to design undercarriage legs with ejector pin marks??)

In a split second the right u/c leg was turned into an ugly clump of deformed plastic.

I had no other choice but to fix this mess by reconstructing the middle sections of the u/c legs with styrene tube, stiffened with brass wire and superglue. And it meant replacing all the landing gear cover attachment points with scale sections of thin styrene sheet. Brake lines from 0,2mm copper wire and oleo leg scissors from EDUARD's PE-set completed this sub-assembly.
While we're talking about the undercarriage I shouldn't forget to mention the tail wheel. This section is trickier than it might seem, as the one-size-fits-all method (there are two different C.202 tail wheel styles and the retractable C.205 option) leads to an inaccurate compromise. Using the early style tail-wheel as it is would make your Folgore look like a Bf 109 K with the long tail wheel strut. Luckily the Ali D'Italia monograph publishes a reproduction of an original factory line drawing. So I managed to attach the tail wheel at a halfway correct angle. This involved removing the upper half of the tail-wheel leg, replacing it with stiff brass wire, drilling a new, forward angled attachment point in the fuselage and widening the tail wheel well with a motor tool to make space for the oleo leg scissors. This sort of engineering by Hasegawa did not convince me at all.
Apart from these little complications the kit went together well without nasty surprises.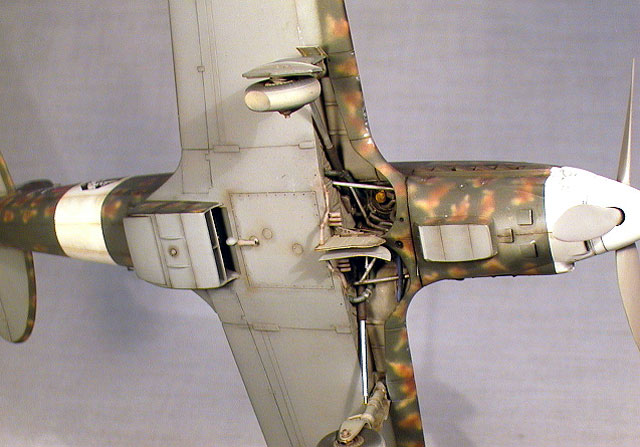 Finally the wing tip position lights were replicated with cut offs from a clear styrene sprue. Before I glued these sections to the wings I drilled a 0,5mm hole into each one and filled it with dark red (left) and dark blue (right) paint. Careful sanding and polishing with Tamiya polishing compound produced near perfect results.
As this was my first attempt at a Regia Aeronautica subject since those nostalgic days back in the seventies (I vividly remember Airfix's Fiat G.50, Frog's C.202 and the ESCI decal sheet), I had to dig into Italian camouflage schemes and their appropriate colours. After checking whatever I could find on the web and evaluating my assortment of publications, I felt more confused than assured. Many long evenings later I now feel safe enough to make the following statements, which should please not be taken as the ultimate gospel:
These very early Folgores were - like the C.200 Saetta - painted in a 'Continental' camouflage scheme, matching their appearance to the lush green landscape found in Northern Italy.

In November 1941 the Italian army stood close to being wiped off North African ground and the crack 1° and 4° stormi with their brand new Folgores were hurriedly rushed into combat against the advancing British forces in Libya. So all aeroplanes kept their dark camouflage scheme and some couldn't even be refitted with vital air intake sand filters (like 71-8).

What did this camouflage scheme look like? The upper surfaces were painted in a not too dark shade of olive green (verde mimetico 1 or 3), the lower surfaces in a rather light neutral grey (grigio mimetico). The monotonous green coat of paint was broken up with mottles in one kind of three possible sand yellows (giallo mimetico 1, 2 or 3). Every single sand yellow patch was partly oversprayed with a contrasting patch of reddish brown (marrone mimetico 2). The mottle patches were clearly confined in outline but had soft feathered edges. When I realized the full extent of this airbrushing challenge my model had crossed the point of no return and it just had to work somehow.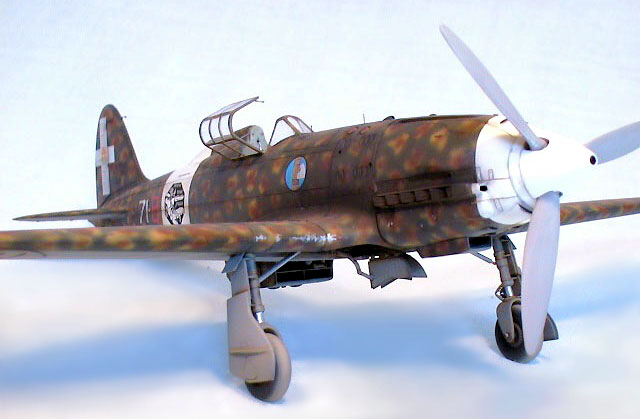 I spent one whole Saturday afternoon in the bathroom (where I do my airbrushing) just tying to find the best possible paint/thinner/air pressure ratio combination. I tried samples of Tamiya, Gunze Sangyo, Aeromaster/Polly Scale and LIFECOLOR acrylics, all sorts of water/alcohol mixtures - but nothing worked. In the end I treated myself to a combined Christmas/Birthday present and invested in an Iwata Eclipse HP-BS which I had thoroughly tested at my local airbrush dealer's. Suddenly all problems were solved.

I achieved the best results with LIFECOLOR acrylics thinned with a few drops each of distilled water and Tamiya acrylic thinner per cup. Air pressure was down to ~0,5 bar/~10psi. The secret was not to thin the paint down too much or otherwise it would just run off in ugly 'spider's legs' when it hit the surface.
I used the following acrylics to finish my Folgore:
verde mimetico LIFECOLOR UA106 'AerMacchi green', lightened slightly.

giallo mimetico: LIFECOLOR UA081 'RLM 79 Sandbraun'+ ~30% plain yellow

marrone mimetico: LIFECOLOR LC17 'brown'

grigio mimetico: a build-up of several thin coats of Aeromaster shades, from dark to light: Russian dark

grey – RLM 75 – US Light Gull Grey
These days I accentuate all panel lines after decaling with dry pastel dust in dark brown / dark grey / black shades, depending on the background colour. The dust is carefully applied with a pointy size '0' brush, and the surplus removed with a very soft wide brush. This treatment is repeated until the desired shadow intensity is achieved. Afterwards I seal everything in with PollyScale Flat Clear.
Panel lines where oil or other fluids were likely to seep through on the real plane were accentuated with dark artist oils strongly diluted in white spirit, run into the panel line from the tip of a fine brush.

I had heard a lot of favourable comments about Sky Models Decals. When I saw that the C.202 sheet contained the necessary squadron codes for my model I ordered it straight away. The printing quality and colour density is outstanding. The carrier film is ultra thin and reacts very well to Aeromaster or Microscale softening solutions. I've also never seen such a wealth of different options on one single decal sheet. I would call this new generation of decals printed by Cartograf in Italy an even match for the best we know from the USA.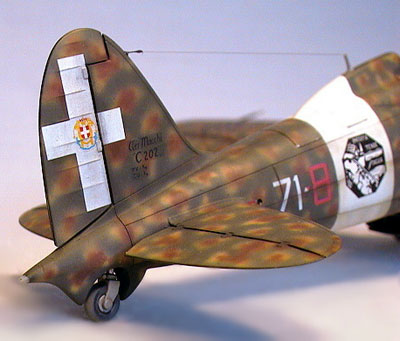 Apparently it can't all be sunshine though. When I examined the decal sheet closer I noticed that all squadron codes, numbers and stormo insignias are reproduced with utter fidelity to the original design. In pure contrast to this precision the wing insignias are noticeably too big in diameter, the fuselage fasces are oversimplified misrepresentations and the House of Savoy's coat of arms for the vertical tail surfaces is out of proportion. Did the graphic designer have a bad hair day when he/she was dealing with the national insignias? This annoying inaccuracy ruins what would otherwise be a 10 out of 10 rating for this decal sheet.

I replaced the mentioned items with insignias from an old Superscale sheet which are a lot closer to reality. And a final word of warning for those amongst you who also have the 1995 issue of this kit somewhere waiting on the shelf. Even though the original Hasegawa decal sheet was printed by Cartograf and looks tempting - avoid it at all costs. The carrier film is stiff, ignores even strong decal softeners and silvers like mad. A clear case for the dustbin.
I wouldn't apply the usual 'Tamigawa' comment to this particular kit. It is without doubt of high engineering quality and accurate outline but does have its unobvious pitfalls. And it insists on being assembled with care and attention.
If you're after a real airbrushing challenge, then the Folgore is the right kit for you.

I enjoyed building it so much that my next project will be another Regia Aeronautica classic.

Hasegawa 1/48 kit # JT32, Macchi C.202 Folgore (late model),

Jaguar resin detail set # 64801 for Hasegawa Macchi C. 202
(cockpit, wheel bay, exhausts; this is the ex-Cooper Details set, designed by Roy Sutherland)

Eduard photo-etch detail set # 48163 for Hasegawa

Eduard Express Mask # XF119 for Hasegawa

Sky Models Decals # 48-015, Macchi MC 202, 1/48
plus single items from

Super Scale Decals #48-659, Macchi C.202 Folgore, 1/48
Aero Detail 15, Macchi C.200/202/205 by Carmine Di Napoli,
Raffaele Mancini et al., published by Dai Nippon Kaiga Co. Ltd, Tokyo/Japan, 1995,
ISBN: 4-499-22651-1

Ali D'Italia No. 2, Aer. Macchi C.202 by Giorgio Apostolo,
published by La Bancarella Aeronautica, Torino/Italy, 1995

Macchi C.202 in Action No.41 by Roberto Gentilli and Luigi Gorena,
Squadron/Signal Publications, Carrollton/Texas/USA, 1980,
ISBN: 0-89747-100-8

The Macchi C.202 by Gianni Cattaneo,
Profile Publications No. 28, Leatherhead, Surrey, England, 1968 (o.o.p.)

Macchi C.202, by Janusz Ledwoch
AERO, Technika Lotnicza Nr. 2, Poland, 1991

Macchi's Magnificent Lightning – The C.202, by Richard Caruana
Scale Aviation Modeller International Vol. 5 Issue 4, April 1999

Pilot's Perspective – Macchi C.202 Folgore, by Anthony Oliver
Scale Aviation Modeller International Vol. 5 Issue 7, July 1999
And last but not least I'd like to list (plainly judging from Maurizio's outstanding modelling skills) the following two books, even though I haven't yet managed to find a copy of either of them:
Click the thumbnails below to view larger images:
---
Model, Images and Text Copyright © 2002 by Werner Scheibling
Page Created 26 November, 2002
Last Updated 04 June, 2007
Back to HyperScale Main Page
Back to Features Index