Messerschmitt Bf 109E-3
by Jan Nousiainen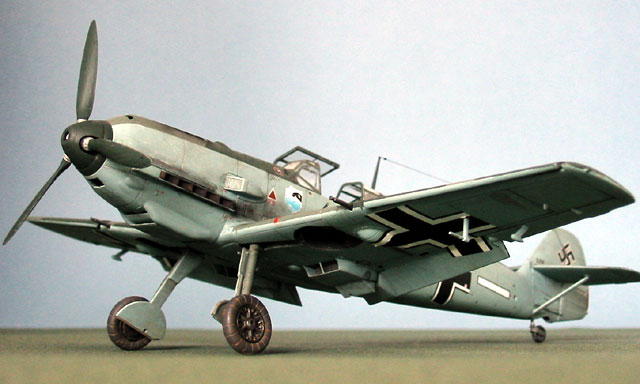 Messerschmitt Bf 109E-3


Tamiya's 1/48 scale Messerschmitt Bf 109E-3 is available online from Squadron.com
This is the Tamiya's original release of the 1/48 scale Messerschmitt Bf 109E-3.
The original release had problems with the shape of the top engine cowling just behind the spinner but I understand that it was corrected a few years ago. Tamiya also later released a 1/48 scale Bf 109E-4/7 kit.
I didn't check the shape of the cowling on my early-release E-3 and left it unchanged.
The kit is very nicely detailed and engineered. It permits the leading edge slats and flaps to be posed in the retracted or extended position. The rudder is also a separate part which allows it to be easily positioned according to the modeler's preference.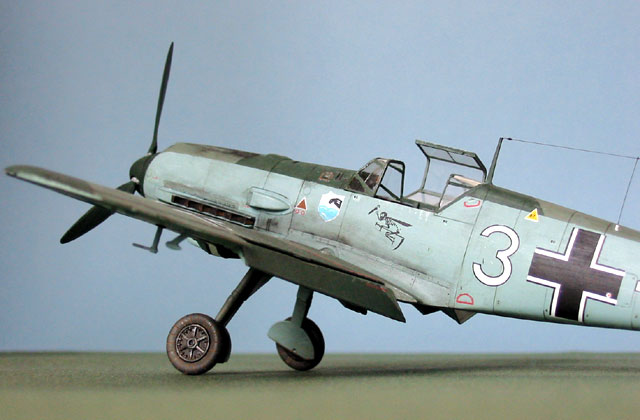 The model is built almost straight from the box without any detailing sets. I did thin out the edges of oil cooler and radiator intakes and exits. I also cut out the adjustment flaps on underwing radiator cowlings and replaced them with new ones made from thin copper sheet. These flaps were positioned in the open position and I think they look quite nice, adding a bit of personality to the kit. Support struts from stretched sprue were added to radiator intakes. The cockpit and canopy did not receive any additional detailing.
Painting was done by brush and with Humbrol enamel paints as always.
The scheme was the standard early-war RLM 71 and RLM 02 on upper surfaces and RLM 65 on the underside. First the kit was painted completely with RLM 65. The tops of the wings and fuselage were then painted with RLM 02, then RLM 71. Camouflage color borders were masked with Tamiya masking tape. This is wonderful stuff for this purpose.
Wheel wells were painted with RLM 02 except for the wall around the wheel which was painted dark grey. Maybe dark brown would have been better color because these sidewalls were actually lined with leather, and in many pictures they appear darker than rest of the wheel well. After finishing the kit I found a good photo where the wheel well was apparently painted with underside color, at least the part where the undercarriage leg rests. The truth is out there...
After painting the camouflage I applied a layer of clear varnish to places where decals were to be placed.
I built the model to represent a JG 77 machine using kit decals. Decals were okay except that the red color seemed to be too pink. Also large underwing crosses were quite difficult to get in place because of underwing bulges caused by MG FF cannon ammo drums; and also because the decals didn't react to Humbrol decal solvent. Some decals also ruptured when I was putting them in place and I was forced to fix them with paint.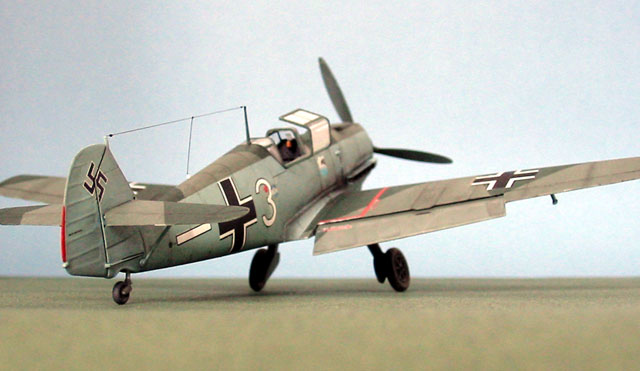 Weathering was done after decaling. The model was washed three times with thinned black paint with special attention to the panel lines. Many pictures of Bf 109's show oil leaks under engine and wing so I paid a bit of extra care weathering this area to simulate leaks. After that I brushed two layers of satin varnish but I didn't quite achieve the finish which I had hoped for. Then I dry brushed bit of steel paint to parts that have been subjected to wear on actual aircrafts.
The final task was to add aerial cable made out of stretched sprue between the fin and mast. Also the "pickup" cable between aerial and rear fuselage was added. Both were painted black and electrical insulators were simulated by few drops of paint.
Tamiya's 1/48 scale Messerschmitt Bf 109E-3 was easy and quick to build. The only place where I needed filler was the seam between the lower wing and rear fuselage but that was most probably caused by my inexperience and inadequate dry fitting. I enjoyed building this kit!
Click the thumbnails below to view larger images:
---
Model, Images and Article Copyright © 2002 by Jan Nousiainen
Page Created 16 January 2002
Last updated 04 June 2007
Back to HyperScale Main Page
Back to Features Page